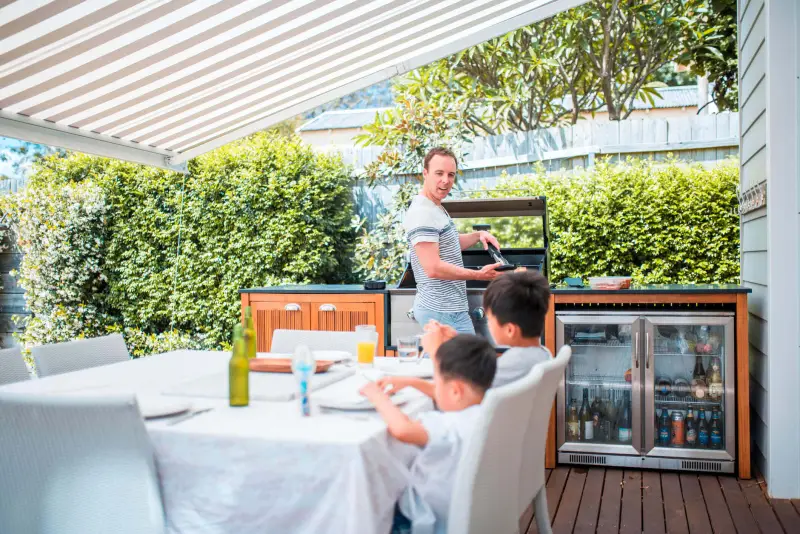 After what felt like years of winter here in West Virginia, it's finally time to enjoy the great outdoors! And there's no better way to do that than with an outdoor kitchen. Sure, standard barbecues are great, but they simply can't compare with the ease, joy, and look of an outdoor kitchen. Here at Mr. Appliance of Huntington, we love outdoor kitchens because:
1. They get people out into the great outdoors.
There's something about eating outside that just brings the entire family together. This summer, make a pact that when it's time to eat in the backyard, phones and tablets will stay inside! It may seem tough at first, but you'll be amazed by how quickly you all forget about your phones and enjoy the beautiful weather.
2. They keep your home cooler.
We've all experienced the dread of cooking a big meal inside during the summer — either you crank up the AC to make up for the heat your oven is giving off or you grin and bear it. Well, we think it's time to abandon both of those options! When you grill outside, you keep your home cooler because:
No one is spending time inside, naturally heating the house.
You don't have to turn the oven on.
3. They're cost-effective
Speaking of naturally keeping your home cooler, now you also won't have to lower your AC at night when you're making dinner, effectively lowering your energy bill. Plus, outdoor grills have been known to increase a home's value.
Adding to Your Outdoor Kitchen
Do you already have a built-in grill or partial outdoor kitchen? If so, now is the perfect time to expand on it! More appliances than ever are outdoor friendly, meaning you can now enjoy more of your kitchen for longer. Before the hot weather really pushes in, consider adding one of these amenities to your space.
Outdoor Ice Maker
Outdoor Refrigerator
Outdoor Dishwasher
Call Mr. Appliance of Huntington WV today!