The seasoned experts at Mr. Appliance of Greater St Louis have what it takes to get your appliances back up and running smoothly. Whether you're a home or business owner, keeping all the appliances on your property running safely and reliably is essential. Occasionally, your washer, dishwasher, dryer, or other appliance might show signs it needs to be fixed. In some cases, they might not turn on at all.
Fortunately, our appliance repair technicians have years of experience restoring all types, brands makes, and models of laundry and kitchen appliances for homes and businesses throughout Kirkwood, MO, and the surrounding areas. You can rest assured our commercial and residential appliance repair services will take the stress out of the entire process. There's no reason to hold off on much-needed appliance repairs when your local Mr. Appliance is on your side. From leaking dishwashers to washers that won't spin, we've seen it all. Contact us today to learn more and schedule laundry or kitchen appliance repair services.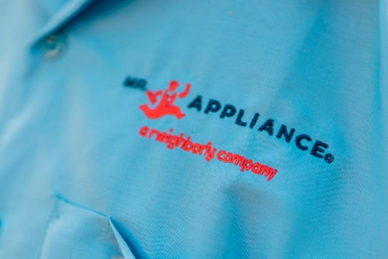 Trusted Appliance Repair Services for Homes & Businesses
At Mr. Appliance of Greater St Louis, we're committed to diagnosing your appliance repair needs quickly and effectively, so you can get back to your household or work routine in no time. You can count on our highly qualified technicians to provide the appliance repair services you deserve. In addition, we're proud to stand behind all our professional services by providing warranties on all our parts and workmanship. When you schedule appliance repairs with Mr. Appliance of Greater St Louis, you can have peace of mind you're in good hands. We offer the following residential appliance repair services throughout the Kirkwood, MO region:
Kitchen Appliance Repair Services – We understand how frustrating it is when your kitchen appliances are out of commission. Our repair technicians can get your dishwasher, kitchen exhaust, freezer, ice maker, oven, range, refrigerator, and stovetop, which you may have at your home or business back in reliable working condition.
Washer & Dryer Repair Services – Whether you need residential washer and dryer repair services, we'll be there to help get your laundry appliances working again in no time. Our experts have years of experience repairing a wide variety of types, brands, and models of laundry appliances. We'll quickly diagnose your washer and dryer problems and provide cost-efficient solutions for repair. In addition, we offer dryer vent cleaning services to keep everything running safely and smoothly.
Appliance Parts Replacement – Several complex parts and components work together to ensure all your residential appliances run smoothly. When something goes wrong, you might need a part replaced. We're proud to provide reliable parts replacement services to home and business owners. No matter what replacement appliance parts you're looking for, Mr. Appliance will work hard to find them at an affordable cost. In addition, we provide parts warranties for your peace of mind.
Schedule Appliance Repair Services in Kirkwood Today
For everything in your home or business to continue running smoothly, you need your most used appliances in top working condition. Whether it's your refrigerator, dishwasher, or laundry appliances, your routine relies on the efficiency and reliability of the appliances you've invested money into. Our repair technicians are committed to making the appliance repair process hassle-free, affordable, and convenient for all our residential customers throughout Kirkwood, MO, and the surrounding areas. When your laundry or kitchen appliances aren't working, there's only one company you need to call. Mr. Appliance of Greater St Louis has years of experience providing exceptional appliance repair services throughout the region, and we're just a phone call away. Contact us today to schedule repair services with our highly qualified team!