Discover the excellence of Mr. Appliance of Greater St Louis in Des Peres, MO where we are dedicated to delivering top-tier appliance repair services to residents in Des Peres and the surrounding areas. Our team is composed of highly trained and experienced technicians who possess the expertise to handle any appliance issue, no matter how complex. From noisy dryers to malfunctioning refrigerators, we have the knowledge and skills to swiftly and effectively diagnose and repair your appliances. Instead of risking damage to your valuable investments or personal injury by attempting repairs yourself, take advantage of our exceptional appliance repair service. Explore our range of services and reach out to us today to schedule an appointment.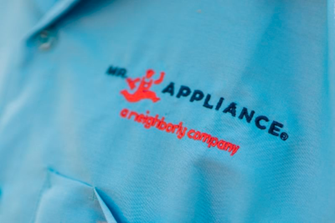 Comprehensive & Versatile Appliance Repair Solutions
Experience our comprehensive appliance repair solutions that cover a wide range of appliances, including refrigerators, freezers, ovens dishwashers, dryers, washers, and more. We boast extensive experience working with all brands and models, and we exclusively utilize high-quality parts to ensure optimal repairs. Additionally, our team offers routine maintenance services to keep your appliances in prime condition, preventing future issues from arising. At Mr. Appliance of Greater St Louis, expect outstanding workmanship, a hassle-free service experience, and competitive pricing. If you've been searching for an "appliance repair service near me" in Des Peres, your search ends here.
Trustworthy & Transparent Appliance Repairs
Count on the trustworthiness and transparency of our local appliance repair experts at Mr. Appliance of Greater St Louis. We are fully committed to providing exceptional service to every household in Des Peres. Honesty and transparent communication are at the core of our values, ensuring that our clients are fully informed about necessary repairs and associated costs. Rest assured that our work is backed by our Done Right Promise®, guaranteeing the safe and reliable completion of every job. Our dedicated professionals specialize in residential appliance repairs, covering all appliances in your home. Rely on us for timely and effective repairs throughout the St Louis area. We take pride in offering a comprehensive range of services, including:
Kitchen appliance repairs
Laundry appliance repairs
Refrigerator repairs
Residential appliance repairs
Washer and dryer repairs
Why Choose Mr. Appliance of Greater St Louis?
When it comes to your appliance repair needs, there are numerous reasons to choose Mr. Appliance of Greater St Louis. Check out some of the many reasons our customers rave about us:
Expertise and Experience: Our appliance technicians possess extensive training and hands-on experience in repairing appliances of all types and brands. We stay up-to-date with the latest industry advancements, utilizing cutting-edge technology and tools to accurately diagnose and efficiently repair your appliances.
Comprehensive Services: We pride ourselves on offering a wide range of appliance repair services to cater to your specific needs. From oven repair and refrigerator repair to dishwasher repair and more, our skilled team is equipped to handle any task. We also provide routine maintenance services to keep your appliances in optimal working condition throughout the year.
Quality Parts and Workmanship: At Mr. Appliance, we are committed to using only high-quality parts and materials for all our repairs. Our professionals take immense pride in their work, striving to provide lasting results and the best value for your investment.
Transparent Pricing: Transparency and honesty are the pillars of our business. We provide upfront pricing and maintain clear communication with our clients regarding the necessary work and associated costs. With us, you can expect no surprises or hidden fees.
Convenient and Reliable Service: We understand that appliance issues can disrupt your daily routine. That's why we offer flexible scheduling options tailored to accommodate your busy life. Our goal is to provide prompt, reliable service that minimizes inconvenience and gets your appliances back up and running as quickly as possible.
Locally Owned and Operated: As a locally owned and operated business, we have a deep connection to the Chesterfield community. Serving our neighbors and delivering exceptional service that exceeds expectations is our utmost priority.
Convenient & Reliable Appliance Repairs in Des Peres
At Mr. Appliance of Greater St Louis, we understand the inconvenience that appliance issues can cause, disrupting your daily routine. That's why we prioritize convenience by offering flexible scheduling options tailored to meet your needs. Whether you require prompt repairs or routine maintenance, we will work around your schedule to ensure a seamless experience. Contact us today to schedule an appointment for dependable and affordable appliance repair services in Des Peres, MO, and the surrounding areas.