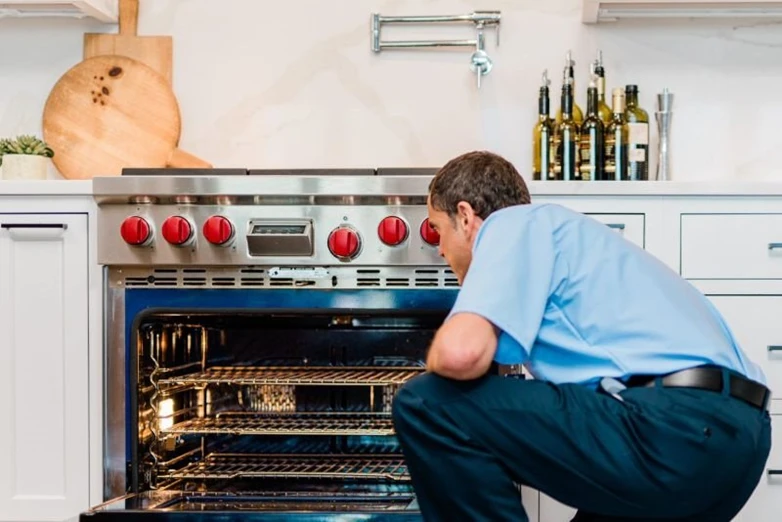 Modern kitchens bring several conveniences to homeowners, allowing them to store food, cook it whenever they want, and wash the dishes when they're finished. When something goes wrong with one of the most used appliances in your home, you'll want to contact the experts at Mr. Appliance for oven repair service in Jacksonville. We have years of experience repairing ovens of all types, makes, and models, and we can help you find a quick, affordable solution.
We understand broken ovens, stove tops, or ranges can bring routine family life to a halt, forcing you to rely on other kitchen appliances to get the job done or spend money ordering take-out. Our team can help get your kitchen appliances back up and running in no time with our residential oven and stove top repair services for homeowners. Reach out to our team today to learn more!
Common Problems With Stoves, Ovens, & Ranges
No matter what issues you're experiencing with your oven, stove top, or range, our appliance repair technicians are skilled in finding an effective solution. We'll quickly determine what's causing the problem and solve it so you can return to enjoying your kitchen's convenience again. The oven repair experts at Mr. Appliance of Jacksonville Beach can fix the following common issues with these appliances:
Burner(s) Get Too Hot
Burner(s) Won't Turn On
Oven Door Is Stuck Closed
Indicator Light Stays On
Oven Won't Self-Clean
Oven Isn't Getting Hot
Oven Doesn't Bake or Broil
Oven Produces Inconsistent Temperatures
We Repair All Major Oven & Stove Brands
With so many models, makes, and brands of stoves, ovens, and range tops on the market today, you might be wondering if our repair technicians have what it takes to get your appliance working properly again. The team at Mr. Appliance has the experience, expertise, and tools necessary to work on all types and brands of kitchen cooking appliances. Some of the oven and stove brands we frequently service include:
GE
Maytag
Whirlpool
KitchenAid
Frigidaire
Thermador
Dacor
Replacing Parts for Ovens, Ranges, & Stove Tops
>
While your residential oven may seem like a simple appliance, several complex parts and components work together to allow you to cook your own delicious meals at home. Whether you cook in an oven or on a stove top or range, we carry the highest quality replacement parts to get your appliance back up and running in no time. We're also happy to provide you with an exact quote for your ovens, stove, and range repair costs before making any repairs. You can count on us to replace the following parts for electric ovens and stove tops:
Temperature sensors
Gaskets
Heating elements
Thermometers
Bake igniters
Spark electrodes
Ignition wires
Self-cleaning latches
Thermocouples
Spark modules
Relays
Igniters
Switches
Dials
Valves
Burners
Safety valves
Controlled boards
Signs You Need Oven or Stove Top Repair Services
Sometimes an issue with your stovetop, range, or oven is just a one-time glitch, but it often signals a more significant problem. With how busy life can get, it's easy to put off resolving issues with your kitchen appliances, but that can lead to more costly repairs or replacements down the line. Having your oven or stove inspected at the first sign of a problem can save you money and hassle. We may be able to make an adjustment or swap out a part that's cost-effective. Any problem with your cooking appliances should result in a call to our experts.
Schedule Your Oven & Stove Top Repair Service Today
When you choose Mr. Appliance for your oven repairs, you're selecting a team of qualified experts who provide service on your schedule in Jacksonville, FL and the surrounding areas. Our courteous, uniformed professionals provide warranties on our workmanship and parts, and we also stand behind the Neighborly Done Right Promise®. Contact us today to learn more about our oven and stove top repair services and schedule service!