Trustworthy Residential Microwave Oven Repair Experts
Nearly every homeowner can use a microwave oven to make convenient meals in a matter of minutes. Microwaves are a common appliance most people have today, but these devices use advanced technology to heat up easy meals anytime they get hungry quickly. This device produces microwave radiation that vibrates the water molecules in your food and creates an immediate heat source. However, if your microwave has a broken part, the issue disrupts your appliance's complex process. The Jacksonville, FL community turns to Mr. Appliance of East Jacksonville to handle their microwave repair service needs. Get more information about our impressive residential microwave oven repair services and then schedule service at your home.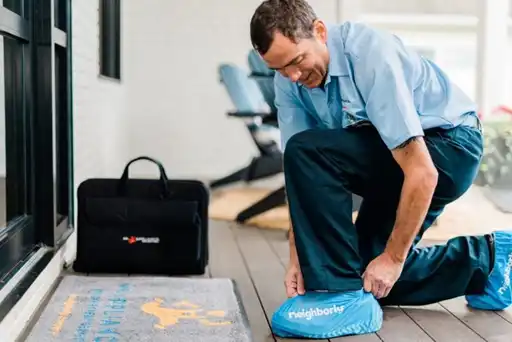 We Perform Repairs on All Microwave Oven Types
From simple standalone microwaves to Cutting-edge built-in units, our talented service technicians have experience performing repairs on every microwave oven type. No matter what type is in your kitchen, you can trust our friendly, uniformed professionals to carry out world-class appliance repair services. Some examples of the microwave oven types Mr. Appliance repairs include the following:
Countertop – These freestanding microwaves' ease of setup and portability make them the most convenient and common unit people have in their kitchens.
Drawer style – Builders and appliance specialists usually place these sliding microwave ovens below your counter. They're also easily accessible because of their height.
Over-the-range – Professionals typically install this microwave type above your oven and stove, combining this appliance with your range's hood to save space.
Built-in – Microwaves you build into your kitchen's cabinetry are stylish and beautiful, but performing repairs may require a trained specialist to help you.
Repairing All Major Brands of Microwave Ovens
If you're loyal to a specific home appliance brand, you don't need to worry if we cover it for repairs. Mr. Appliance specializes in repairing all microwave oven brands. We understand the unique intricacies of each brand, make, and model and have completed work on every major microwave brand, ensuring your service request is nothing new. You can count on our technicians to already the ins and outs of your unit. We've listed some of the many brands we routinely repair at properties throughout the Jacksonville area:
Maytag
Sharp
KitchenAid
GE
Whirlpool
Bosch
Samsung
The Top Reasons for Microwave Oven Repairs
Your microwave can experience one or more of countless issues. Some problems are more concerning than others, but only a qualified appliance repair professional can quickly know which problem and its specific cause affect your unit. Take a moment to try to determine what's wrong with your microwave and if it requires professional repairs. Some common issues we see and resolve with microwaves include the following:
Microwave won't work – Slamming the door or a surge of electricity can lead to a blown fuse in your microwave, preventing it from working. However, we recommend verifying you have your microwave plugged in and the door closes entirely before contacting us for service.
Sparks inside the microwave – Arcing occurs when you put any type of metal in your microwave, such as a fork. This issue can also happen if you have a defective stirrer in your microwave or get a shot in a high-voltage diode.
Microwave won't heat – A defective magnetron, diode, or capacitor can cause your microwave not to heat your food when it's running. We can replace any of these parts to restore your unit's functionality.
Control panel problems – When your control panel sustains damage, it may not work at all or only work occasionally. You will probably need our technicians to replace your control panel when this issue happens.
Why Doesn't My Microwave Work Anymore?
A blown fuse is the first issue we explore when a microwave doesn't work because it's the most common cause of a non-functioning microwave. If your unit's fuse is still intact, our technicians check various other potential culprits, such as damaged control boards and faulty door switches. Mr. Appliance will find your problem's specific cause and provide an accurate estimate covering your microwave repair costs before starting any repair work.
What If a Fuse Is Blown in My Microwave?
You might think it's easy enough to check your microwave for a blown fuse that you can handle it yourself, but this task isn't as simple as you might think. A microwave has several different fuses contributing to its safe and reliable operation. There is usually a fuse for your unit's door, a voltage fuse, and a thermal fuse. When your microwave doesn't turn on, this situation is a common indicator it has a blown fuse. However, many other problems can display themselves depending on which fuse has blown.
How Do I Reset My Microwave?
While most microwave ovens don't have a button to perform a hard reset, we can recommend a few methods to reset your microwave if it freezes or changes settings have you confused. If your unit has of "off/reset/cancel" button, you can hold it until your microwave beeps, which often lets it perform a soft reset. This simple method will clear all existing timers or tasks. If a hard reset is necessary to restore your microwave oven's factory settings, you can usually accomplish this task by unplugging it for 20 to 30 minutes.
Microwaves Part Repairs & Replacements
When any microwave part breaks, you're left wondering if repairs will resolve it or if a replacement is necessary. While Mr. Appliance proudly performs repairs on nearly any microwave oven, the repair process typically includes replacing one or more faulty or damaged components. While inspecting your unit, we provide an honest and upfront microwave oven repair or replacement recommendation. Below are examples of some parts we might need to replace to resolve your microwave's functional issues:
Fuses
Lights
Switches
Diodes
Fan motors
Capacitors
Tray motors
Magnetrons
Stirrer belts
Drive bushings
Schedule Your Microwave Repair Appointment Today
Just like you count on your microwave oven to cook meals quickly and easily, we want you to count on our team for convenient and conclusive microwave repair services. Mr. Appliance of Jacksonville Beach respects your trust and time, so we always arrive on time for appointments and finish the job correctly the first time. Furthermore, we put the power of appointment scheduling at your fingertips. Schedule your microwave oven repair service appointment online today to regain your ability to cook a delicious snack or meal in minutes.