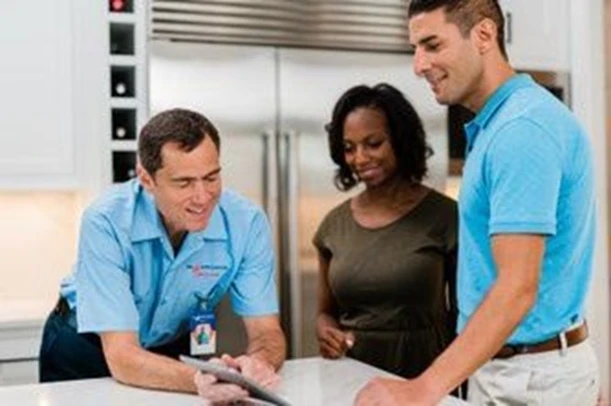 We understand the frustration of running your dishwasher only to open up the appliance later and find that your dishes aren't clean. Your dishwasher is designed to make your life easier, allowing you to thoroughly wash, sanitize, and dry your dishes. When your dishwasher isn't working properly, it can make daily life more stressful. Mr. Appliance offers professional dishwasher repair services for homeowners in Jacksonville.
Our professionals can fix everything from leaking dishwashers to ones that run too long. Our appliance repair experts will identify your dishwasher problem and solve it quickly so you can return to your normal routine. To help homeowners ensure their kitchen appliances last as long as possible, we also offer dishwasher maintenance services. Contact Mr. Appliance of Jacksonville Beach today to learn more about our dishwasher repair services and schedule service!
Solving Common Dishwasher Problems
Your dishwasher performs the simple tasks of washing and drying your dishes, but the appliance is quite complex and has many parts and potential problems. Whether your dishes aren't as clean as you'd like them to be or you've noticed your dishwasher has been leaking, we're here to help. When you call our team to schedule a service appointment, our repair technicians will visit your home, quickly diagnose your dishwasher problems, and provide an effective solution. If you notice any of the common issues, be sure to give us a call to schedule repair services:
Dishes aren't clean after the cycle is complete
Glassware comes out of the dishwasher cloudy or has spots
Dishwasher runs longer than it should
Dishwasher hums and then turns off without going through the cycle
Water isn't draining from dishwasher
Dishwasher isn't filling with water
Dishwasher is leaking
We Service All Dishwasher Brands
The team at Mr. Appliance of East Jacksonville is proud to service all major brands of dishwashers for homeowners throughout the region. Our residential dishwasher repair service is available for the following brands:
GE
LG
Samsung
Bosch
Whirlpool
KitchenAid
Maytag
All the Parts Your Dishwasher Needs
Dishwashers are complicated appliances tasked with cleaning, sanitizing, and drying your dishes. Our appliance dishwasher repair service includes replacing any parts that are worn or broken. Be sure to contact us for an exact quote on the cost of dishwasher repair services in your home. Our dishwashing repairing experts can replace any part of your dishwasher, including:
Timers
Thermostats
Gaskets
Heating Elements
Float switches
Pump assemblies
Solenoids
Wash and drain impellers
Valves
Motors
Dishwasher Maintenance Tips
Taking care of your dishwasher is the best way to avoid significant problems from developing with the appliance in the future. Homeowners can decrease hard water buildup by cleaning their dishwasher with vinegar every three to four months by pouring one cup of vinegar into the dishwasher and running a normal wash cycle with no dishes inside. Some other simple things you can do to extend the life of your dishwasher include:
Clean and replace filters regularly if they appear to be damaged
Scrape off all leftover food from dishes before putting them in the dishwasher
Avoid overloading the dishwasher with too many dishes
Clean out any food residue that has collected inside your dishwasher by wiping the door seal with a dishrag and white vinegar
Schedule Dishwasher Repair Services Today
We know you'll be impressed by how clean your dishes are after you schedule dishwasher repair services from Mr. Appliance. Our team has years of experience expertly repairing dishwashers of all makes and models and we're committed to providing homeowners with quick, effective, and cost-efficient solutions for repair. Our qualified experts offer upfront pricing and service on your schedule throughout Jacksonville, FL and the surrounding areas. Our workmanship and parts are guaranteed under warranty, and we stand behind the Neighborly Done Right Promise®. Contact us today to learn more about our dishwasher repair services and schedule an appointment!