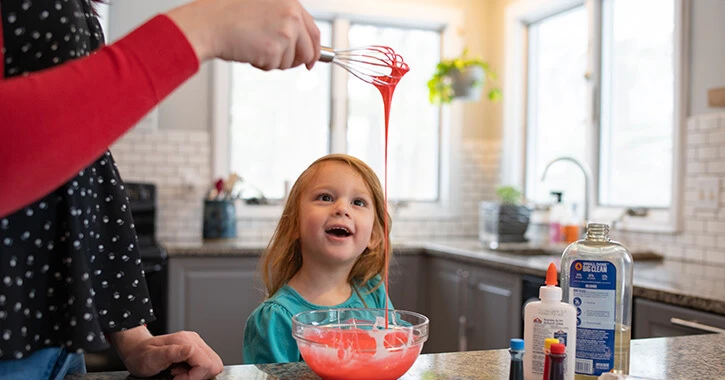 When it comes to at-home science experiments, making slime is one of the most fun. It's a hands-on way to learn about chemical reactions, polymers, and viscosity. Put away the electronics, and assemble in the kitchen. Here's how to make slime with laundry detergent and other household items. (Yes—it works as a glitter slime recipe!)
But First, Is Slime Safe?
Many slime recipes found online require borax, a common laundry additive. While borax may be safe to use in small quantities, the amount called for in some recipes can irritate sensitive skin, and it may cause unpleasant symptoms if accidentally ingested: diarrhea, vomiting, cramps, seizures, etc. Try using a detergent without borax, and always supervise children when they play with slime, ensuring they don't put the slime in or near their mouths.
How to Make Laundry Detergent Slime
Ingredients: Plain or Glitter Slime Recipe
A bowl
Washable white school glue
Clear liquid laundry detergent
Shampoo
Glitter (optional)
Food coloring (optional)
Instructions
1. Mix a half cup of white school glue and a half cup of water in a bowl.
2. Add food coloring and/or glitter as desired, and stir well. Begin with two drops of food coloring and/or one teaspoon of glitter, increasing the quantities until you achieve the look you want.
3. Mix in a quarter cup of liquid laundry detergent, and stir well.
4. Knead the mixture for several minutes until it reaches the desired consistency. The longer you knead it, the firmer the slime will become.
5. Mix in one or more teaspoons of your favorite shampoo to add scent and smoothness.
6. Play!
Store your slime in a plastic container with an airtight lid. Slime lasts at room temperature for several days and up to a month in the refrigerator.
Slime Tips and Tricks
Have fun with this plain or glitter slime recipe by experimenting with ingredients that change the texture and consistency of the final product.
Here are some ideas to try:
Add cornstarch to your recipe to make fluffier slime.
For a different look, use clear glue in the glitter slime recipe instead of white.
If your slime is too sticky, try kneading it a little longer or adding a few drops of dish soap.
Keep Your Kitchen in Good Working Order
It's all fun and games until one of your kitchen appliances breaks! Luckily, your local Mr. Appliance® is ready to fix it fast. Find your local team's phone number and keep it saved in your contacts, or simply schedule service online when the time comes.