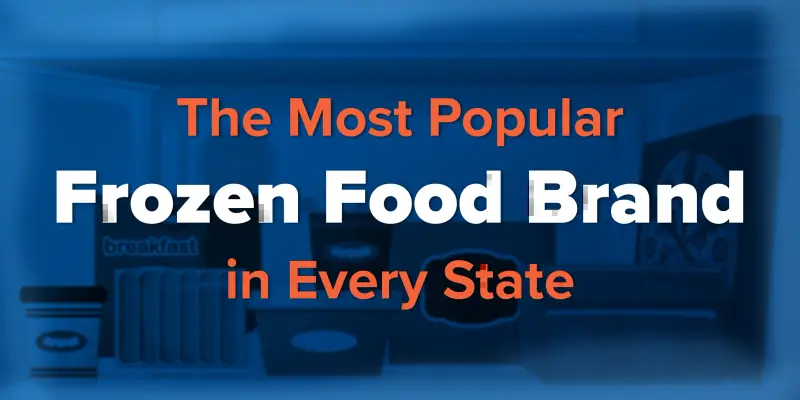 Do you love a well-stocked freezer, jam-packed with your favorite frozen food brands? Well, you're in luck because we're analyzing the world of frozen food to reveal the frost-bitten favorites that have filled American bellies since 1954.
For decades, household brand names like Digiorno, Eggo, and Tyson have been go-to's for Americans needing a fast, convenient, and delicious meal. In 2023, America's love of frozen foods (and frozen desserts) is stronger than ever. We wanted to know which brands reign supreme in each U.S. state, so we analyzed Google search volume over the past five years for over 50 of the best-selling frozen food brands to find out. Join us as we dive into the ultimate frozen food showdown!
The Most Searched Frozen Food Brand in Every U.S. State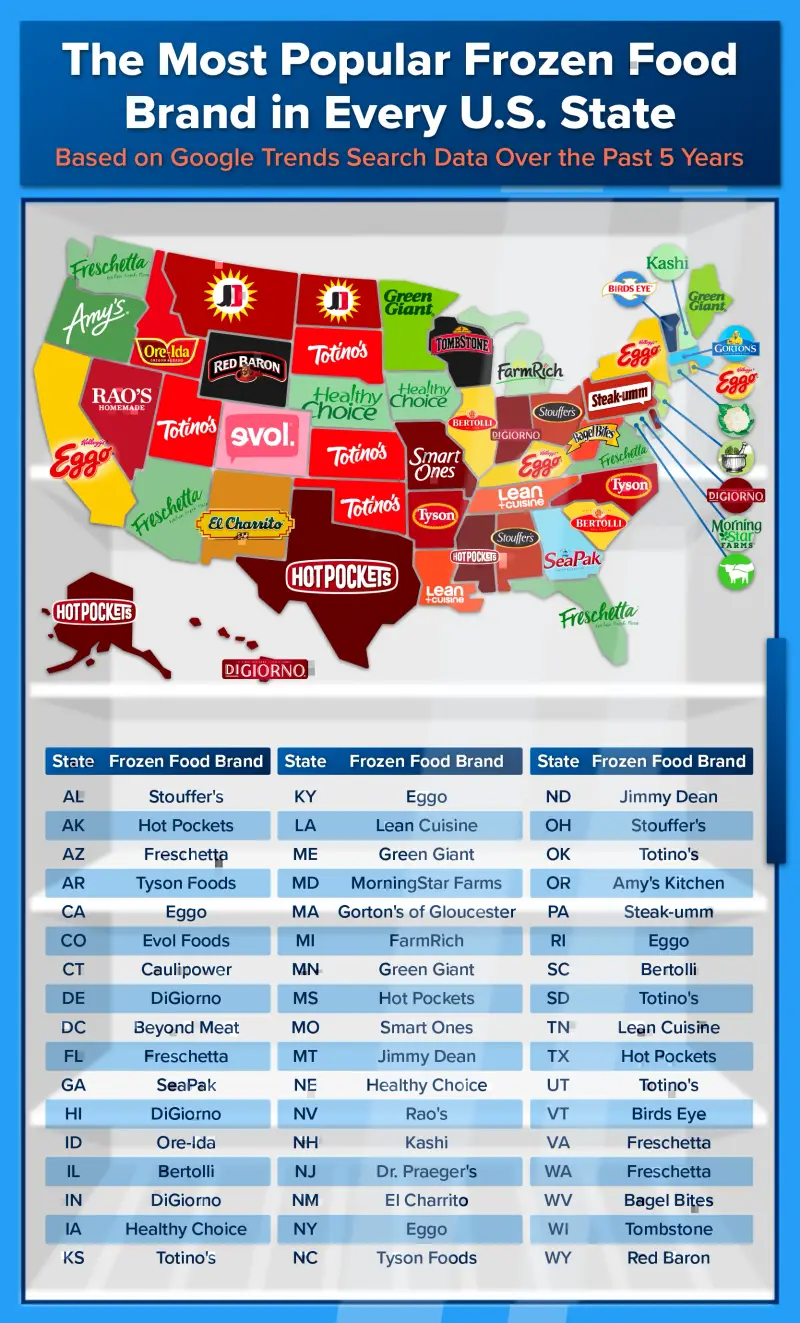 As you can see from our map, Americans have diverse tastes when it comes to the chilly favorites they keep on ice, and several brands stand out as clear winners.
One of the most popular frozen foods nationwide is the classic Eggo Waffles, the most searched in four states. If you've ever used an old-fashioned waffle iron, then you know, Eggo's toaster waffles were a true game changer. In 1953, the Dorsa brothers developed a new recipe for frozen waffles that could be quickly heated in a toaster. Then, in 1972, the company launched a new marketing campaign with the catchphrase "Leggo my Eggo," which became a cultural phenomenon and helped make Eggo waffles a household name across America.
Freschetta and Totino's are the favorites for frozen pizza lovers, both most searched in four states. From Freschetta's brick oven varieties to Totino's pizza rolls, both brands have been making pizza night easy and convenient. Don't get us wrong, Americans love runner-up DiGiorno, but when it comes to frozen pizza, Freschetta and Totino's take the cake. (Or should we say pie?)
While waffles and pizza have a big hold on the nation's frozen food scene, the popularity of vegan and vegetarian options is growing. For example, Amy's Kitchen is the clear favorite in Oregon's freezer aisles. The tasty organic, vegetarian frozen brand has been a favorite among health-conscious foodies since 1988.
In Connecticut, Caulipower is king! The versatility and nutrition of this high-fiber, B-vitamin-packed powerhouse are second to none, so kudos to CT residents for reaching for cauliflower more than any frozen food brand.
The Most Searched Frozen Dessert Brand in Every U.S. State

Americans have an insatiable love of frozen desserts, and it's not hard to see why. From decadent ice cream to fruity popsicles, these treats bring joy and comfort with every lick and bite, so we'd be remiss if we didn't crunch the numbers to discover the most popular frozen dessert brand in each state!
Ice cream industry disruptor, Halo Top, was the number one pick in six states and the clear leader in our study! The brand's low-calorie, high-protein ice cream appeals to health-conscious shoppers and is also delicious (our favorite is the Pancakes & Waffles flavor). Halo Top's savvy use of social media marketing fueled its meteoric rise from a start-up in 2012 to a frozen treats powerhouse with over $110 million in sales in 2022.
Tied for our second-place slot, Edward's and Drumstick each claimed the top spot in four states. In Edward's case, it's no wonder those states are Southern. The company's pies have been a Southern family favorite since Thomas Edwards started his Atlanta bakeshop in 1950. Invented in Fort Worth, TX, in 1928, Drumstick chocolate and nut-covered ice cream cones are synonymous with summer fun and have been an ice cream truck favorite for generations!
Closing Thoughts
In a world where convenience rules, frozen food brands are a lifesaver for busy Americans, and our study showcases the diverse frozen food tastes across the nation. From Eggo Waffles to Halo Top ice cream, frozen foods have conquered our freezers and captured our hearts.
Of course, to chow down on a Digiorno Pepperoni Pizza or Tyson Any'tizers Buffalo Style Chicken Wings, Americans need their kitchen appliances in tip-top condition. That's where we come in. At Mr. Appliance, we've got all your kitchen appliance repair needs covered, so your pizza night schedule or morning Eggo routine never misses a beat!
Methodology
To find the most searched frozen food brands in every U.S. state, we turned to Tasting Table, Buzzfeed, Mashed, and Wikipedia for the most popular frozen food brand search terms. Next, using Google Trends, we analyzed the search volume of 80 savory frozen food brands and 65 dessert frozen food brands over the past five years to uncover the most popular frozen foods and frozen desserts by state and nationwide.