Which is the Correct Term: Laundry Mat or Laundromat?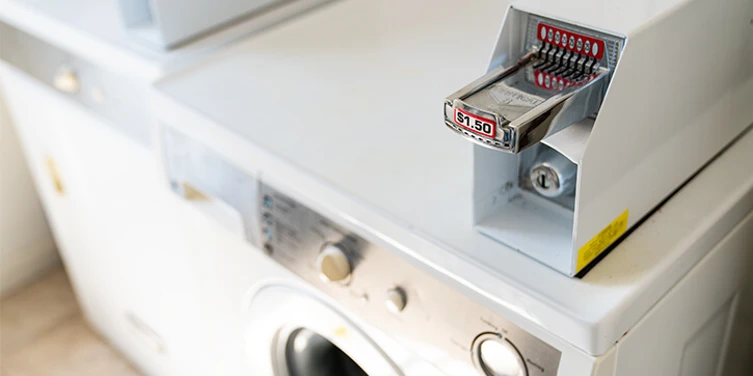 Like vacuuming, dusting, and dishwashing, laundry is a normal part of every household routine. Whether or not you own your own washer and dryer or have access to a communal laundry room in your building, chances are you have used a coin-operated facility at one time or another to clean bulky items, do laundry during college, or stretch your wardrobe while on vacation. The question is, do you refer to this type of business as a laundry mat or laundromat? While both are commonly used only one is correct: read on to learn which one from the team of experts at Mr. Appliance®.
The History of Laundry
Self-serve laundry facilities have been around since the 1930s and were originally called washaterias. The first one opened its doors in Fort Worth, Texas in 1934 and consisted of four washing machines that could be used by the public for a set hourly rate. While their popularity waxed and waned, there was a resurgence in the 1960s which ensured the ongoing success of these businesses that evolved to include coin-operated machines and a number of additional customer conveniences including soap dispensers, televisions, folding tables, and seating.
How Do You Spell Laundromat?
As part of the evolutionary process came a name change brought about by George Edward Pendray during his time working at Westinghouse. The washateria became formally known as the laundromat, which is believed to have been derived from a combination of the words "laundry" and "automat"—the latter being used to describe a type of restaurant where food and drink were obtained through a series of vending machines. While a number of popular names remain such as laundry mat, launderette, wash and dry, and more, the correct term for any establishment which houses coin-operated washers and dryers for public use is "laundromat".
Laundry Tips and Tricks
Whether you do your laundry at home or at a laundromat, these tips can help you make the most of your time while ensuring maximum results:
Read the labels on clothing carefully before laundering for the first time and use this handy guide to help decode them.
Catch stains as they happen to prevent them from setting.
Sort your laundry correctly to avoid colors from bleeding between garments.
Reduce fading by turning dark-colored clothing inside out prior to washing.
Make use of the temperature settings on your washer, adjusting as needed for each load using these guidelines:

Cold – Ideal for dark fabrics, those that may fade, or delicate items that may shrink.
Warm – Use warm water for most fabric types and moderately soiled clothing.
Hot – Ideal for heavily stained items, towels, bedding, and white cotton.

Be sure to empty the lint trap on your dryer after each use to eliminate the risk of a dryer fire and improve efficiency.
Get rid of set-in fabric odors by pre-soaking the items in one gallon of water with one-half cup of baking soda mixed in. Wash as usual and add one-half cup of vinegar to the rinse cycle.
Use these tips from Mr. Appliance to break your bad laundry habits for good.
Repair Your Washing Machine with Mr. Appliance
While there may be a debate over whether to use the term laundry mat or laundromat, there is no question that the washing machine repair technicians at Mr. Appliance are among the finest in the industry.
Contact your local Mr. Appliance
today to learn more or call us to schedule an appointment for appliance repair.