5 Professional Appliance Repair Questions & Answers
Do You Have Appliance Questions? We Have Your Answers!
When your appliance goes on the fritz, you obviously have many questions. One of them being: who's going to repair this thing? Mr. Appliance of Memphis is, of course!
Aside from the obvious, you probably have questions about warranties, upgrades, lifespan, and maintenance. Fortunately, our Memphis team is ready to help you answer questions and address any appliance problem you come across. With several years of experience and knowledge, we want to be your go-to resource when your appliance breaks down.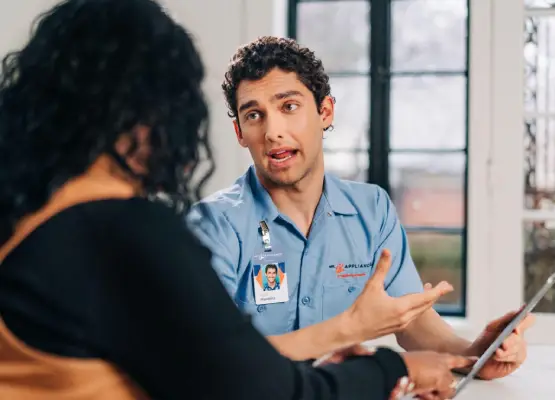 1. Will A Warranty Cover the Cost of Appliance Repair?
Most manufacturers' warranties are typically 12 months and cover parts and labor. Our Neighborly Done Right® Promise offers a one-year parts and labor warranty for residential services and a 30-day parts and labor warranty for commercial services.
Where things might get a bit tricky is when we're talking about extended appliance warranties. Professionally, we don't recommend letting a salesperson talk you into an extended warranty. Why? Well, there are several reasons, including:
Retailers pocket 50% of the warranty cost.
You'll likely pay $75+ more on the front end.
You'll spend 20% more than the appliance purchase price.
Your new appliance probably won't break down within three years.
Unless you can find a manufacturer's warranty covering the appliance's life, we suggest nixing the extended warranty and using those extra funds on possible appliance upgrades. Get all the fun bells and whistles and more bang for your buck.
2. Should I Repair or Replace My Appliance?
As appliance repair professionals in Memphis, we can't in good conscience tell you it's better to repair than replace. Every appliance is different, and situations vary. We can say that the repair cost should never exceed the price of a new appliance. Continuous repairs may be a bandage on a larger (irreparable) problem plaguing your appliance.
The only way to truly know if you should chuck your appliance or give it a new lease on life is with a thorough inspection. Our technicians are certified, licensed, and well-versed in various appliance issues. We can help you determine the problem and design a plan that suits you.
3. How Can I Determine the Age of My Appliance?
If you're looking for a used and inexpensive major appliance, it's important to know the age of the appliance. After all, you don't want to buy a lemon and have buyer's remorse later. For most appliances, the serial number will tell you everything you need to know. Typically, you'll have a series of numbers and/or letters to decode easily. Certain brands have different ways of deciphering the appliance's age via a serial number.
Take a look at the following brands and where to find the serial tag:
GE – Completely ignore the model number and look at the serial number tag for accurate manufacturing age. This serial number reference chart will help you decipher the characters appropriately.
Whirlpool Maytag – The serial number on the back of or inside your Whirlpool Maytag appliance will help you indicate the age. You'll want to focus on the second, third, and fourth characters. The first character tells you the manufacturing year, while the third and fourth characters tell you the week it was manufactured.
Samsung – Don't be alarmed by the 15-digit serial number. Deciphering the age is extremely easy. You'll only pay attention to the eighth and ninth digits, which tell you the manufactured year and month.
LG – LG appliances probably have the easiest serial numbers to interpret. The first digit signifies the year, and the second digit signifies the month. You may see something like "8 04 tagh22222" on the serial tag, indicating the appliance was manufactured in April 2008.
4. Should I Buy an Eco-Friendly Appliance?
Energy efficiency is crucial in terms of appliances because who wasn't to pay more in monthly utility bills? No one. In fact, the EPA reports that an energy-efficient appliance uses 10-50% less energy. Simply put, that's money back in your pocket, so investing in an energy-efficient appliance could be beneficial.
5. Does Mr. Appliance of Memphis Handle Appliance Maintenance?
We may be Memphis' appliance repair experts, but we also know a thing or two about upkeep. Routine maintenance is the first defense in an efficiently operating appliance that lasts for years. We partner with you to schedule annual maintenance to ensure your refrigerator, dryer, dishwasher, washing machine, etc., won't malfunction. And if it does, you know whom to call!
Got more appliance repair questions? Contact us to get them answered!