Did you know your dryer vent should be cleaned at least once every year? A clogged dryer vent is a fire hazard and impacts your dryer's efficiency.
If your dryer vent needs a cleaning, there's no need to call a duct cleaning company or even wake up early on a Saturday to do it yourself. You can entrust your next cleaning to our team at Mr. Appliance of Memphis.
Book your dryer vent cleaning by giving us a call or scheduling your service online.
Why is Dryer Vent Cleaning Important?
Dryer vent cleaning is important for a couple of reasons:
It Helps Make Your Dryer More Efficient
Since your dryer's lint trap doesn't catch all of the lint, it'll collect in your dryer vent which will cause your dryer to not run efficiently. In fact, your lint trap and screen only collect about 25-30% of the lint your dryer produces! The rest collects in your dryer vent and, over time, restricts your dryer's airflow.
Having your dryer vent cleaned will obstruct it from the lint and debris impacting performance. Plus, you might even see a lower electric bill the following month!
It Protects Your House From Fires
Lint buildup in your dryer vent can create a fire hazard. Roughly 27% of dryer-related house fires are due to lint buildup. Having your dryer vent cleaned is a great and necessary way to protect your home from these potential fires.
Need expert and quick dryer vent cleaning in Memphis, TN? Request your service online or call us today. We're standing by to help!
How Do I Know My Dryer Vent Needs to be Cleaned?
When it comes to knowing when your dryer vent needs to be cleaned, these are a few signs you should look out for:
If it's been over a year since you last had it cleaned
If your laundry takes longer than normal to dry
If your laundry is damp and hot after a cycle
If your dryer stops working
If you notice any burning smells
How Do I Know if My Dryer Vent Is Clogged?
It is important to regularly inspect your dryer vent for clogs and other obstructions, as these may become potential fire hazards. If your dryer takes longer than usual to dry clothes, or if the dryer and room become unusually hot when the dryer is in use, this could be an indication of a dryer vent clog. Another sign of a dryer vent clog is a musty odor coming from the dryer drum and exhaust duct. If you suspect your dryer vent may be clogged, it's important that you have it inspected by a professional who has experience dealing with dryers and vents. Ultimately, this will help ensure the safety of your home and appliance.
How Often Should I Do Dryer Vent Cleaning?
You should have your dryer vent professionally cleaned at least once every 3 to 12 months. The frequency can depend on the complexity of the dryer ventilation system and how often you use your dryer.
After we've had the chance to examine your dryer vent during the first cleaning, we can let you know how frequently you should have yours cleaned.
Why Trust Mr. Appliance of Memphis for Your Dryer Vent Cleaning Service?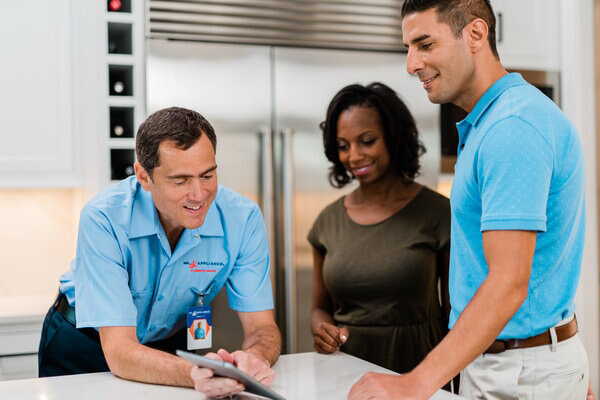 We are experts in appliance repair, which includes your dryer and dryer vent. This is ultimately convenient for you since you'll be able to keep your other appliance repairs, such as a dryer repair, and dryer vent cleaning under the same roof; you won't need to deal with another company to handle it for you. We also handle washing machine repairs!
Additionally, we're known for speedy, expert service and these are just a couple of the things our past customers love about us. You can visit our testimonials page for more reviews about our services.
Ready for your dryer vent cleaning service? Visit our Contact Us page or call Mr. Appliance of Memphis to book your service!