Throwing out an old appliance can be both back-breaking and expensive. There must be an easier way to deal with broken appliances. Actually, with the help of Mr. Appliance of Memphis, there absolutely is!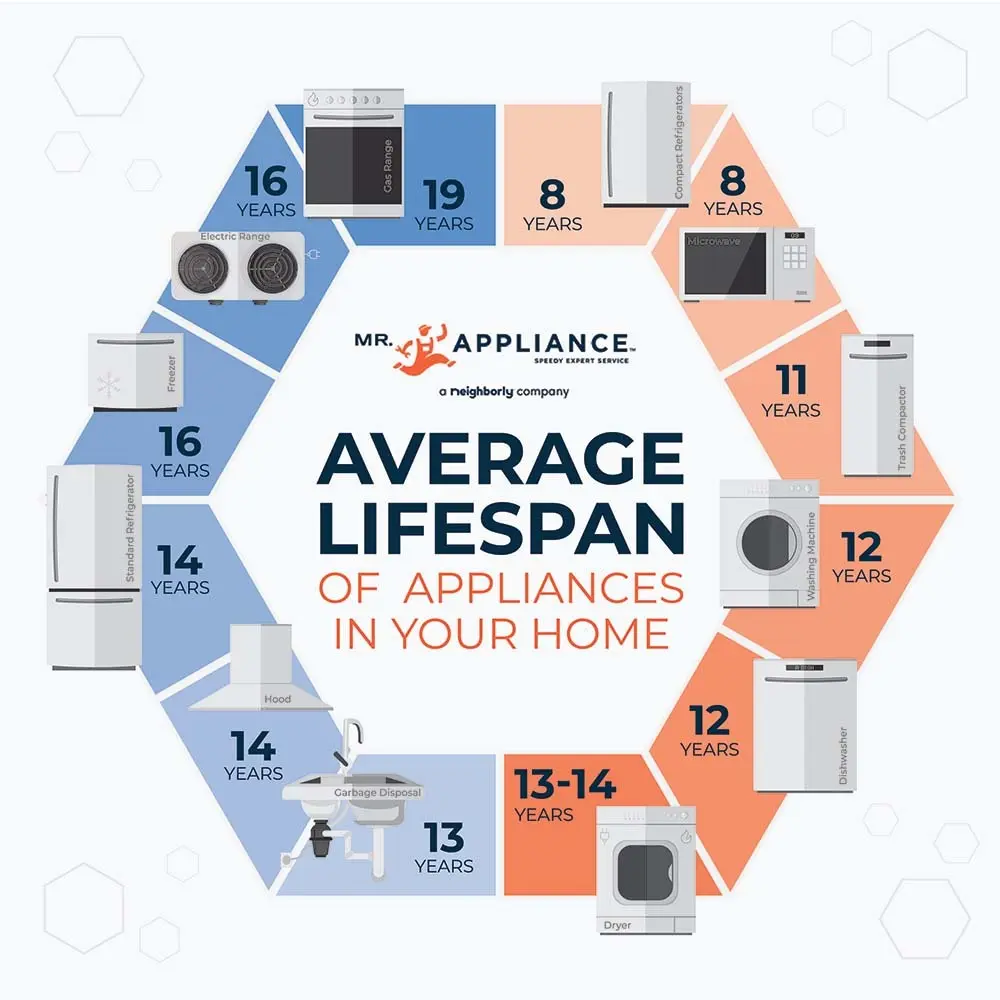 Our team of appliance repairmen:
Can service countless appliance brands and models;
Has special offers to help you save some money;
Can take care of big and small appliance repairs; and
Warranties our services according to our Neighborly Done Right Promise®.
Get quality appliance repair near you—call our Memphis technicians!
Our Residential Appliance Repair Services
At Mr. Appliance of Memphis, we can fix all of your major kitchen and laundry room appliances!
Our home appliance repair services include:
Freezer repair
Ice machine repair
Oven, stove, and range repair
Garbage disposal repair
Microwave repair
Vent hood repair
Wine cooler repair
Trash compactor repair
Outdoor kitchen appliance repair
Did you know we're backed by over 3,000 reviews? Check out our appliance repair reviews to see why our customers love our services!
What Happens Once I've Booked My Service?


First, we'll email you before your appointment. In this email, we'll:
Send you a two-hour window of when you can expect us, and
A picture of your repair person so you know who to expect!
From there, we'll arrive when we say we will. We'll be equipped with a doormat, tools, and shoe covers to ensure you get the speedy, expert, and courteous service you need.
We'll then diagnose your broken appliance. We'll review our repair quote with you before we proceed with any repair work. If you approve our quote, we'll waive your initial service call fee!
You can count on us for speedy, expert service! Give us a call to book your in-home appliance repair. You can also book your service online.
What Are the Benefits of Our Residential Appliance Repair Services?
Appliance Repair Can Save You Money, Time, and Energy!
We offer home appliance repair services throughout Memphis that help you save time, energy, and money when an appliance breaks down.
Rather than needing to head out to the store to try to find a new appliance that might or might not be better than your previous one, you can arrange for our technicians to come to your home to complete all necessary appliance repairs.
In many cases, repairing an appliance is much less expensive than replacing it, especially when talking about major appliances, like refrigerators and laundry machines.
We Warranty Our Services!
To make you even more confident in your choice, Mr. Appliance of Memphis is happy to offer comprehensive guarantees on every home appliance repair we complete.
The parts and components we use in our repairs are also top-quality to guarantee our repairs last. You won't have to worry about having to call us multiple times per year to keep working on a single appliance.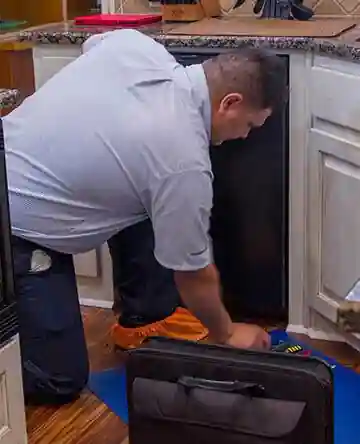 We Service On Your Schedule & Offer Flat-Rate, Upfront Pricing
Our goal is to make appliance repairs in Memphis so easy, you never want to buy a new appliance again. That's why we use a flexible calendar to show up when it is most convenient for you, not the other way around.
It is also why we insist on upfront, transparent pricing that explains our costs and never tricks you with a hidden charge at the end of a job. Shouldn't service always be this way?
Call or contact us online to schedule your home appliance repair today.
Discover the Residential Appliance Repair Advantage
When you purchase a new appliance from the store, you are taking a bit of a gamble due to its cost. There's no guarantee the appliance will work correctly when you take it out of the box. It might also not fit quite where you want it to go. There is also the real possibility it will perform its functions worse or frustratingly differently than the appliance you are replacing, especially when you are switching from one brand to another.
To sidestep the complications and headaches that come with new appliance shopping entirely, call on Mr. Appliance of Memphis for residential appliance repairs instead. We use durable replacement parts and conduct a quality check when we are finished. A repaired appliance might even work better than one right off the production line due to the thoroughness of how we check our own work!
Other benefits of using appliance repair services before replacement include:
Saving Money: Everyone today needs to save a little money here and there. Why not save a lot of money by going with appliance repairs instead of appliance replacement? Even if you get a basic refrigerator, you are probably going to spend $1,000 after taxes and delivery fees. For routine fridge repairs, though, our price might only be a small fraction of that amount. Call to arrange for a quote.
Convenient: Who has time to wander a department store to buy a new appliance? It isn't exactly the most fun way to spend a weekend, either. With home appliance repair services, you don't have to fuss with trying to find the right new appliance in-store because the right one is already in your house! It just needs a little attention from our appliance repair technicians.
Consistent: Figuring out how to use a new appliance can be a headache. Just look at all the buttons on your dishwasher and washing machine, and now imagine needing to figure out what they do on a completely different model. Stay consistent with how to operate your home appliances by having them repaired by Mr. Appliance of Memphis.
Count on us for speedy, expert Memphis home appliance repair! Schedule your service online or give our courteous team a call.
Quick Fixes for Common Residential Appliance Crises
You can count on Mr. Appliance of Memphis to be there to complete appliance repairs in your kitchen and laundry room as needed. But sometimes our experts are needed right away. There are ways you can quickly fix common appliance problems on your own if you prefer. Of course, if you don't like getting your hands dirty, give us a call to schedule service, no matter how straightforward the fix might be.
Here are five way-too-common appliance problems you can probably fix:
Clogged garbage disposal: If someone puts the wrong item down your garbage disposal, then the whole thing can clog up and stop working. Eggshells, most kinds of pasta, coffee grounds, and other common and seemingly innocuous foodstuffs are common culprits of the worst clogs. If you want to try to unclog it yourself, turn off the garbage disposal. Carefully fish out any gunk and debris you can from the garbage disposal. Next, click the reset button on the disposal, which is found under the sink. Turn on the faucet and switch on the garbage disposal again. With a little luck, it should work.
Stinky laundry machine: If your clothing comes out of the washing machine with an unusual odor, the source could be stagnant and moldy water in the machine itself. Prop the door to the machine open and let it dry for 24 hours before running another load. If it is still producing smelly laundry, run it on a hot cycle with 1-2 cups of white vinegar.
Bouncing laundry machine: Another common problem with washing machines is they can bounce like crazy when in use. This rocking, which can get quite loud and violent, might be caused by a misloaded or overloaded machine. Adjust the clothing in the machine or remove some before running again. If the wobbling continues, call our Memphis appliance repair professionals. It could be the drum coming loose instead, which can cause extensive damage to the rest of the machine as it rocks and rolls.
Extinguished pilot light: Clicking ignitions on a gas stovetop are generally caused by an extinguished pilot light and nothing more. Clear off everything from your stove and lift the top of it. Get help to keep it propped open and look to see if the pilot light is out. If it is extinguished, you may be able to relight it with a match. You should also take a moment to clean the burner caps, which might prevent ignition if they get too dirty.
Uncool fridge: Is your fridge feeling warmer than you think is usual? It might be a serious problem with your fridge, or it could be an easy fix. You should be able to set your fridge temperature within a set range. Double-check that it is set to how you like. If you lower it, wait an hour and see if it has gotten cooler. If it is still warm, unplug your fridge, keeping the door sealed tightly all the while. Get a brush or vacuum and clean the coils on the back of the fridge thoroughly. Dust collecting there can cause a defect that results in the fridge running warmly. If there is no improvement after you clean the coils, call us. You don't want to leave your food at an unsafe temperature for long.
Take Back Your Laundry Room & Kitchen
The kitchen and laundry room in your home should be a room of utility and productivity. If a broken or malfunctioning appliance is slowing you down, then let Mr. Appliance of Memphis repair it in a jiffy. We take pride in being able to quickly fix damaged appliances, so our customers experience as little downtime as possible.
For home appliance repairs in Memphis, call today. We look forward to helping you!
Frequently Asked Questions
Should I fix my oven or replace it?
You should look into having your oven repaired. The general rule of thumb is to repair your oven if the repair costs are less than half the cost of a new oven. New ovens are expensive and can be a hassle to shop for. As such, you could end up saving money and time by having your oven repaired.
With Mr. Appliance of Memphis, you'll get an added level of convenience since you get to book your oven repair service according to your schedule.
Related Blogs