When you need a team of reliable repair experts to help keep the appliances in your home or business running smoothly and reliably, you can count on the highly qualified technicians at Mr. Appliance of Greater St Louis. With years of experience providing top-quality residential appliance repair services to home and business owners throughout the region, we're fully equipped to get your most used appliances back up and running efficiently.
We understand how important your appliances are to helping you maintain your household or work routine, so we work hard to ensure our repair process is quick and effective in St. Charles, MO, and the surrounding areas of Greater St Louis. Whether your washer isn't turning on or your dryer is overheating, we'll be there with prompt laundry or kitchen appliance repair services to get things back on track. There's no reason to hold off on your appliance repair needs when you have a team of trusted professionals near you. Reach out to Mr. Appliance of Greater St Louis today to learn more and request service.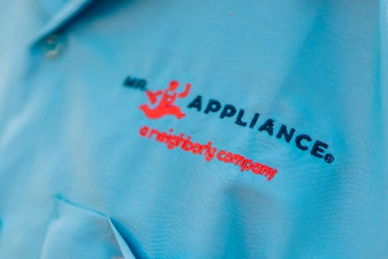 Complete Appliance Repair Services
If you're looking for a trusted appliance repair company in the region that checks all the boxes, look no further. Mr. Appliance is proud to employ a team of highly qualified repair technicians, so you can rest assured you'll always receive the services you deserve. In addition, we stand behind all our professional services by providing warranties on all parts and workmanship. We offer the following residential appliance repair services throughout St. Charles, MO:
Kitchen Appliance Repair Service – Whether you need prompt refrigerator repair services, or your oven won't turn on, we'll be there to help. Our service professionals can effectively restore your freezer, dishwasher, ice maker or ice machine, oven, range, refrigerator, and stovetop.
Washer & Dryer Repair Services – Our repair technicians can quickly diagnose any issues you have with your laundry appliances and provide reliable, long-lasting repair solutions to get your appliances back up and running. Our laundry appliance repair services will ensure your most-used appliances can continue running safely and smoothly.
Appliance Parts Replacement – We provide high-quality appliance parts replacement services to commercial and residential property owners. No matter what appliance parts you seek, we'll work hard to help you find exactly what you need at an affordable cost.
Schedule Appliance Repair Services in St. Charles Today
Dealing with appliances that need to be fixed throughout your home or business can be frustrating. Fortunately, the appliance repair technicians at Mr. Appliance of Greater St Louis have years of experience restoring all types, brands, and models of residential appliances. Whether your refrigerator isn't maintaining the correct temperature, or your dishwasher is leaking, our experts can diagnose the problem quickly to get things running smoothly again. We're proud to offer complete appliance repair services to homes and businesses throughout St. Charles, MO, and the surrounding areas. Your local Mr. Appliance is just a phone call away. Contact us today to
schedule repair services
with our highly qualified team!