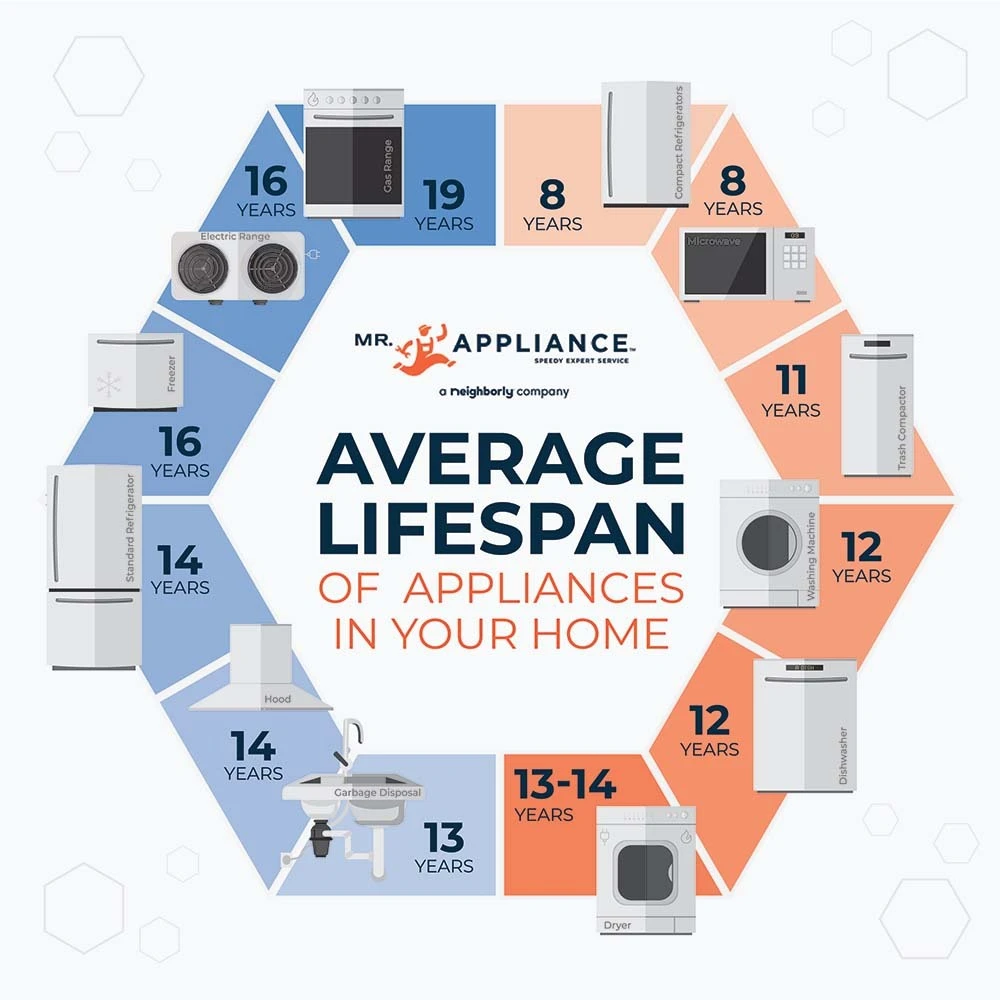 With the help of our residential appliance repair services, you can give new life to an old or defective appliance. You would be surprised just how much money you can save by scheduling a repair, instead of heading to the store to buy a replacement. Even for smaller appliances like microwaves, deciding to go with repair over replacement can save you big.
We can repair a large variety of residential appliances, including but not limited to:
Mr. Appliance of Hackensack guarantees all our repairs, fixing your home appliances to last by using industry-leading techniques and top-grade parts. We keep a flexible schedule to make arranging an appliance repair service in your home easy. You will also be delighted by our upfront pricing that never hides a hidden surprise upcharge. We give you a price for our appliance services, and that's what you pay—really!
For appliance repair in Hackensack, call us or schedule service online for refrigerator repair near you!
Enjoy the Benefits of Professional Home Appliance Repairs
Getting a brand-new appliance out of the box is exciting, but it is also expensive. You also don't know if your new appliance is even going to work as you expect. It seems that everyone has purchased an appliance or product with excitement, only to get frustrated when they get home and discover the "new" appliance is already defective or damaged.
By scheduling a home appliance repair service from Mr. Appliance of Hackensack, you can completely avoid that frustration! Our appliance repair technicians fully inspect your appliance to make all repairs as needed, giving it a quality-check that you can trust. In many ways, our repairs make an appliance even better than one freshly out of the box.
Consider these additional benefits of appliance repair services for your home appliances:
Saves money: We cannot stress enough how much money you could stand to save by scheduling appliance repairs, instead of going straight for replacements. For major appliances – think refrigerators, freezers, dishwashers, oven ranges, washers, dryers, etc. – you could literally save thousands of dollars by choosing to make a repair.
Adds convenience: Shopping around for a new appliance can be a hassle. There are so many makes and models on the market, it almost becomes impossible to find the right one for your home, especially if people in your family have conflicting opinions on what makes an appliance awesome. Repairing your appliance instead of replacing it keeps things convenient by removing the busy shopping experience altogether, and by bringing an appliance repair technician right to your door and on your schedule. Don't forget you won't have to lug a heavy appliance around, either!
Keeps your favorites: We all have an appliance that we love, like a garbage disposal that can chew through anything or a wine cooler gifted by a close relative. Getting rid of it can be a heartbreak. Hold onto your favorite, trusted appliances by letting our professionals service it. With a little bit of tinkering and a lot of advanced appliance repair knowledge, we are certain to be able to get your appliance up and running again.
Call us or schedule service online for affordable appliance repair in Hackensack!
Common Problems with Home Appliances & How to Fix Them
While our team is always happy to come to your house and perform professional home appliance repairs, we are even happier to help you find ways to save money. There are a few common home appliance issues that you can probably fix on your own. All you need is a little elbow grease of your own and our knowledge shared here.
Jammed garbage disposal: There is a long list of things you can put down your garbage disposal, and an equally long list of things you cannot. If one of these common "no disposal" items – including eggshells, coffee grounds, stringy vegetables, cooking grease, etc. – is placed into your garbage disposal, it can jam it and prevent it from switching back on. To fix it, shut off the garbage disposal and carefully remove any waste you can reach easily. Next, look under your sink, find the reset button on your garbage disposal, and click it in. Run water down your sink and try the disposal again. It should start running again. If it does not, call us.
Strange washing machine odor: Have you noticed that your clothing sometimes comes out of your washing machine with a strange odor on it? This bad smell might be similar to a moldy or musty odor. To help get rid of it yourself, leave the door open each time you run a wash to let it air out and dry. You can also run the machine with nothing but hot water and a mix of baking soda and white vinegar, which will power blast away the source of the smell in most cases.
Teetering washing machine: Speaking of washing machines, does your start to teeter whenever it runs? A washing machine that rocks each time it is used is probably no longer standing levelly on the ground. Closely examine the legs of the washing machine to see if any should be lengthened or shortened to improve balance. If it only wobbles sometimes, then that could be an issue with the way the laundry has been arranged inside of it. Experiment by rearranging the clothes you have loaded to create a more even weight distribution. If that does not work, schedule a repair with Mr. Appliance of Hackensack. The problem could be a loose drum, which can start to destroy other components as it throws its weight around.
Unlit gas stove: When you try to use your gas stovetop, you will have to turn a knob until it ignites the corresponding burner. If the burner never ignites and you only hear a clicking sound, then there is a problem with the igniter or pilot light, depending on the type of stove you have in your kitchen. Check that all burner caps are placed correctly, as some models will not ignite if they aren't. You should also gently clean around the igniter since debris can clog it and prevent ignition. If you have an extinguished pilot light, you can lift the stovetop range and relight it with a match. Please do not attempt any stove repairs or maintenance you do not feel safe performing. It is better to stay safer and let our professionals fix it instead.
Warm refrigerator: A refrigerator that feels suspiciously warm when you open the door could be experiencing a problem with its coils. Dust buildup on the coils running along the back of the fridge can hurt the fridge's efficiency, resulting in it struggling to match your set temperature. With a vacuum or good brush, you can dust the coils, after unplugging it, of course. If that does not fix the problem, get us on the phone to fix it. Otherwise, you could be putting your food and beverages in your refrigerator at risk of spoiling and becoming dangerous to consume due to sitting in an unsafe temperature.
Frequently Asked Questions
What is the average cost of an appliance repair?
The cost to repair your residential appliance will differ from job to job. However, repairing an appliance can be more cost-effective than buying a new appliance. Additionally, your initial service call fee is waived if you proceed with our recommended repair!
What does a residential appliance repairman do?
Appliance repair techs diagnose and repair broken appliances! Our Hackensack residential appliance techs are knowledgeable about the various brands and components of your broken appliance which means they'll have the expertise to get yours up and running as quickly as possible!
Is it worth repairing an appliance?
Yes, it is absolutely worth trying to repair your appliance! New appliances can cost thousands of dollars so utilizing our appliance repair techs can save you money. Visit our Contact Us page to schedule your service!
Speedy and Expert Home Appliance Repair Near You
At Mr. Appliance of Hackensack, we train our appliance repair technicians so much that servicing all types of home appliances become second nature to them. Day-in and day-out, we are always happy to drive around our neighborhood, rescuing customers in need from busted appliances. We also save your pocketbook, too, from being drained by a large appliance purchase. It is a win-win-win that everyone can get behind!
At Mr. Appliance of Hackensack, we have a motto that sums up what we do: "Don't replace it, fix it!" When one of your home's appliances starts to act up, don't head straight to the dumpster to recycle it. First, see how we can help.
Let's talk about our residential appliance repair services in Hackensack. Call us today.