Has your stove, oven, or range stopped working? Don't worry, Mr. Appliance of Milwaukee has you covered! We have 10 years of experience in fixing all types of stoves, ovens, and ranges. Our highly-rated service professionals are dedicated to providing high-quality service with up-front, flat-rate pricing. We even back our work with a warranty - - with us, we get your job done right.
Call us for stove repair services in Milwaukee. Or book online. When it comes to appliances, you're in good hands with Mr. Appliance of Milwaukee.
Why Choose Mr. Appliance of Milwaukee?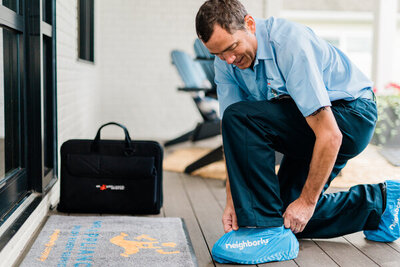 With our speedy stove repair services, you'll never miss out on the joys of cooking again.
From our speedy, expert stove repair professionals to our responsive communication, you can count on us for high-quality service.
Why call us to fix your stove? A few reasons include:
Our Flat-Rate, Up-Front Pricing. The price we quote is the price you pay, even if the repair takes us longer than we anticipated. You'll never have to worry about hidden fees.
Our Professional Technicians. We arrive on time and in our company uniform. We even bring our own doormat and wear shoe covers in your home. We truly go above an beyond to serve you.
Our Amazing Reputation. We're backed by over 4,000 positive reviews. We love our customers and coming in to "save the day".
Our Warranty. As per our Neighborly Done Right Promise®, we have our stove, oven, and range repairs with a 1-year parts and labor warranty.
You can count on us again and again when it comes to keeping your oven up and running like new.
Check out our special offers to see how you can save on your oven, range, or stove repair. To schedule a service, book easily online or call.
Our Stove Repair Services in Milwaukee
Our speedy, expert stove repair services offer you a convenient solution to restoring your cooking appliances.
When it comes to stove repairs, we:
Use Highly Quality Parts. Not only do we provide a comprehensive inspection and diagnosis of the issue, but perform the repair using only the highest quality parts available.
Can Fix Gas and Electric Stoves. Do you have a gas or electric stove top? Our service professionals can fix gas and electric stoves alike.
Can Repair Countless Stove Brands & Models. In addition to being able to assess and fix any model or brand of a stove, our professionals can also diagnose any underlying problems that may be causing malfunctions.
Can Diagnose Any Issue. We can test electrical circuits and components, inspect gas lines and valves, check burners and igniters, and analyze wiring conditions. Furthermore, we are well-equipped to clean and adjust pilot lights as well as perform exhaust fan vent maintenance when necessary.
This kind of service is an invaluable asset if you don't want to worry about the inconvenience, cost, or safety risk associated with attempting a stove repair on your own.
When it comes to stove repairs, we've got you covered. Schedule your service online or by calling us today. We'll see you soon!
What Can We Expect After Scheduling Our Service?
At Mr. Appliance of Milwaukee, we're known for providing speedy, expert, and professional stove repair services. It all starts with your initial phone call.
From there - here's what you can expect from us:
Professional Communication. We email and text you before your service with a two-hour window of when you can expect us. We also send you a picture of your service professional so you know who will show up at your home. Our communication is one of the many things that set us apart.
Prompt Arrivals. We arrive when we say we will - it's as simple as that.
Persistent Troubleshooting. We'll get right to work troubleshooting your stove, oven, or range. We know exactly that to check and are confident in our ability to quickly figure out what's going on.
Precise Estimate. We'll review our repair estimate with you before we proceed with any repair work. That way, you know exactly what you're getting and how much the repair will cost. We're happy to answer any questions you may have.
Perfect Repairs. If you approve our estimate, we'll work to repair your stove, oven, or range that same day. If we need to return with parts, we'll return as quickly as we can and keep you updated.
Oh - - if you approve our repair estimate, we'll waive your service call fee.
Need professional stove repair in Milwaukee? Call us or book your appointment online. We can quickly fix all types of oven, ranges, and stoves.
Oven, Stove, and Range Repair - FAQs
Is it worth fixing my stove?
Yes - stove repair is typically quicker and more cost effective than buying a new stove or cooking appliance. Stove repair can especially be beneficial if your stove is made by Wolf, Viking, Cafe, or another high-end brand. Replacing a high-end stove or cooking appliance can cost thousands of dollars.
The rule of thumb is to repair your stove, oven, or range if the repair costs are less than half the cost of a replacement. We'll be happy to review options and recommendations with you during your service.