The FDA suggests keeping your refrigerator set at 40° Fahrenheit or below to keep food fresh, prevent spoilage, and inhibit the growth of illness-causing microorganisms. When your refrigerator breaks down for any reason, it can be stressful. Many types of food can spoil in a matter of hours if not properly refrigerated. So, you need a team you can trust to offer quick, reliable, and reasonably priced repairs. Who repairs refrigerators in the League City, Texas area? Mr. Appliance of League City performs refrigerator repairs. Our refrigerator repair specialists will inspect your refrigerator, diagnose the problem, and explain your options. Learn more about our refrigerator repair services.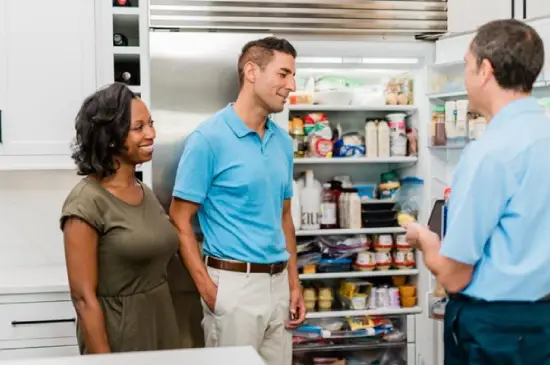 Repairs for Any Kind of Refrigerator
When you call an appliance repair team, it can be disheartening to hear, "We can't repair your type of refrigerator." You'll never hear that when you call Mr. Appliance of League City. Our repair technicians are highly skilled at fixing problems with all types of refrigerators. From mini-fridges to massive French door refrigerators, we can perform any refrigeration repair on any kind of refrigerator. Some of the most common types of refrigerators we work on include the following:
Bottom freezer refrigerators
Top freezer refrigerators
Side-by-side refrigerators
French door refrigerators
Compact refrigerators
Counter-depth or built-in refrigerators
Freezer less refrigerators
Qualified to Work on All Refrigerator Makes and Models
Each make, model, and brand of refrigerator is slightly different. General Electric refrigerator repairs are different than Whirlpool refrigerator repairs. However, when you work with a team as knowledgeable as Mr. Appliance of League City, you can trust us to always know how to work on your brand of refrigerator. We have worked on countless refrigerators. So, we likely have experience with your exact model. You'll feel much better working with a team of repair specialists who know exactly what to expect from your refrigerator. Some of the most common refrigerator brands we repair include the following:
GE
Bosch
Fisher & Paykel
Viking
Thermador
Whirlpool
KitchenAid
Kenmore
Electrolux
Maytag
Frigidaire
And more
Is It Worth Repairing My Refrigerator?
When your refrigerator stops working, many questions can begin to arise, depending on the situation. Is it worth repairing a 10-year-old refrigerator? Can a refrigerator leak be repaired? Can RV refrigerators be repaired? Is it worth repairing my refrigerator's issue? Don't let these questions linger any longer than necessary. Mr. Appliance of League City is here to answer them for you. We always explain all your options to you, from the most cost-effective repairs to the solutions that will last the longest. Our visits always start with precision diagnostics, pinpointing the exact source of your refrigerator's problem. Then, we discuss it with you, explain your options, answer questions, and offer you upfront, flat-rate pricing. That's the sort of personal care you get when you work with a world-class appliance repair team.
We Only Use the Best Replacement Parts
In many cases, a refrigerator repair involves replacing one or more parts of your refrigerator. When replacing a part on your refrigerator, it's crucial to use the best replacement parts possible. At Mr. Appliance of League City, we always use long-lasting replacement parts for repairs. Whether we are replacing a valve or a condenser, you don't have to worry about the quality or condition of the part. Some of the parts we commonly replace include the following:
Water filters
Thermostats
Ice maker components
Replacement light bulbs
Cold controls
Defrost heaters
Condensers and compressors
Door seals and switches
Fans and evaporators
Solenoids
Valves
Bins, drawers, and shelves
Schedule a Refrigerator Repair Appointment Today!
When your refrigerator breaks down, it can be overwhelming. Refrigerator repairs are complicated and require you to move quickly. So, if your refrigerator starts to show signs of a problem, call Mr. Appliance of League City right away. We are proud to serve homeowners in League City, Friendswood, Houston, Seabrook, Kemah, Manvel, Alvin, Dickinson, and Webster. We are committed to upfront pricing. So, your cost will be determined by the extent of your job, not by the time it takes us to finish it. Most importantly, we always provide you with a detailed quote ahead of time. Schedule your refrigerator repair appointment now!