The kitchen has often been called the heart of the home. If that's true, your stove maybe your home's most important appliance. When your oven, stove, or range stops working properly, it doesn't take long for it to disrupt your life. So, it's best to know the most reliable appliance repair team in the area to help you with repairs when you need them. Mr. Appliance of League City offers oven, stove, and range repairs in League City, Texas, and the surrounding areas. Over the years, we have become known as the area's favorite team for oven, stove, and range repairs because of our dedication to friendly service at a reasonable price. Learn more about our residential oven, stove, and range repairs.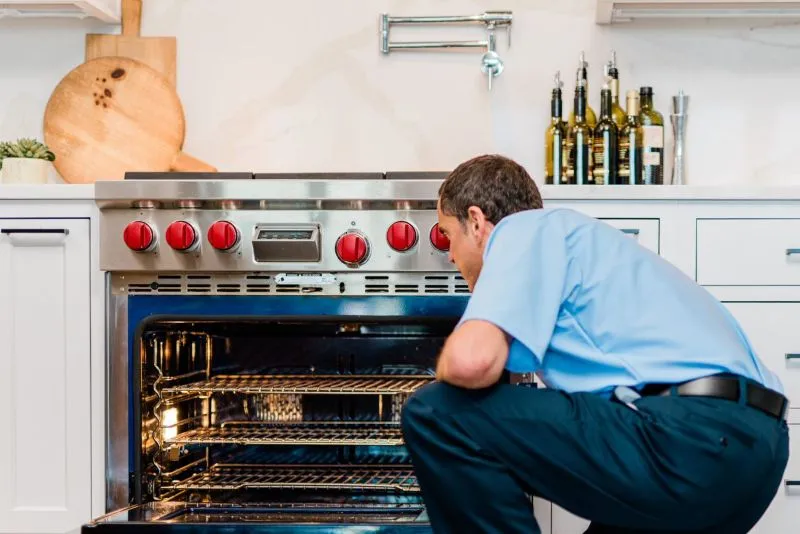 What's Wrong With Your Stove?
Stoves are complex devices with many different working parts. Any of those parts can break or malfunction. The source of a problem may not be clear from the outside. For instance, when your burners get too hot, it may not be obvious that the problem is with the switch and not the burner itself. That's the benefit of working with a world-class repair team. Our oven, stove, and range repair services always begin with precise diagnostics. Then, we can explain the source of the problem. Sometimes, we can even give you tips to prevent similar issues in the future. Some of the most common problems with stoves include the following:
Burner Gets Too Hot – Does your burner seem to be at maximum heat, no matter how low you set the dial? If so, the problem likely lies within the switch.
Burner Won't Come On – If your burner doesn't heat up at all, it could be due to several issues. Your range might have a faulty burner, switch, or burner receptacle.
Oven Door Won't Open – When an oven door refuses to open, it is most likely due to a problem with the self-cleaning latch or the oven control panel.
Indicator Light Stays On – Does your stove's indicator light stay on even when your burners have cooled down? If so, you might have a damaged switch.
Oven Won't Self-Clean – The self-clean latch and the function selector are integral to your oven's ability to clean itself. If either is broken, then the self-clean function won't work.
Oven Doesn't Heat Up – There are many issues that can prevent your oven from heating up. The problem could be in the control panel, the heating elements, or many other places.
Oven Doesn't Bake or Broil - If your oven won't bake or broil, we may need to replace your igniter, valve, or heating element.
Oven Produces Erratic Temperatures – Uneven temperatures can give you half-cooked meals. The cause of this issue usually lies within the temperature sensor, bake oven ignitor or selector switch.
Servicing All Makes and Models
While all stoves have similar functionality, each brand has a unique design, including different features, configurations, and placement of parts. At Mr. Appliance of League City, we train our technicians to handle all range, stove, and oven repairs, no matter the make, model, or brand. Some of the brands that we commonly repair include the following:
GE
Maytag
Whirlpool
KitchenAid
Frigidaire
Thermador
Dacor
Your Repair May Be as Simple as Replacing a Faulty Part
Inside your stove, many different parts work together to make up an advanced cooking appliance. When any one of these components fails, your oven may stop working. Luckily, we can usually repair a broken oven, stove, or range by simply replacing one or more parts. This is much more affordable than replacing the entire appliance. We only use the best, longest-lasting parts for repairs. Some of the most common parts that we need to replace include the following:
Temperature sensors
Gaskets
Heating elements
Thermometers
Igniters
Switch valves
Burners
Bake igniters
Spark electrodes
Spark modules
Relays
Safety valves
Control boards
Dials
Ignition wires
Self-cleaning latches
Thermocouples
Schedule an Oven, Stove, or Range Repair Appointment Now!
If your oven, stove, or range has stopped working properly, don't wait to get it fixed. Mr. Appliance of League City has a highly experienced repair team in the areas of League City, Friendswood, Houston, Seabrook, Kemah, Manvel, Alvin, Dickinson, and Webster. No matter what issue your stove is facing, you can always expect quick, reliable, and competitively-priced solutions. Our technicians always wear uniforms so that you can recognize them on sight. We also offer upfront, flat-rate pricing. We know that many homeowners worry about oven, stove, and range repair costs. We will carefully explain the costs to you ahead of time and answer any questions you may have. Schedule your oven, stove, or range repair appointment now!