At Mr. Appliance of League City, our friendly dryer repair technicians are always ready to help. Providing technical knowledge, unique skills, and advanced tools to get the job done right, it is no wonder that we are a brand name people trust.
With urgency, our top-rated dryer repairmen do everything in our power to expedite the dryer repair process. From making a knowledgeable diagnosis to figuring out precisely what services and parts are required, we work intelligently with both speed and attentiveness.
Need speedy, expert dryer repair? Visit us online or call us to book your service! Your service call fee is waived when you proceed with our recommended repairs.
Why Choose Us to Repair Your Dryer?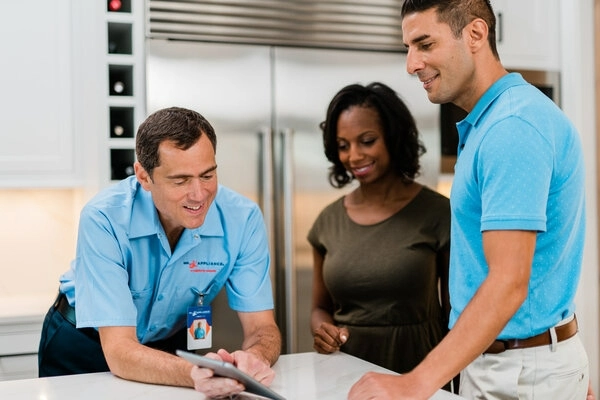 Why choose us? We are relied upon by customers for:
Our upfront pricing – What we quote for the repair cost is what you will pay. No surprise fees will be added on at any time.
Our contactless payment options –We offer flexible and remote payment solutions to make the exchange easy.
Our online Service on Your Schedule®system – Our digital scheduling platform allows you to book and monitor your appointments virtually.
Our "leave no trace" policy –We promise to clean up after ourselves. Your property will be left identically to how it was before our repair services. The only difference: Your dryer will be working!
Our Neighborly Done Right Promise® – Every customer receives a 12-month warranty guarantee on the parts and labor of all residential repairs we service.
We know our customers have busy, stressful lives. We know that time is of the essence. That is why we constantly strive to be convenient and proactive to make your League City dryer repair experience easy.
Trust us for quick & effective dryer repair near League City, TX! Book your service by calling us or by scheduling online.
Common Residential Dryer Repairs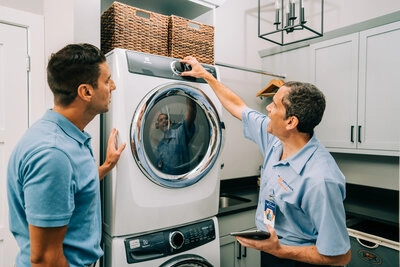 At Mr. Appliance of League City, we always recommend taking proactive measures. If completed before issues arise, minor repairs can end up saving you lots of money in the long run.
This is why we advise that if your dryer is functioning inadequately and leaving you with damp clothes and garments, it may need a professional inspection and/or tune-up.
With our expertise, we will happily investigate the source of any problem: checking to see if there is something wrong with the rotating drum / tumbler, vent flap, or ducts. If hot air is not circulating properly or moisture is not evaporating as it should be, a part may be defective or obstructed by the accumulation of lint.
These are some common dryer issues we regularly repair:
A lack of power – If the circuit breaker has not tripped, you may have a broken starter switch, thermostat, or terminal block.
A lack of heat –If the fuses have not blown, you may have a faulty thermal switch, thermostat, or heating coil.
A lack of spin – If the rotating drum is stuck and remains stationary, the problem may be a bad belt, roller, or idler pulley.
It gets too hot –If your vents are clogged, the dryer will heat up dangerously and quickly. If blockage is not a problem, we will check to see if the heating coils are defective.
When it comes to residential dryer repairs, we are versatile and thorough. Whether you have a gas or electric dryer, we have your needs covered. Available year-round, our experienced and highly-rated technicians have the skills and knowledge necessary to restore your dryer promptly.
Dryer Repair | FAQs
Do you offer Samsung dryer repair?
Yes, we do! Whether your Samsung dryer is electric or gas, top-loading or front-loading, we can service and repair it! Additionally, Samsung is only one of the many dryer brands that we can repair and service.
If you are in need of urgent or routine dryer repair, call us today or schedule an appointment by contacting us online!