The modern convenience of clothes dryers has made hanging your wet laundry on a clothesline a thing of the past. When your dryer breaks down, it can leave you unable to do your laundry at all. That's why homeowners in the League City, Texas, area turn to Mr. Appliance of League City for all their dryer repairs. Our team of skilled technicians offers convenient appointment times. So, we can always get your dryer fixed before the dirty laundry begins to pile up. Learn more about our dryer repair services.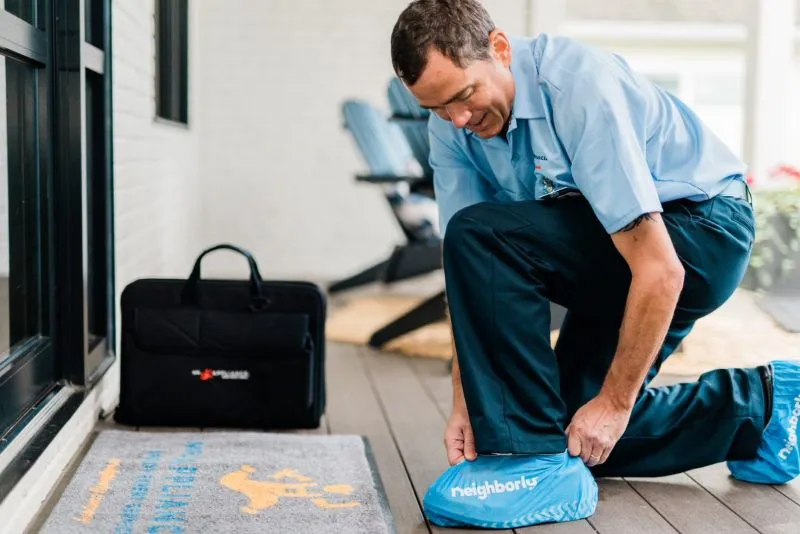 Gas and Electric Dryer Experts
There are a couple of different types of dryers. The main two are electric and gas. It's fairly typical for homeowners to not even know which kind of dryer they have. That's no problem. Our team of highly qualified dryer specialists will be able to identify which kind of dryer you have. The primary differences between the two kinds of dryers include the following:
Electric Dryers – Electric dryers have become more popular because of the ease of installation. An electric dryer needs less exhaust venting because it only requires venting for steam and lent.
Gas Dryers – Operating under the power of natural gas or propane, gas dryers are very energy efficient. They do require special venting, though.
Some Issues You Might Be Experiencing
Before we can repair a dryer, we need to figure out what's wrong with it. Dryers have a complicated network of inner working, from start switches to heating coils. Our team uses thorough diagnostics to find the exact source of the problem. We can perform all services, from dryer vent repairs to replacing broken switches or thermostats. Some of the most common dryer issues that we repair include the following:
Dryer Not Producing Heat – When your temperature switch, fuse, heating coil, or thermostat breaks, you may notice that your dryer tumbles but doesn't produce heat.
Dryer Not Running – When your dryer isn't powering on, check for tripped breakers in your electrical panel. If that doesn't fix the problem, you might have a bad terminal block, a damaged thermostat, or a broken start switch.
Drum Not Spinning – If the drum inside your dryer isn't spinning, there could be many culprits. The motor is the first place we'll check, but the issue could also lie within the belts, rollers, or idler pulleys.
Dryer Gets Too Hot – While you want your dryer to get hot, you don't want it overheating. Clogged vents, bad thermostats, and faulty heating coils can cause your dryer to get hotter than usual.
Can Mr. Appliance of League City Repair My Brand of Dryer?
At Mr. Appliance of League City, we have the most skilled clothes dryer repair team around. It doesn't matter what brand, make, or model your dryer is. We can fix it. As part of a franchise with more than 25 years in business, we have experience working on nearly every kind of clothes dryer. We can even supply high-quality replacement parts for all brands, like Maytag, Samsung, LG, Whirlpool, and GE. Some of the most common parts that we replace include:
Motors
Thermostats
Timers
Belts
Rollers
Heating coils
Idler pullets
Switches
Temperature switches
Fuses
Schedule a Dryer Repair Appointment Today!
If you find yourself with a broken clothes dryer, you need a qualified repair team ASAP. At Mr. Appliance of League City, we have earned a reputation for prompt, reliable, and reasonably priced services. We have worked with countless homeowners in League City, Friendswood, Houston, Seabrook, Kemah, Manvel, Alvin, Dickinson, and Webster. We always offer upfront pricing, explaining the costs of all repairs ahead of time. We charge a flat rate for all repairs. That means we charge you for the job, not our time. That's the sort of honest treatment you get when you work with the area's favorite appliance repair team. Contact us today to schedule a dryer repair appointment.