Today, our appliances are more important than ever! From our washing machines and dryers to refrigerators and dishwashers, we rely on our appliances to complete a variety of daily and weekly tasks.
But, as with anything in life, things don't always last forever. After years of wear and tear, things will begin to slow down and even break in some cases. This is where Mr. Appliance of League City comes in. Our home appliance repair professionals are backed by a great reputation and we warranty our services.
Ready to book your Mr. Appliance appointment? Just give us a call at or book your service online. We'll see you soon!
Our Residential Appliance Repair Services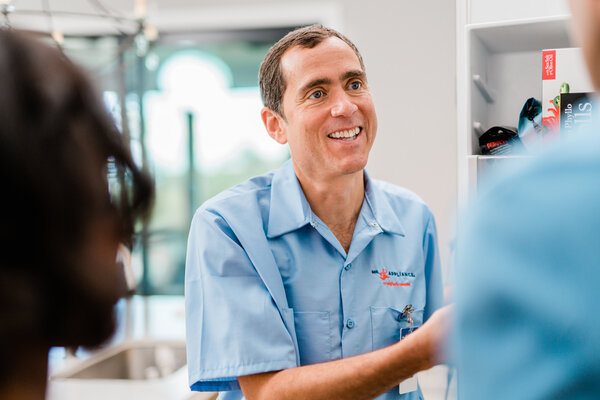 Whether your dishwasher has developed a leak or the dryer's tumbler is refusing to spin, you can rely on our team to deliver any repair service for just about any kitchen or laundry appliance you have in your home.
Every service we provide is designed to deliver you a service that is a jump above the rest.
Kitchen Appliance Repair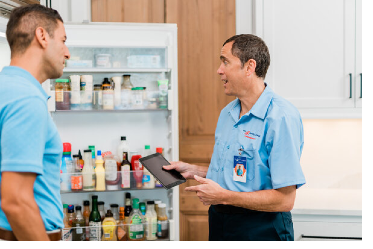 Appliances are essential to a properly working kitchen. Whether it's the dishwasher or fridge that is ruining your normal operations, our team of experts can quickly diagnose the problem and provide a quick repair.
Our kitchen appliance repair services include:
Freezer repair
Ice machine repair
Oven, stovetop, and range repair
Dishwasher repair
Garbage disposal repair
Microwave repair
Vent hood repair
Wine cooler repair
Trash compactor repair
Outdoor kitchen appliance repair
Laundry Appliance Repair
We offer washing machine repair and dryer repair for numerous brands, makes, and models. Your laundry room is only as good as your appliances.
Whether you have a gas dryer that is no longer heating up or a washing machine that isn't getting anything clean, we'll do everything we can to save you from an expensive washer or dryer replacement.
We can repair all of your laundry room appliances, including:
Gas dryer
Electric dryer
Washing machine
Our League City appliance repair technicians have the parts, tools, and decades of experience needed to solve any appliance problems you may be experiencing in League City and throughout the surrounding areas.
Did you know we're backed by over 500 positive reviews? Check out our appliance repair reviews to see why our customers love us!
Frequently Asked Questions
Is ongoing maintenance important for my appliances?
Yes, taking care of your appliances and having some maintenance performed is a great way to get the most out of your appliances.
For instance, making sure your fridge's water dispenser's filter is changed every 6 months can help prevent damage from scaling and deposit build-up.
Then you can take care of your dryer by cleaning out the lint trap after every load and having your dryer vents cleaned every 6 months to a year.
Taking care of your appliances and keeping them maintained can help prevent those inconvenient breakdowns. If you do have an unexpected breakdown, however, give our League city appliance repair experts a call for the speedy, expert service you need!
Request Your League City Residential Appliance Repair
If your appliance has recently developed any problems, be sure to request your repair service right away! Regardless of what's going on, putting a stop to it early on can save you from damage to both your appliance and property itself in terms of water or fire damage. High-quality, professional, and courteous appliance repair is just one call away!
Call us to request your residential appliance repair service in League City! Or you can book your service online.