Searching for Speedy Home Appliance Repair Near You? We Can Help!
It shouldn't have to take an unexpected breakdown for you to figure out which company you can trust with your appliance repairs. But, sometimes the situation is unavoidable. For these times, you can give Mr. Appliance of Bellevue a call.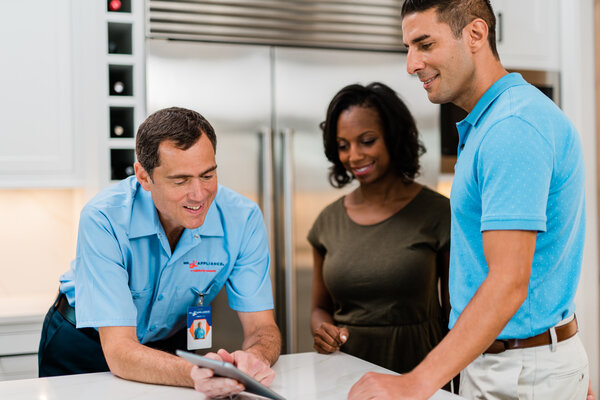 Backed by 25 years of professional, courteous services, Mr. Appliance is a trusted household name throughout the nation. We carry the name of a nationally trusted brand while maintaining a locally owned and operated business assisting the Bellevue community and surrounding areas.
Ready to book your home appliance repair service? Give us a call Or you can book your service online!
Our Residential Appliance Repair Services
Laundry Appliance Repair
At Mr. Appliance of Bellevue, we're pleased to offer both washing machine repair and dryer repair services.
Have you noticed issues with your washer or dryer lately? Whether it's a minor issue or a major repair, count on our team for the help you need returning everything to proper working condition. We service both gas and electric dryers.
We also repair several types of washing machines and dryers:
Top Loading
Front Loading
Combination Units
Compact Units
Some of the most common washer and dryer brands we service include:
GE
Thermador
Bosch
Whirlpool
Frigidaire
Kenmore
Viking
Keep in mind, we're not limited exclusively to the brands listed above. In fact, we service many more and can order parts for a nearly unlimited number of appliance brands.
Don't let your day be a complete wash just because your washing machine gave out. Instead, call for quick and convenient services.
Kitchen Appliance Repair
We're familiar with a large number of brands and appliance parts to ensure the correct repair happens the first time around. And with the Neighborly Done Right Promise®, we promise a job well done.
Our kitchen appliance repair services include:
Refrigerator repair – Top freezer, bottom freezer, French door, and side-by-side refrigerators are among the more common types of refrigerators we repair.
Dishwasher repair– Whether the problem resulted from heating elements, gaskets, motors, or something else, our team is well-versed in dishwasher repair.
Oven, stove, and range repair – You may find that your oven isn't self-cleaning properly, or the burner is always too hot, but don't stress – just give us a call.
Garbage disposal repair – There are two main types: Continuous feed and batch feed. We have the expertise to repair both.
Microwave repair – Whether you have a countertop microwave, drawer style, over-the-range, or built-in, we'll take care of the problem in short order.
Range hood repair – Also known as a vent hood, if you find your range hood is excessively loud or not clearing smoke properly, let our team know. We can help!
Did you know we're backed by over 700 reviews? Check out our appliance repair reviews to see why our customers are thrilled with our services.
How Much Do Home Appliance Repairs Cost?
Your residential appliance repair costs ultimately depend on:
Which appliance is broken, and
What needs to be fixed.
But when it comes to cost and pricing, we:
Have special offers available to help you save some money,
Offer flat-rate, up-front pricing,
Never charge overtime fees,
Review our repair quote with you before proceeding with repairs, and
Warranty our home appliance repair services for 1 year.
Call us or get in touch online for reliable Bellevue residential appliance repair!