A broken freezer means spoiled food that can create a large mess. Mr. Appliance of Queens NY offers professional residential freezer repair services in Queens, NY. Most homeowners depend on their freezers to help waste less food and save money. Keeping food in your freezer ensures safe storage to help prevent the growth of bacteria. We'll help get your freezer back to working properly with our freezer repair services. Contact us today for a free quote on our services.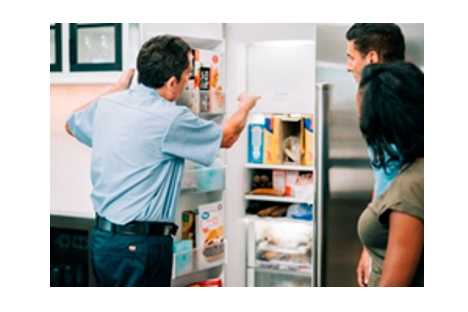 We Service All Freezer Brands
Our freezer repair experts can service any type and brand of freezer. We offer service on all types of freezers, including upright and deep freezer repairs. The most common freezer brands we service include:
The Most Common Freezer Issues

While your freezer works to keep food frozen, it has many complex parts that keep it in optimal shape. If you notice your freezer isn't working properly, contact us immediately for emergency freezer repairs. Our team of professionals can repair any freezer problem, including:
Freezer Not Cooling – Check the temperature controls and door seals to ensure they are working properly.
Freezer Won't Work – You may have an issue with your breakers if your freezer will not turn on.
Freezer is Too Cold – If your freezer is overcooling, you may notice frosting on your food or pipes.
Freezer Temperature Changes – Temperature fluctuations can point to dust in your freezer or a more significant issue.
Freezer Noises – Strange clunking sounds can indicate a compressor or engine issue.
Freezer Door Seal Problems – When your door seals are not properly working, you are wasting money and energy.
We Replace Freezer Parts

The parts in your freezer may get damaged or worn down over time. It's important to leave freezer part replacements to our professionals. We will find the root of the issue and replace the parts of your freezer, including:
Fans
Compressors
Thermostats
Door seals
Defrost timers and heaters
Defrosters
Switches
Motors
Compressors
Relays
Evaporator coils
Evaporator fans
Overload protectors
Seals and gaskets
Door switches
Thermostats
Why Choose Mr. Appliance of Queens NY?
At Mr. Appliance of Queens NY, we're committed to repairing the appliances in your home. We strive to exceed expectations with our high-quality customer service. We take the additional steps needed to help protect your home. You can count on our team for cleanliness and professionalism. We proudly serve Queens and the surrounding areas with exemplary appliance services. We will inspect your freezer to determine if you need a freezer repair or replacement service. You can trust us for all your appliance needs.
Contact Mr. Appliance of Queens NY

Mr. Appliance of Queens NY will ensure your freezer is working at optimal performance levels to freeze your food. Our licensed, insured, and qualified team provides knowledgeable freezer repair services. We back our work with a guarantee that we get the job done right the first time. We always offer honest pricing and free estimates. Contact us today to schedule services or get a quote on our freezer repair costs.