Are you wondering whether your refrigerator is cold enough in the Fairview Heights, IL area? According to the Food and Drug Administration (FDA), most refrigerators should be operating at 40°F or less. Meanwhile, freezers should be set to 0°F. If your fridge is warmer than 40°F, you risk losing money on wasted food. The appliance repair experts at Mr. Appliance of Mid America are here to assist you! We'll take a look at your appliance and advise you on whether or not a professional should address the problem.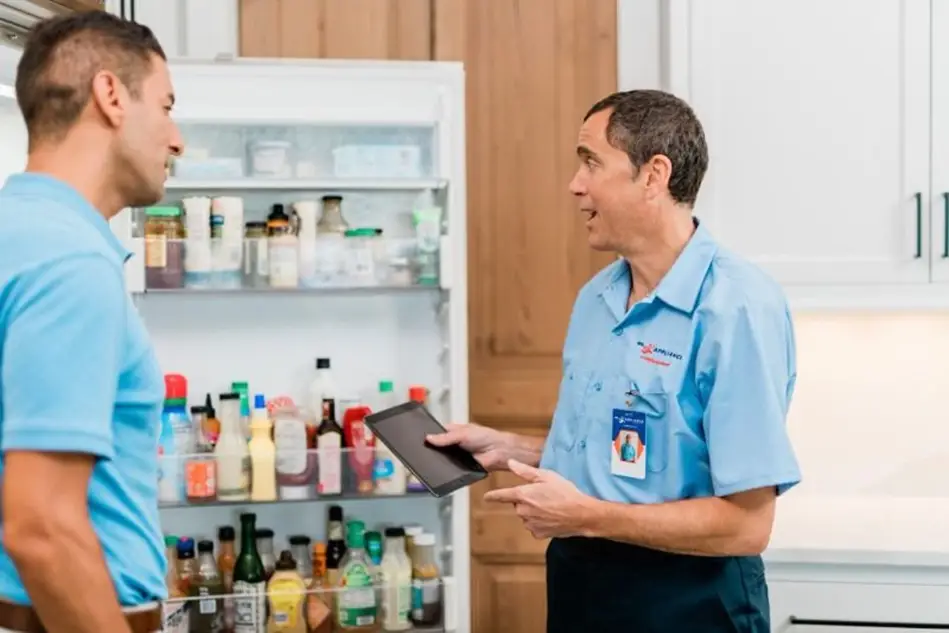 How to Troubleshoot Your Refrigerator Problem
Just because a fridge isn't cool doesn't mean it's broken. There are several easy fixes you can try to restore your appliance before checking with a professional:
Is your refrigerator connected to its power source? It should be hooked up to a live outlet that can handle the amount of voltage.
Is your thermostat set to the correct temperature? It's possible that a box or carton of food was pushed against it and altered the setting, or it may have been set incorrectly by mistake.
Is the door shutting all the way? If your fridge door is letting cool air escape, your appliance won't be the right temperature.
Is there enough circulation? If cold air can't circulate throughout your fridge, the vents could be obstructed. Clear out your appliance and see if that fixes the problem.
If none of these apply to your situation, there may be a problem with the appliance itself. Our team can diagnose why your refrigerator isn't getting cold enough, even if the freezer works.
Refrigerator Problems and How to Repair Them
There are several reasons why your fridge isn't the right temperature. These appliances have a lot of moving parts, and it can be tricky for the untrained eye to find the root cause of the problem. Our team has broken down the various parts of a refrigerator and has taken the liberty of explaining the common problems we face on a regular basis. Read on to find out what refrigerator part could be the root cause of your fridge and freezer issues.
Refrigerator Compressor
A compressor is a component of your appliance that transports refrigerant gas into the fridge's coils. This process heats the air and absorbs heat from the fridge, allowing it to stay cool. Your compressor could be defective if your freezer fan is on, but the actual refrigerator is not cold.
The compressor start relay is less expensive to replace than the compressor itself. You can try purchasing a new relay to see if it will work with your compressor. If the compressor needs to be replaced, it will need to be disconnected. The process of replacing a compressor can be tricky, so don't hesitate to contact our experts if you need professional refrigerator repair.
Condenser Coils
A condenser has coils that move the compressor's hot gas along the coils. The refrigerant is turned back into its liquid form as it travels. If the coils are clogged or defective, your fridge's circulation could be impacted. If dirty coils are the issue, it is possible to clean them. Carefully unplug your refrigerator, remove the toe grill (this may need extra steps, so be sure to check your owner's manual), and use a coil brush to gently clean the coils.
Condenser Fan
As the compressor and condenser work together, they are cooled by the condenser fan. With this fan, your fridge could get too hot and overheat the compressor. To check your condenser fan, ensure that it is not blocked or obstructed. Another source of the issue could be a bad motor. We can replace your condenser motor efficiently and easily if need be.
Evaporator Fan
An evaporator fan pushes cold air into the fridge's storage section, keeping your food cold. It should run alongside the compressor. If it's not working, you may need a new fan motor. We can inspect your appliance to find out why your fridge isn't cold enough.
Air Damper
A refrigerator air damper controls the flow of cold air from the fridge and the freezer. A defective air damper could be the reason why your refrigerator is not cold enough, even if your freezer is working just fine. If your air damper needs to be replaced, you can remove the thermostat sensor to access it and remove it. Once you've put in the new one, simply put back the compartments that had to be removed.
What to Do If Your Refrigerator Still Isn't Cold Enough
Is your refrigerator freezer still not cold enough, even though you've tried all of these troubleshooting methods? Our professionals at Mr. Appliance of Mid America can tackle any problem you may be facing with your kitchen appliances. It's best to let us handle it if you have any doubts about the process. We're more than happy to help!
Saying Goodbye to Your Unit
In some cases, it may be best to replace your fridge altogether, especially if the cost of repairing it will exceed the cost of a new one. In general, it's recommended that you take the age of your unit and the repair cost into consideration. Though lifespans depend on the type of unit, units typically need a first repair within:
7 years for bottom-freezers with additional repairs in the future
5 years for side-by-side fridge/freezers with additional repairs in the future
3 years for top-freezers with additional repairs between 3-6 years, and replacement after 7 years
Contact Us for Refrigerator Repair Today
If your refrigerator isn't cold enough or has another problem, we're at your service. Mr. Appliance of Mid America offers professional refrigerator repair in Fairview Heights, IL and the surrounding areas of Belleville, Collinsville, Columbia, and Edwardsville. Give us a call or schedule an appointment online.