When something goes wrong with your refrigerator, you're sure to notice right away. In fact, you probably take a peek inside your fridge several times a day. At the first sign of a problem with your refrigerator, get in touch with Mr. Appliance of Melbourne. We're experts in refrigeration repair, and you can trust us to get to the bottom of the issue. Before you know it, your appliance will be up and running again, ready for new servings of fruit and storing cold drinks.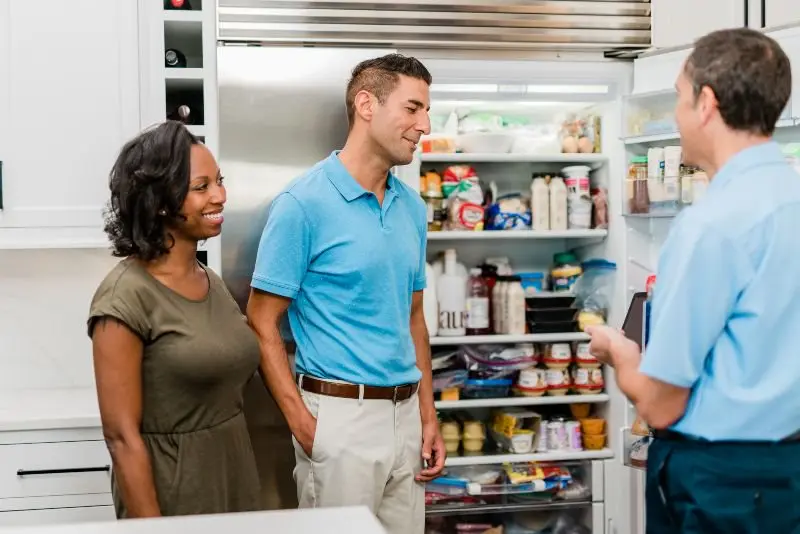 Experience With All Types of Refrigerators
Over the years, manufacturers have come out with all kinds of refrigerators. Some are tiny and fit beneath office desks, while others take up lots of space in the kitchen. No matter what kind of appliance you have, rest assured our team will find a proper fix. We can handle refrigerator repairs on all of the following units:
Compact refrigerators
French door refrigerators
Freezerless refrigerators
Top freezer refrigerators
Counter depth and built-in refrigerators
Bottom freezer refrigerators
Side-by-side refrigerators
We Specialize in All the Top Brands
Our refrigerator repair services apply to all the top brands on the market. Whether you have an old GE unit or the newest and most advanced Maytag model, you can count on us for reliable repairs. Thanks to our years of experience, we can work on these brands:
GE
Bosch
Thermador
Viking
Fisher & Paykel
Electrolux
Frigidaire
Whirlpool
KitchenAid
Maytag
Kenmore
And more!
Shop Our Selection of Replacement Parts
While we always hope our appliances can be fixed with quick and easy repairs, that isn't always the case. Sometimes, fridges need replacement parts to get up and running again. But not to worry, the team at Mr. Appliance of Melbourne has access to a range of in-stock replacement parts. Once we evaluate your unit, we'll let you know which of these parts you need:
Drawers and bins
Shelving
Ice makers
Defrost heaters
Evaporators and fans
Cold controls
Door switches and seals
Condensers and compressors
Thermostats
Water filters
Solenoids
Valves
To Repair a Refrigerator or Replace It?
Refrigerator repairs can address almost any issue you're having with an appliance. But there are times when repairs and replacement parts aren't enough. So, when is it time to replace your unit? In general, you can expect to replace your refrigerator every 14 years or so. While it can be tempting to spend less on repairs, repair costs can add up to more than the price of a brand-new fridge. Plus, investing in an updated refrigerator can save you money on energy bills in the long run. Our team will walk you through the pros and cons of a replacement and recommend the best approach for you.
Get in Touch With Our Team
Refrigerator repairs aren't something that can wait. After all, a faulty fridge can jeopardize food safety in your home. When you notice a problem with your appliance, get in touch with Mr. Appliance of Melbourne right away. We're happy to help members of the Melbourne, FL community get the most out of their appliances. Simply give us a call, let us know the problem, and schedule service with our friendly and experienced team.