Your home can't properly function without the use of your refrigerator, stove, dishwasher, washing machine, and dryer. These vital machines help keep your day running smoothly so you can tackle other responsibilities.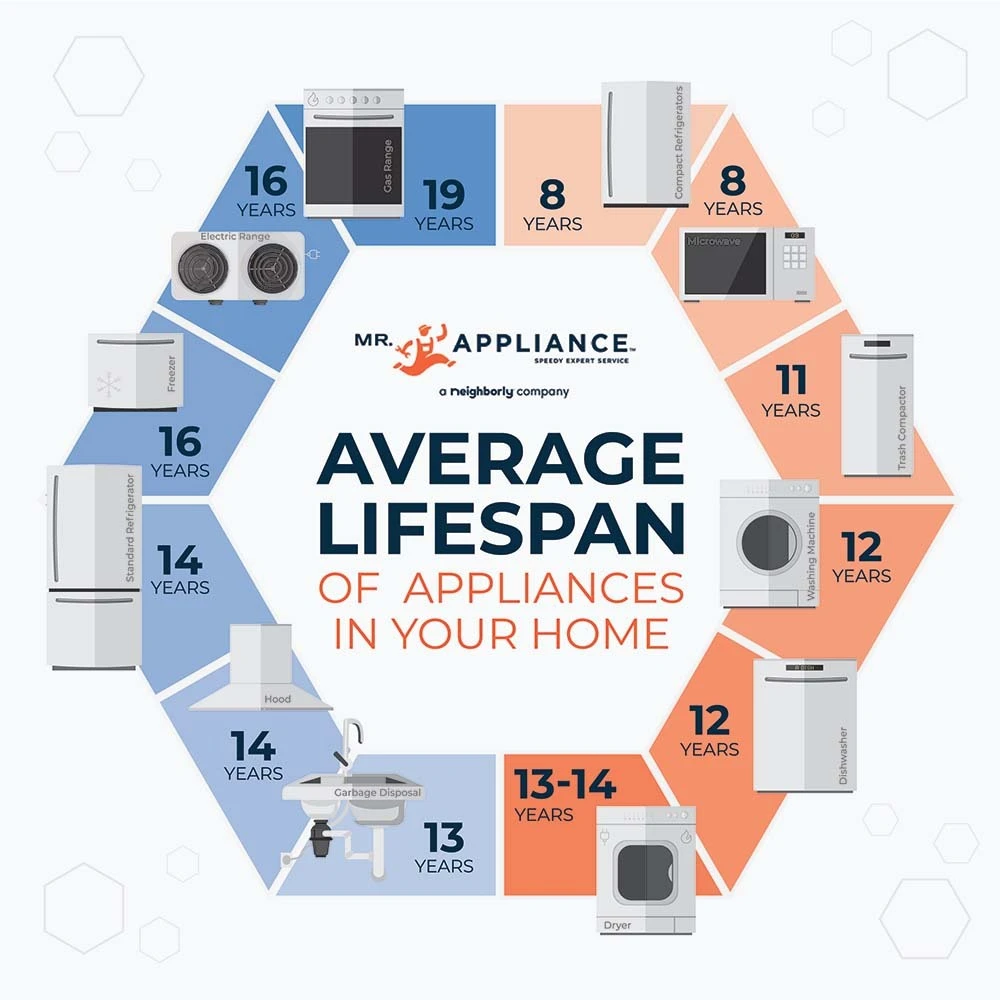 So, when these home appliances start malfunctioning, you might be tempted to try your hand at repairing them yourself instead of calling a professional. Taking the seemingly easier route may prove to be more of an inconvenience to you and your entire family and put everyone at risk.
Give us a call or schedule service online for appliance repair near you!
At Mr. Appliance of Hendersonville we offer appliance repair services that ensure your most-loved and used appliances have an extended life and that your loved ones can use them safely for years to come. Our highly trained and skilled repair technicians have worked with various name brands over the years and understand their inner workings.
So, when you work with our Hendersonville repair specialists, you can expect:
Courteous and attentive professionals keeping you in the loop
Upfront pricing and repair services charged at a flat rate (never hourly)
Convenient and flexible appointment times to accommodate your busy schedule
Industry-leading parts and workmanship warranties to protect your repair
We know your expectations are high—as they should be. Our goal is to consistently rise to the occasion by delivering exceptional and effective repair services that you'll want to tell others about. We want to be the team you trust to repair your major appliances so that they don't put a stop to your day.
Specific Types of Home Appliances We Can Repair
With several appliances keeping your home functioning and stress from building, we know how devastating it can be when these essential household solutions are on the fritz. Our Hendersonville appliance repair pros can help make life easier by repairing kitchen and laundry appliances such as refrigerators, dishwashers, stoves, washing machines, and dryers.
Looking for appliance repair near you? Call us or schedule service online today!
Kitchen Appliance Repairs
Refrigerator Repair
Keeping your food fresh is vital to the health and safety of your family. When your refrigerator doesn't turn on or a feature isn't working, we are the refrigerator repair team to help!
Dishwasher Repair
Cleaning dishes can be a hassle, which is why you have an appliance to take care of that for you. When your dishwasher malfunctions, our team can be there assessing the problem and formulating a plan of action to get it back up and running in no time.
Stove/Oven Repair
If your stove or oven isn't working, how are you expected to provide your family with a healthy home-cooked meal? We can deliver effective repair services when your stove or oven is overheating and burning food or not heating up at all.
Laundry Room Appliance Repairs
Washing Machine Repair
Laundry plays a significant role in the function of your home, ensuring your family has clean clothes so they can go out into the world and be successful. A washing machine that won't turn on, makes odd noises, or isn't getting your clothes cleaned needs a professional's touch. And Mr. Appliance of Hendersonville is just the team to help repair your washer!
Give us a call to schedule service online for washing machine repair near you!
Dryer Repair
Like your washing machine, your dryer is an essential appliance in your home that should be working without fail. Our repair specialists are skilled at detecting a seemingly minor issue that could cause major problems for your household.
Frequently Asked Questions
Do you offer Whirlpool appliance repair?
Yes, we can absolutely repair your Whirlpool appliance! Whirlpool is just one of the 100+ brands of appliances we can repair.
Appliance Repair Experts Who Follow a Strict Code of Ethics
As a locally owned and operated appliance repair company backed by a brand with over 25 years of experience, we are guided by our code of ethics. These principles are the cornerstone of our business and dictate how we treat each other and you—our valued customer.
Our code of ethics ensures you receive repair services that include:
Presenting all viable solutions to get your appliance back in working order
Responding to in-person correspondence or other communications promptly and respectfully
Putting all of our efforts into detecting the cause of your appliance malfunction
Continuing to put the focus on you and your needs
Going above and beyond to provide best-in-class services and superior-quality solutions is what we're known for and why we're the area's go-to appliance repair provider.
What are the most common refrigerator problems?
If you notice the following symptoms of a malfunctioning refrigerator, you may need to schedule a repair service:
Fridge Doesn't Feel Cold: When the refrigerator isn't cold enough, you may notice spoiling food/odors. This can happen when the temperature rises above 41 degrees Fahrenheit, which would be too warm to preserve food.
Refrigerator Items are Freezing: This is likely due to a defective thermostat or a failing temperature control board.
Broken Ice Maker: This can happen due to a damaged water supply line, debris clogging the water filter or other malfunction with the ice maker.
Frost Buildup in Freezer: Frost buildup happens when warm, moist air seeps in through cracks in the freezer door seal, hence the creation of frost. This is common in older refrigerators.
Broken Fridge after Transport: When moving your fridge to a new location, it's important to keep it as upright as possible. If you lay the refrigerator down, this can cause lubricant to escape from the compressor into the cooling pipe, which could permanently damage the compressor, causing the fridge to break.
Give us a call to schedule service online for refrigerator repair near you!