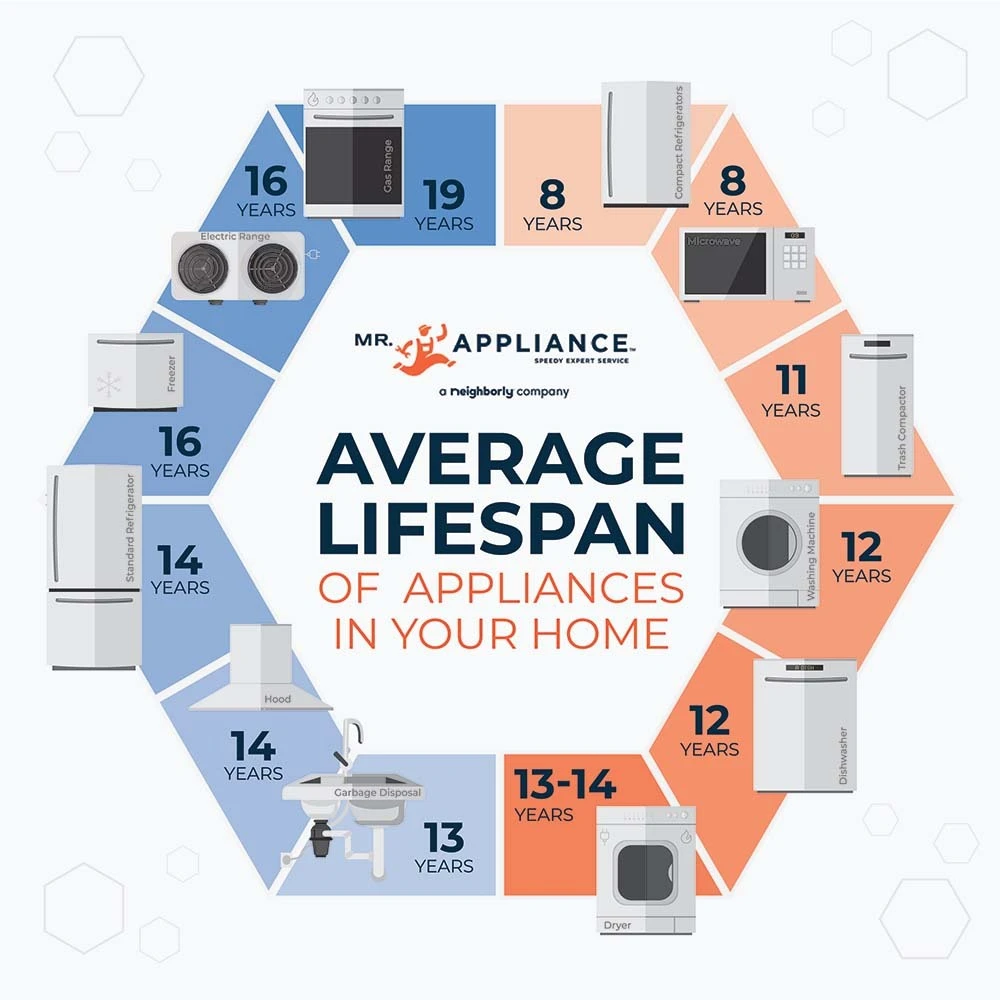 What's one thing no one wants to deal with? A washing machine that breaks down, letting your dirty clothes pile growing faster than you can keep up. Another frustrating issue? A warm refrigerator.
Luckily, there's a reliable team of professionals that can handle both your kitchen and laundry room appliance repair. Mr. Appliance of Denver can deliver preventative maintenance measures and emergency repairs that will have you back into a normal routine as quickly as possible.
Looking for appliance repair near you? Call us to schedule service at your earliest convenience.
Our Home Appliance Repair Services in Denver
Dealing a dishwasher that won't drain? Or is your dryer refusing to produce hot air? No matter which home appliance is broken, we can help! At Mr. Appliance of Denver, we've seen it all and can repair over 40 appliance brands.
Laundry Room Appliance Repair
Count our Denver washer dryer technicians for fast and cost-effective repair!
Washing Machine Repair
If you start noticing inconsistencies with the way your washing machine runs, it's likely time for a repair service to determine the cause. We can help stop the issue at its source before it leads to water damage or an expensive replacement.
We're a reliable resource for problems such as:
Your washing machine won't turn on
Your washing machine won't spin or spins too quickly
Your washing machine leaks
Your washing machine won't drain properly
Your washing machine leaves spots or soap excess on clothing
Dryer Repair
There are two main types of dryers we repair: Electric and gas. With technical knowledge of both dryer types, our professionals can provide an accurate diagnosis and offer quick and convenient solutions based on your situation.
Common issues we see include:
Your dryer won't turn on
Your dryer isn't producing heat
Your dryer runs too hot
Your dryer drum won't spin
Washer and dryer brands we often service include:
Samsung
Maytag
LG
Whirlpool
Kenmore
GE
Call us to schedule an appointment with our Denver washer dryer experts. Let us make the necessary repairs in a timely and cost-effective manner!
Kitchen Appliance Repair
When you contact our team for appliance repair, we'll work quickly to restore the functionality of your kitchen.
We offer:
Freezer repair
Ice machine repair
Dishwasher repair
Garbage disposal repair
Microwave repair
Vent hood repair
Wine cooler repair
Trash compactor repair
With the Neighborly Done Right Promise®, we get the job done right the first time around because we believe strongly that a job isn't complete until it's correct.
Mr. Appliance of Denver is here for all your kitchen appliance repairs in Denver. Reach out online or dial for a free service call with repair.