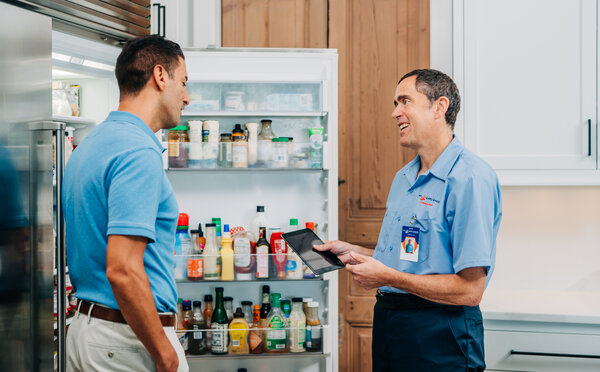 Whenever possible, our local refrigerator repair team strives to help you save money and hassle by conducting repairs. But we also know that in some cases, you're better off with a replacement. When that's the case, we can provide expert insight into the best brands and types of refrigerators before installing your new appliance safely.
Some of the common refrigerator issues we receive service calls for are:
The refrigerator is running cycles constantly
The fridge has water leaking from it
The freezer has far too much ice building up
The fridge is warm, and the freezer is cool but not cold
The door won't properly open or shut
When something like this happens, let your solace be that you have a team of experts that has your back: Mr. Appliance of Denver. Our licensed and insured professionals undergo rigorous training and have years of experience servicing home appliances.
Need speedy, expert refrigerator repair near you? Give us a call or schedule service online. We warranty our services!
Refrigerator Models & Types We Service
Our efficient services will have you living a comfortable life as quickly as possible. We'll inspect the problem to accurately diagnose the source of the issue and present all your available options for services. We guarantee our repairs with the Done Right Promise®, so you can feel confident knowing you're in good hands.
We're extensively knowledgeable on many types of refrigerators, including:
Bottom Freezer
Built-in
Compact
Freezerless
French Door
Side-by-Side
Top Freezer
Wine Coolers
Professional Refrigerator Repair Service Near Me
In the world of home appliances, there's nothing quite as sad as coming home to a broken refrigerator. Having to empty all the contents into the garbage and figure out what you're going to do moving forward is stressful, frustrating, and can be overwhelming.
Whether you're suspecting a problem or have questions about what's normal or not, don't hesitate to reach out to Mr. Appliance of Denver. We'll be happy to discuss your situation and help you make a plan of action.
Give us a call or schedule service online for refrigerator repair near you!