If your dishwasher or washing machine breaks down, you're not doomed to a life of handwashing or trips to the laundromat. The expert technicians at Mr. Appliance® can repair your appliances and protect your investment.

Homeowners throughout Murfreesboro trust us to fix and maintain their household appliances, and you can, too. Check out our appliance repair reviews to see why our clients love our services.
Book your service online or call us. We offer speedy, expert appliance repair in Murfreesboro, TN!
Service & Repair for Countless Appliances & Brands
When you purchase an appliance for your home, you put a lot of thought and research into it. Which brands offer the best quality? Which manufacturers deliver the best value?
At Mr. Appliance of Nashville, we know you want to extend the life of your machine for as long as you can—until you decide it's time to replace it.
Our technicians have the training and experience to service household appliances of all kinds from all different brands.
The Types of Appliances We Can Fix
Our technicians perform expert appliance repair in Murfreesboro for:
Freezers
Dishwashers
Ice machines
Garbage disposals
Microwave ovens
Vent hoods
Wine coolers
Trash compactors
Clothes dryers
The Appliance Brands We Can Service & Repair
We work with common brands and high-end, luxury brands, like:
Amana,
Bosch,
Dacor,
Electrolux,
KitchenAid,
Maytag,
Miele,
Samsung,
Kenmore,
General Electric,
LG,
Frigidaire, and
Whirlpool - just to name a few.
If you have an appliance that isn't performing the way it should or has stopped working altogether, reach out to us. We can help!
Schedule your Murfreesboro appliance repair service online or call us today! We warranty our services for your peace of mind.
Need Refrigerator Repair in Murfreesboro, TN? We Can Help.
Out of all the things that can stress you out, a broken refrigerator is probably at the top of your list. As homeowners like you, we get it. That's why we're here for speedy, expert refrigerator repair in Murfreesboro.
8 Signs You Need to Schedule a Fridge Repair Service
When it comes to your refrigerator, certain signs indicate the need for professional repair.
Here are several signs that you should have your fridge looked at:
Unusual noises (loud humming or grinding sounds)
Temperature inconsistencies
Food spoiling quickly
Excessive frost buildup
Leaks
Water pooling inside the fridge.
Strange odors from the refrigerator or if it
Fails to turn on or stay on
In our experience, ignoring these signs could result in your refrigerator failing altogether. We recommend calling a refrigerator repairman as soon as you notice these signs or something else that seems "amiss".
3 Easy Tips for Fixing Your Refrigerator
Most refrigerator issues require professional assistance. However, there are a few simple troubleshooting steps you can take before calling us for repairs.
Here are three easy ways you can try fixing your fridge:
Tip #1: If your refrigerator isn't on, make sure your fridge is plugged in. Also, check to make sure the breaker isn't tripped.
Tip #2: Is your fridge not cooling? Clean the condenser coils. Also, check the temperature settings to make sure it's cool enough. Your fridge and freezer thermostat should be set to 37° F and 0° F, respectively.
Tip #3: Smelly ice or bad-tasting water? We recommend replacing your fridge's water filter. You should change your filter every 6 months or so.
Why Should I Hire a Professional to Repair My Refrigerator?
We know it's tempting to try fixing it yourself, but there are several benefits to calling an expert.
Here are five reasons calling a Murfreesboro refrigerator repairman is beneficial:
Expertise. Our techs have the knowledge, training, and experience to diagnose and fix refrigerator issues. We understand the complexities of different refrigerator models and can provide effective solutions.
Safety. Refrigerators involve electrical components and refrigerants that can pose risks if mishandled. We can handle these hazards safely, minimizing the potential for accidents or further damage.
Genuine Parts. We have access to genuine manufacturer parts, for long-lasting repairs. Using authentic components extends the lifespan of your refrigerator and prevents future breakdowns.
Warranty. Is your refrigerator under warranty? Professional repairs are often required to maintain the coverage. DIY repairs may void the warranty, leading to costly consequences.
Time and Money. Professional repairs are faster and more cost-effective in the long run. DIY repairs can make the issues worse, leading to more expenses or even the need for a new refrigerator.
At Mr. Appliance of Nashville, we provided speedy, expert fridge repair. We're backed by a great reputation throughout the area and can fix all kinds of refrigerators. We back our services with a one-year parts and labor warranty. If you have us repair your refrigerator, we'll waive the service call charge. You can trust us to get your job "done right"!
Need expert Murfreesboro refrigerator repair? Book your service online today. We'll be over ASAP to get you taken care of.
Why Choose Mr. Appliance of Nashville?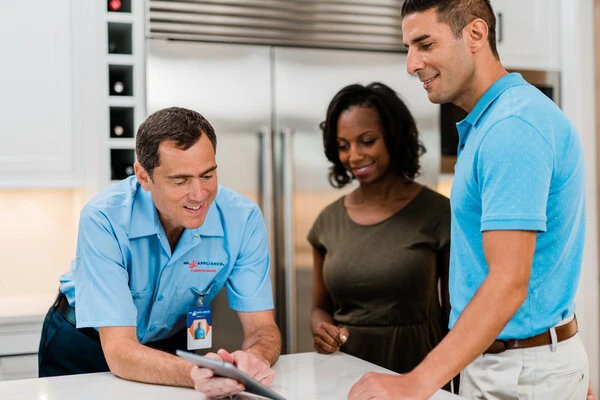 When you choose Mr. Appliance of Nashville, you can count on:
An upfront, honest estimate before we begin our work
Per-job pricing, not per hour—and no overtime charges
Respectful, uniformed repair technicians you can trust
Fast and efficient service with attention to detail
Appliance repair parts and service warrantied for a full year
A commitment to leaving your home in better shape than we found it
We know how upsetting it can be when an appliance you rely on each day stops working properly. That's why Mr. Appliance is dedicated to stress-free repairs and service.
For top-quality Murfreesboro appliance repair service, schedule your appointment online with our expert technicians at Mr. Appliance. Or call our friendly team!