At Mr. Appliance of Aurora, our technicians work with a sense of urgency and resourcefulness to perform refrigerator repairs efficiently. Regardless of what type of refrigerator appliance we are tasked to service, you can expect an attentive and prompt response. We know that food can go bad in a matter of hours when a refrigerator and/or freezer stops working. Even if you have secondary emergency refrigeration options or friendly neighbors, existing without a functioning refrigerator can be a huge nuisance. Aware of this, we do everything in our power to be punctual and accommodating to your schedule.
Looking for a speedy and expert refrigerator repairman in your area? Book your service by calling us or visiting us online!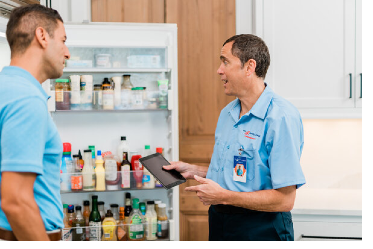 Showing up on time is only half the battle. It is also pivotal that the repairs are competently and swiftly completed. Bolstered by technically savvy repair technicians who offer the experience and expertise you deserve, and top-notch equipment and supplies, our refrigerator repair team is incredibly effective and versatile.
We have the capacity to repair the following refrigeration units, specs, and bands:
Every conceivable type of refrigerator: We can repair built-in refrigerators, French door refrigerators, side-by-side refrigerators, refrigerators with bottom freezers and with top freezers, mini and compact fridges, and standalone freezers and refrigerators.
Every compartment, part, and component of a refrigerator: We can repair water filters, ice makers, condensers and compressors, evaporators, fans, valves, electrical issues, solenoids, thermostats, humidifiers, defrosters, and drawers/bins.
Every common refrigerator brand: We can repair Whirlpool, Frigidaire, GE, Maytag, LG, Samsung, and KitchenAid, to name a few.
Need trusted Aurora refrigerator repair? Call us or schedule your service online. We warranty our services for one year.
Accountability You Can Trust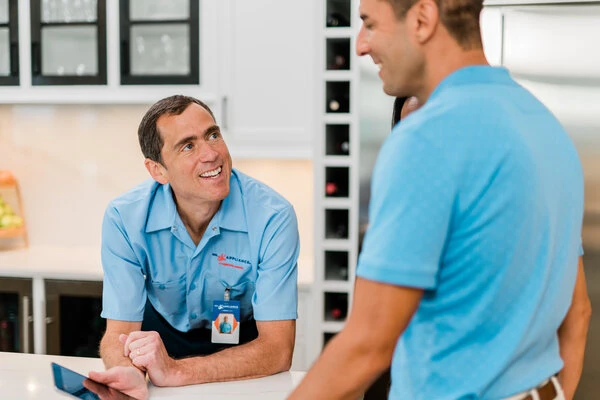 We take pride in upholding the highest standards of professional integrity. That is why we hold ourselves to the Neighborly Done Right Promise®, which includes a 365-day warranty valid from the day the repair is completed, flat upfront quotes, and a requirement that our technicians show up neatly uniformed and always present themselves respectfully.
We also demand that our repair technicians treat each residential property with the utmost consideration and delicacy. This includes leaving each job site immaculate and pristine. No matter how intensive or demanding the refrigerator repair project is, our fastidious team will ensure that everything is spotless after they finish.
Known as our "leave no trace" guarantee, this promise is even written into our company policy. With Mr. Appliance of Aurora, professionalism extends far beyond merely getting the job done competently. It entails offering excellent customer service at every stage of the repair process. Backed by explicit guarantees and a brand name that has been well-respected for decades, why trust anyone else in town when we are ready to come to the rescue?
Frequently Asked Questions About Refrigerator Repair
What usually fails on a refrigerator?
Refrigerators are typically made up of several moving parts, and sometimes, these parts can fail due to various reasons. The most common parts that malfunction include thermostats, condenser coils, evaporator coils, compressor motors, condenser fan motors, and evaporator fan motors. When any of these parts stop working, it can cause the fridge to malfunction.
What are the signs that your refrigerator is going out?
There are several signals that suggest your refrigerator is failing. One is an increase in your energy bills. If your fridge is using more electricity than usual, it may be because its parts are working overtime to keep everything cold. Another sign is that your food is spoiling faster than usual, even when it's within the expiration date. You may also notice that your fridge is making odd noises, leaking water, or generating frost or ice buildup. If you've noticed any of these signs, it's best to have a professional assess them as soon as possible.
Is it worth repairing a fridge?
Whether or not it's worthwhile to repair a fridge depends on the cost of the fridge, the age of the fridge, and the price of potential repairs. If your fridge is over ten years old, it may make more sense to replace it as it may continue to break down even when repaired. If the cost of repairs is more than half the cost of the fridge plus the cost of potential future repairs, it's also a sign that you may want to replace the fridge.
What are the most common refrigerator repairs?
The most frequently required fridge repairs attributed to fridge malfunctions include the following:
Replacing and fixing the Thermostat
Replacing and fixing the Condenser Coils
Replacing and fixing the Evaporator Coils
Replacing and fixing the Compressor Motors
Replacing the Condenser Fan Motors
Replacing the Evaporator Fan Motors
Visit our testimonials page to see reviews from our satisfied customers. To request a repair service, give us a call or request a refrigerator repair online today!