Is your oven overheating or won't turn on? Is your range sparking and crackling? Is your stove top malfunctioning? If so, reach out to the friendly, reputable technicians at Mr. Appliance of Aberdeen, MD right away! We realize cooking appliances never last forever: It's inevitable for an oven or stove to break down at some point during its lifespan. Our oven repair specialists will rush over, troubleshoot the issue, and figure out a solution without making a big dent in your wallet.
An oven provides little utility when it breaks down or switches off without warning. Fortunately, our technicians can rush to the rescue. We'll use cutting-edge tools and techniques to restore your oven or range to its proper condition. We are not satisfied until you are broiling, baking, and cooking again.
Schedule service for oven repair near you by dialing now! We warranty our services and show up on time.
Common Oven, Stove, and Range Issues We Can Fix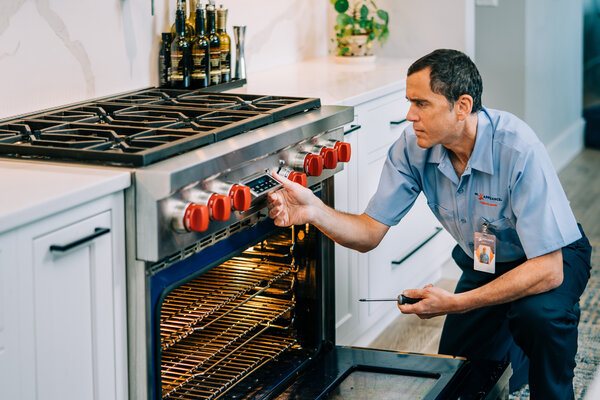 We have the resources and equipment to repair all types of ovens and ranges, regardless of the make, model, or brand. Our team can expedite specialty part orders, upgrade your oven to a modern and energy-efficient unit, and diagnose elusive/undetected stove top issues.
We have experience restoring ovens and ranges with:
Burned-out heating elements
Defective igniters
Broken gas burners
Faulty control boards or clocks
Unresponsive thermostats
Malfunctioning self-cleaning functions
And much more.
We can personalize our repair services to fit your unique needs. Our oven repairmen arrive uniformed (wearing shoe covers) and on time, work for competitive rates, and ensure quality repairs that last. Let us help you get your kitchen back to normal as quickly as possible.
Get in touch with your local stove repair expert today! Call us or schedule your service online.
Oven Not Working? Here are Five Troubleshooting Tips.
If your oven is not working, here are a few troubleshooting steps you can take before calling for professional assistance:
Check the Power. Ensure that your oven is properly plugged into the power outlet and that the circuit breaker or fuse for the oven is not tripped.
Verify the Control Settings. Make sure the oven settings, such as temperature and cooking mode, are correctly set. Check the control panel for any error codes or messages.
Check the Timer. Ensure that the oven timer is not accidentally set, as it can prevent the oven from heating up.
Inspect the Heating Elements. If your oven has visible heating elements, such as bake or broil elements, check for any signs of damage or burning. Faulty elements may need to be replaced.
Test the Oven Light. If the oven light is not working, it may indicate a problem with the light bulb or the light socket. Replace the bulb if necessary.
If these troubleshooting steps didn't fix your oven, call us for speedy, expert oven repair in Aberdeen, MD. We can quickly diagnose and help fix the issue.
Certified Technicians to Deliver Professional Appliance Repairs
At Mr. Appliance of Aberdeen, MD, we've been repairing appliances for decades. Our technicians are trained, licensed, and insured to provide stellar services – saving you time and money by consolidating all your appliance repair needs.
Based on our thorough evaluations of the situation, we will provide informed advice to remedy the problem. On some occasions, minor repairs may be all that is needed for your oven or stove to function again. You also may need a complex repair or replacement oven. Our expert technicians will offer professional recommendations and let you decide.
We Warranty Our Oven, Stove, and Range Repairs
We take pride in every oven repair service call! Our top priority is to provide industry-leading customer service and 100% satisfaction. We're dedicated to treating our neighbors with dignity, courtesy, and respect. If we don't live up to expectations, please let us know within a year of our services, and we'll make it right. This pledge is our Neighborly® Don't Right Promise.
Looking for stove repair in Aberdeen? Give us a call or schedule service online now!
Cutting-Edge Solutions for Stove & Range Repair
Frequently Asked Questions
Is it worth it to fix my oven, stove, or range?
Yes, it is worth seeing if we can fix your oven, stove top, or range. Oven repairs are typically more cost-effective than replacing your cooking appliance. Repairs are also quicker, as it can take time to shop for a replacement.
The rule of thumb is to repair your range, stove, and oven if the repair costs are less than half the cost of a replacement. We can also factor in your cooking appliance's age. If repairs are expensive, replacing them may be a better long-term solution.
Our Aberdeen oven repairman will review these options with you after diagnosing the problem. We'll offer our recommendations and help you weigh the pros and cons.
Can you fix gas and electric ovens?
Yes, we can repair both gas and electric cooking appliances.
Looking for speedy, expert range, oven, or stove repair in Aberdeen? Call us today or schedule your service conveniently online.