If your home's refrigerator isn't staying cool enough to keep the food inside fresh, the repair experts at Mr. Appliance of River Oaks are here to help. Several things can cause a refrigerator to deviate from the right temperature setting, and you can count on our repair technicians to accurately diagnose the issue and provide cost-effective repairs. We understand the urgency of repairing residential refrigerators and promptly respond to requests for service in Bellaire, TX, and the surrounding areas. Refrigerators that don't stay cool enough can spoil food, so it's essential to contact our experts when you notice the temperature isn't what it needs to be. Our team of technicians is committed to providing a hassle-free repair process to get your residential refrigerator back up and running smoothly, efficiently, and reliably. Contact us today to learn more about how we can help when your refrigerator's not cooling.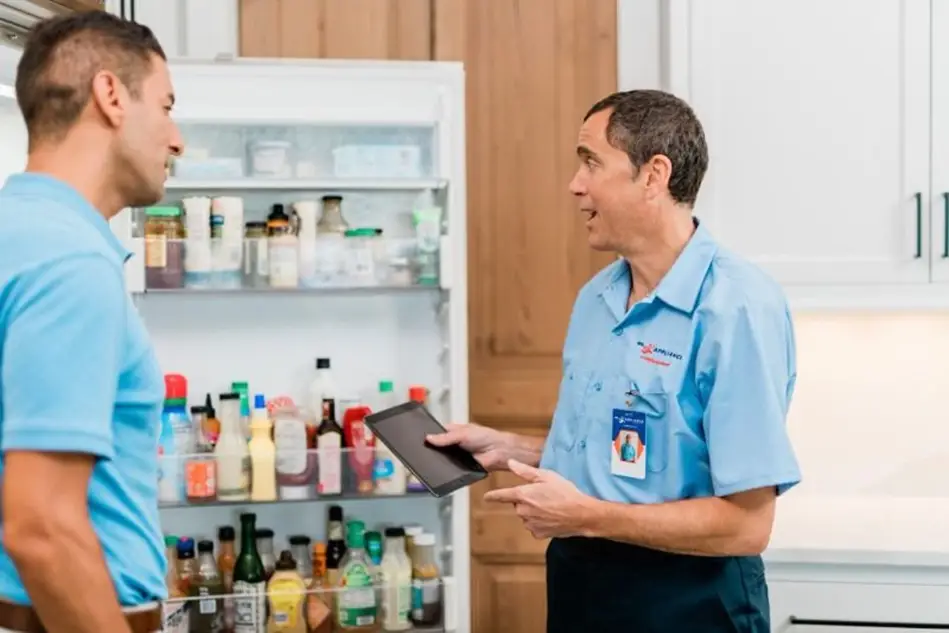 Things to Check When Your Refrigerator's Not Cool Enough
Sometimes, your refrigerator not being cold enough is a simple fix. You can do a few things before calling our experts for refrigerator repairs. The technicians at Mr. Appliance of River Oaks are well-versed in the common causes of a refrigerator not staying cool and can advise you on steps to take before scheduling repairs. We recommend checking the following first:
The appliance Isn't Plugged In – Check to ensure your residential refrigerator is correctly plugged into the electrical outlet.
Thermostat Is Turned Down – Find your refrigerator's thermostat and ensure it's set at an appropriate temperature.
Door Problems – Is your refrigerator door closing completely and sealing properly? If your door or seal is faulty, warm air can leak inside and keep it from staying cool.
Air Circulation Issues – It's difficult for cold air to circulate when you have a lot of stacked boxes and food items. It might help to reorganize everything to allow air to move freely and keep the inside cool enough.
Why Is My Refrigerator Not Cooling?
Several parts and components work hard to keep your residential refrigerator functioning properly and your food fresh. Several things can prevent your fridge from staying cool, and the repair technicians at Mr. Appliance of River Oaks are well-versed in diagnosing appliance issues. Once we've found the issue, we'll provide quick and effective repairs so you can return to your household routine. Some of the most common residential refrigerator parts we replace and issues we repair include the following:
Compressor – If your freezer fan is running, but the fridge isn't getting cool, you might have a faulty compressor.
Condenser Coils – Condenser coils in your refrigerator can clog if there's dirt and debris on the outside of them. This can cause poor air circulation within the appliance and prevent it from staying cool.
Condenser Fan – Your condenser fan keeps the condenser coils and compressor cool. If the compressor is running, the fan should also be running. If the condenser fan overheats or malfunctions, it can cause the temperature to rise inside the refrigerator.
Evaporator Fan – This part blows cold air inside by pulling air across the evaporator coil, cooling it, and sending it throughout your refrigerator and freezer. If the evaporator fan malfunctions, your fridge can't produce cool air.
Air Damper – This part controls the air shared between your freezer and refrigerator. If your refrigerator is not cooling, but the freezer is, the air damper might not be opening and closing properly.
Refrigerator Repairs & Replacements
We recommend having an experienced professional perform all residential refrigerator repairs when your appliance is on the fritz. Our repair technicians have the proper tools and expertise to restore your appliance. In some cases, we find that refrigerators are beyond repair and need to be replaced. Most residential refrigerators last around 14 years when properly maintained. You can trust our team to give honest recommendations when determining if replacement is the more cost-effective option.
What Is the Best Temperature for a Refrigerator?
If you're wondering what the correct refrigerator temperature setting is, the FDA says refrigerators should be set at 40 degrees Fahrenheit or lower and your freezer at 0 degrees Fahrenheit. If your refrigerator is set at the proper temperature but isn't staying cool enough, we're here to help accurately diagnose the problem and repair it effectively.
Contact Mr. Appliance of River Oaks Today
With years of experience expertly repairing commercial and residential appliances, Mr. Appliance of River Oaks is proud to serve households throughout Bellaire, TX, and the surrounding areas, including West University Place, Rice Village, Bunker Hill Village, Hedwig Village, Hunter's Creek Village, Piney Point Village, and Tanglewood. Our highly qualified repair technicians provide a wide range of appliance repair services, including washers, dryers, wine coolers, ice machines, trash compactors, microwaves, and much more. If your residential refrigerator or freezer isn't staying cool enough and you've checked all the obvious causes, it's time to call the experts at Mr. Appliance of River Oaks for professional repair service. Contact us today to learn more and schedule service at your home!