Your refrigerator is the primary focal point of the heart of your home and an appliance fundamental to your daily life. Yet, it can be very easy to take this workhorse for granted. That is until it suddenly stops working. Having your refrigerator break down at home can be a very frustrating experience. Whether your water filter stopped working or the freezer has sprung a leak, refrigerator problems can spell panic, especially if you're unsure who to turn to for help.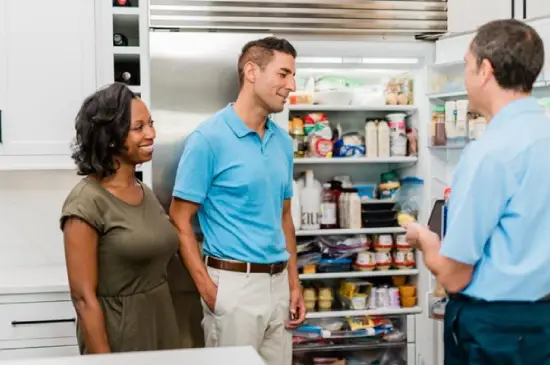 That's where our appliance repair experts come in! Our trained and talented repair professionals at Mr. Appliance of Richmond TX specialize in effective, affordable refrigerator repair services for homeowners throughout the local Richmond, TX region. If you're experiencing a refrigerator malfunction, don't risk wasting food or the potential for contracting a foodborne illness. Preserve your comfort, safety, and peace of mind by calling Mr. Appliance of Richmond TX today!
Expert Appliance Care & Repair Your Household Deserves
If your refrigerator is making strange noises, leaking water, or not maintaining temperature, we highly recommend seeking professional service to diagnose the problem. Don't ignore these common signs of potential mechanical failure! When your fridge acts up, our repair specialists at Mr. Appliance of Richmond TX can perform a comprehensive diagnostic inspection to pinpoint and correct the issue before it develops into more significant problems.
Our primary goal is to help you avoid a potentially costly repair or replacement solution! If a faulty fridge is causing disruption to your household's daily routine, call Mr. Appliance today.
We Repair Many Types of Refrigerators
When you need fast, effective repair service for your broken refrigerator, we are here to deliver. Mr. Appliance of Richmond TX provides expert residential refrigerator repair strategies designed to get your appliances up and running again quickly. Our repair specialists possess in-depth industry expertise to perform repairs on many types of home refrigerators, including:
Top freezer refrigerators
Bottom freezer refrigerators
French door refrigerators
Side-by-side refrigerators
Compact refrigerators
Freezerless refrigerators
Counter-depth or built-in refrigerators
No matter the scale, complexity, or type of appliance you have at home, our team at Mr. Appliance will prioritize your malfunctioning refrigerator. Contact us today!
We Service All Major Refrigerator Brands
Bosch
Electrolux
Fisher & Paykel
Frigidaire
GE
Kenmore
KitchenAid
Maytag
Thermador
Viking
Whirlpool
And more!
Our team can perform high-quality repairs, routine maintenance, damaged part replacements, and everything in between. No fridge problem is a match for Mr. Appliance!
We Replace Many Refrigerator Components
Mr. Appliance is experienced in repairing and replacing many common and critical refrigerator components. Our technicians use only premium, fully warrantied parts to ensure your refrigerator operates a maximum performance! We're stocked with a broad range of the highest quality parts that will extend the lifespan of your appliance, allowing you to get the most out of your investments. We can replace the following refrigerator parts:
Thermostats
Water filters
Replacement bulbs
Ice maker components
Defrost heaters
Cold controls
Door switches & seals
Condensers & compressors
Evaporators & fans
Valves & solenoids
Drawers, bins, & shelving
Does My Refrigerator Need Repaired or Replaced?
When your refrigerator starts to show signs of wear and tear, you may consider if it's time to replace it or if it can be fixed through repairs. This is a common dilemma many homeowners face, and the answer isn't always straightforward.
With adequate maintenance and care, refrigerators can typically stay in good working condition for 14-15 years. If your refrigerator is a relatively new appliance, it may be possible to restore it with a tune-up and some minor modifications. However, there are some cases where the cost of repairing your refrigerator may outweigh the cost of replacing it with a new appliance. When you partner with Mr. Appliance for your refrigerator needs, we'll conduct an honest assessment of the integrity of your appliance and provide expert recommendations so you can make the most informed decision. Contact Mr. Appliance of Richmond TX and get your refrigerator repair service started today.
Richmond's Residential Appliance Repair Professionals
We know how important your refrigerator is to your household. That's why we provide fast, reliable, affordable repair services to keep your family safe and comfortable. Mr. Appliance of Richmond TX takes pride in serving our great communities in Hockley, Waller, Katy, Brookshire, Sealy, Rosenburg, and the surrounding local areas.
When you're in need of refrigerator repairs, our technicians have the expertise to correct any issue with your appliance! Contact us today to schedule your refrigerator repair service and experience the Mr. Appliance advantage! Call or message us today.