Looking for Speedy, Expert Refrigerator Repair Near You? Count On Us!
You rely on your refrigerator every day of the week. Since these run all day every day, there's no wonder why they break down or become less efficient after some time. It's important to have your fridge repaired at the first sign of trouble. This ensures you're able to save your appliance, instead of needing to purchase a new one.
At Mr. Appliance of Reno, our team delivers reliable refrigerator repair services in Reno and beyond. We have countless hours of experience repairing all types, makes, and models of fridges.
We're ready to help you with expert refrigerator repair in Reno, NV! Be sure to call our team today or contact us online to request your service call!
Our Refrigerator & Freezer Repair Services
What Fridge Problems Can We Repair?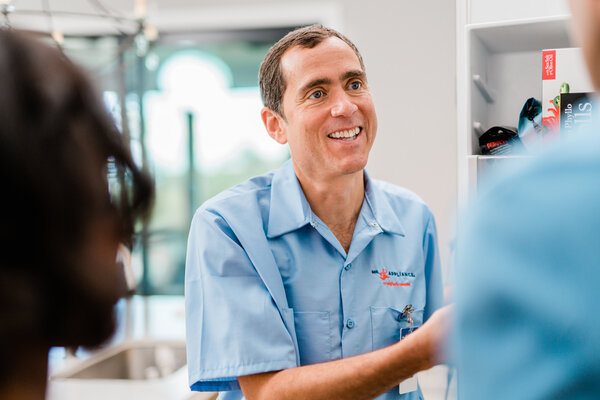 At Mr. Appliance of Reno, we've seen it all! From water leaks to warm refrigerators, count on us for expert fridge repair service.
Some of the refrigerator components we can repair include:
Compressors
Condensers
Evaporators
Thermostats
Defrost systems
Some of the refrigerator problems we can fix are:
Fridges and freezers that don't get cold
Ice buildup in the freezer
Water leaks
Excessive noises
Broken water and ice dispensers
Which Refrigerator Brands Can We Service?
Some of the brands we can repair include:
Bosch
Dacor
Fisher & Paykel
Gaggenau
General Electric (GE)
Jenn-Air
Kenmore
LG
Maytag
Samsung
Whirlpool
What Types of Refrigerators Can We Repair?
We can service and repair many types of fridges!
Some of the most common include:
French-door refrigerators
Side-by-side refrigerators
Top-freezer refrigerators
Bottom-freezer refrigerators
Freestanding refrigerators
Built-in refrigerators
Counter-depth refrigerators
We've got virtually any refrigerator brand, type, and issue covered! Call us to book your fridge repair service. Or book online!
Is Refrigerator Repair Worth It?
When your refrigerator gives you problems, you have a few choices – should you have it repaired or replaced? We believe every appliance owner should consider repair if it can be helped.
Not only is refrigerator repair near you far less expensive and more affordable than many people assume, but it also saves you money, time, and leaves you with a fridge that works like new.
Once our team inspects your refrigerator, we'll help weigh your options to consider moving forward with the repair or ordering a replacement.
For example, if your fridge is older than ten years, or multiple parts are needed, a replacement may be more cost-efficient in the long run. Consumer Reports recommends replacing your refrigerator if the cost to repair it is more than half the price of buying a new one. More often than not, only a simple repair or part replacement by a skilled appliance repair company is all that's needed. This makes repair the more affordable option.
What Are the Signs of a Failing Refrigerator?
Knowing when your fridge might throw in the towel can help you stay ahead of the 8-ball and avoid an inconvenient breakdown. Here are a few things to look out for:
Condensation builds up on the outside of your refrigerator,
Cracks on the interior walls,
Your refrigerator makes loud and abnormal noises,
Your food spoils quickly,
Your refrigerator or freezer generator frost or ice,
The condenser coils (located in the back or under near the front) are excessively hot, and
The gaskets (rubber seals that seal your doors to the fridge) are damaged.
If you notice any of these issues, or anything else that is out of the ordinary, book your refrigerator repair near Sparks, NV by giving us a call or scheduling your service online! We'll be over in a jiffy to take a look.
Why Should I Have a Professional Refrigerator Repairman Complete My Repair?
While you may be tempted by a DIY fridge repair guide you found online, it's always best to turn to a team of professionals for help with your refrigerator repair. Not only does this ensure your safety, but this also allows you to benefit from warranties and guarantees that protect you if the problem repeats itself down the road. Mr. Appliance of Reno specializes in fridge repair and a host of additional home appliance repair services.
Looking to find reliable refrigerator repair in Reno, NV? Give our team a call or contact us online to get started!
Some benefits of hiring a Reno fridge repair technician include:
Protects Warranty – Did you know that amateur appliance repair can void your warranty? Double check, but most major appliance manufacturers state that the warranty will stand as long as you only have professional work completed.
Saves Time and Money – Instead of spending time researching how to repair your fridge, tracking down the supplies needed, and potentially leading you to a dead end, turn to the professionals. We're here to help extend the life of your fridge, reducing the number of replacements you have to purchase down the road.
Ensures Safety – When you trust a professional, you're maximizing the safety of yourself and your family. Refrigerators are complicated and include both plumbing and electrical components that should be only worked on by a professional. This prevents electrical fires or possible flooding.
Guarantees the Repair – As mentioned before, our parts and labor are backed by our industry-leading guarantees. Instead of dealing with an appliance that is more damaged due to DIY repairs, turn to a team of professionals that guarantee a reliable fix the first time. Plus, you can rest easy knowing our team is completely insured and qualified to handle any of your repairs.
Speedy, Expert Fridge Repair Service!
Regardless of the problems your refrigerator is currently giving you, it's important to have them addressed as soon as possible. This is not only to protect the food and products you have stored, but also to prevent further damage or failure from occurring. The sooner our team of Reno refrigerator repair experts are called out to your home, the sooner our team can get your favorite appliance working like new again.
How to Care for Your Refrigerator
Caring for your refrigerator can help it last and avoid sudden breakdowns. Check out some of our care and maintenance tips!
Don't Overstuff Your Fridge
Overstuffing your fridge can block the cool air vents which prohibit the cold air from properly circulating in your fridge and freezer. And, viola, you wake up to a warm fridge. After a shopping spree, simply discard any old food to make plenty room for the new!
Change Your Water Filter Every 6 Months
Does your fridge have a water and/or ice dispenser? If so, you should change the water filter once every 6 months. If you need help locating the filter, just check your owner's manual! Or you can give your fridge's manufacturer a call.
Changing your filter can help:
Keeping your water and ice clean,
Keeping your water tasting great, and
Avoid deposit and other build up in the water and ice dispensers
Keep Your Fridge and Freezer at the Right Temperatures
Your refrigerator's temperature should be kept at 37-41 degrees Fahrenheit.
Your freezer should be kept at 0 degrees Fahrenheit.
Don't deal with the inconvenience of a broken refrigerator any longer! Call us for expert refrigerator repair in Reno and surrounding areas!