Speedy, Expert Washing Machine Repair Near You!
There's nothing more convenient than popping to the laundry room to wash your dirty clothes. Has your washing machine broken down? If so, it can feel like an even bigger chore than your loads of unwashed laundry.
If you ever notice problems with your washing machine, call Mr. Appliance of Reno as soon as possible. Our washer repair technicians can solve the problem and take the chore off your hands! We can also limit the risk of water damage and make sure your machine does not get any more broken.
Need washer repairs? We offer the speedy, expert service you need. We also provide preventative maintenance! This can be helpful so you never have to be without clean clothes the day before a trip.
We make washer repair easy! Call us to schedule your washing machine repair in Reno. Or schedule directly from our website right now!
Our Washer Repair Services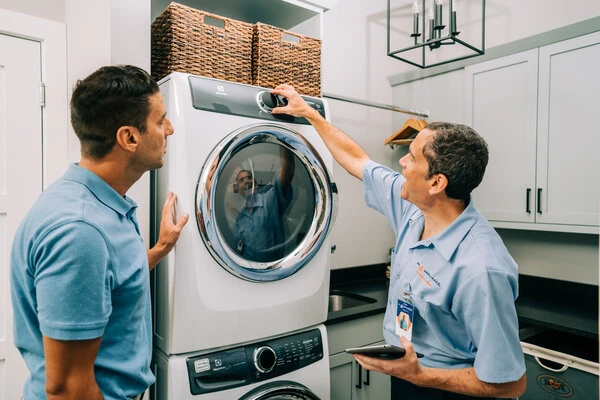 What Kind of Washing Machines Do We Repair?
At Mr. Appliance of Reno, we repair a wide range of washing machines.
The machines we repair include:
Top loading washing machines
Front loading washing machines
Compact washing machines
Combination units
If you have a washing machine in your house, chances are we can repair it. Tell us more about your problem today, so we can find a solution that works for you!
What Can Our Washing Machine Repairman Fix?
Even the most reliable washing machine can break down. Prompt washing machine repair can prevent further damage. As soon as you notice something is wrong, act fast and schedule a repair.
Calling Mr. Appliance of Reno for speedy, expert washer repair is a smart first step!
Speak to our technicians if you notice any of these common problems:
Your Washing Machine Won't Turn On
Check to make sure your washing machine is plugged in! Or an imbalanced load may have tripped the switch or thrown it off balance.
If the issue still persists, the timer circuitry may be broken. Or there may be a problem with your outlet. Don't worry, our professionals can resolve it!
Your Washing Machine Isn't Spinning
Soaked clothes are heavy and take hours to dry. They are also a sign that your washing machine isn't spinning correctly or at all.
Some of the issues might be:
A defective lid switch or lid plunger,
A broken or worn-out drive belt,
A bad timer contact, or
A burned-out spin solenoid.
We can repair any of these issues! No matter what we do, we'll get your washer spinning again in no time.
No Agitation
Without agitation, your clothes won't get foamy and clean.
The issue may be with your:
Drive belt,
Agitator assembly,
Wigwag plunger,
Transmission mode lever,
Drive spindle,
Internal timer contact,
Lid switch, or
Pressure switch
Count on us to repair or replace any of these washer components!
Excessive Noise
Is your washer is vibrating too much or making noise? It may not be leveled properly. Try adjusting the little legs under your washer. If your washer still makes a ton of noise, you might have worn damper or snubber pads.
Either way, we can identify the problem and propose a solution or repair!
Water Leaks
Washing machine leaks can cause water damage and be a pain to deal with. But we can remove excess soap, tighten loose hoses, and clear drain hose clogs. We can also repair leaking pumps, tubs, or tub water injection hoses. Call us today so we can identify the problem
No Cold Water
Cold water is important for delicates and other wash cycles. We can make sure your cold-water valve is turned on and clear sediment buildup in the valve. We'll work to make sure your washing machine works just like new!
Spots on Clothes
If there are spots on your clothes after a wash cycle, you may have a defunct transmission. We can repair the problem and save your clothes from leaky transmission oil.
Leftover Soap on Clothes
Cold water and functional timer contacts are important for a proper rinse cycle. We can repair the problem so you don't have excess soap left on your clothes.
No matter what problem you're dealing with, we can identify the part that isn't working and fix it. We can repair or replace any part of your washer – and we can work with all kinds of brands.
Trust us for speedy washer repair near you! Book your service today online or just give us a ring. We look forward to serving you!
What Brands and Parts Do We Work With?
We frequently service LG, Samsung, Whirlpool, Maytag, Kenmore, and GE-brand washing machines.
We can replace:
Belts
Timers
Pumps
Hoses
Transmissions
Transmission mode levers
Lid switches
Kid plungers
Pressure switches
Agitator assemblies
Wigwag plungers or lifters
Solenoids
Damper or snubber pads
Drive spindles
Whatever brand of washing machine we repair and whichever parts we replace, you can count on us for professional appliance services in the Reno area. We fix problems fast, and we find the most efficient solution every time.
Don't let your laundry pile up or let a leaky washer ruin your floor. Instead, call us or contact us online to schedule a washing machine repair in Reno!
Is it Cheaper to Repair or Replace a Washing Machine?
Having your washer repaired is a great way to save money. If your washer is reparable, why dip into your savings to buy a new washing machine? New washers are expensive and can be stressful to shop for.
If repair costs are less than half the cost of a new washer, having it repaired is very cost-effective.
We provide speedy, expert service to get your washer up and running in no time.
Care and Maintenance Tips for Your Washer
Avoid overloading your washer
We all know how tempting it is to overload a washer to get through laundry day as quickly as possible, but this isn't recommended since your washer's bearings get worn and can lead to motor failure. Instead, simply break down larger loads into smaller loads. As the saying goes, "slow and steady wins the race".
Don't use extra detergent
Since extra soap cleans extremely dirty hands, extra detergent will clean very dirty laundry, right? Surprisingly, this couldn't be further from the truth! Extra detergent can actually leave laundry dirtier from residue. Plus, all that extra detergent will be very strenuous on your washer since it'll need to work extra hard to wash out all the suds. We'd recommend using the amount of detergent per the brand's directions to save your clothes and to help your washer last it's expected lifespan.