Every wine aficionado needs a high-class wine cooler to keep their vino chilled and ready to drink. Some wine coolers are compact units that fit easily under a cabinet, and others are sprawling walk-in units. No matter the size, a wine cooler should keep your wines within the ideal ranges of temperature and humidity. A properly operating wine cooler will maintain a temperature between 45 and 64 degrees, and the humidity will consistently be between 50% and 70%. When part of your wine cooler breaks, these levels can become disrupted, damaging your most expensive bottles. Luckily, Mr. Appliance of Queens NY offers wine cooler repairs in Queens, New York. Learn more about our wine cooler repair services.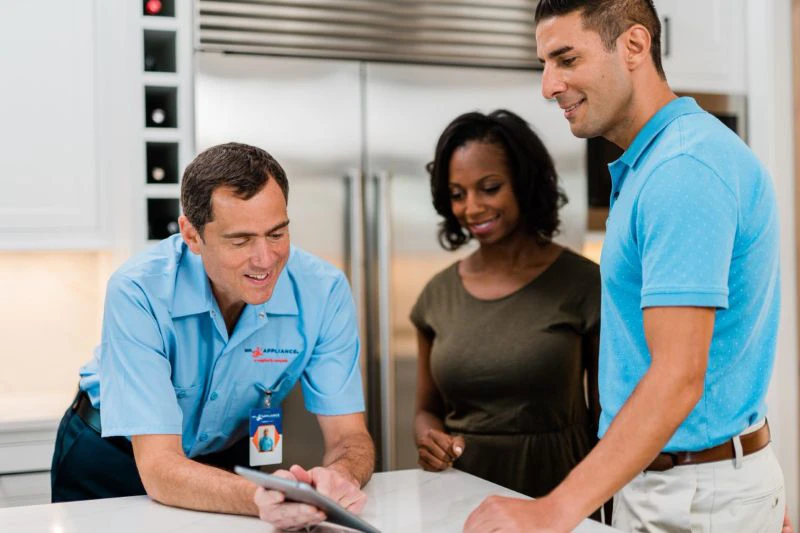 We Can Fix Any Kind of Wine Cooler
Wine coolers come in various configurations. Each type of wine cooler will need to be repaired differently. Mr. Appliance of Queens NY's wine refrigerator repair team can work on all kinds of wine coolers. Some of the most common types of wine coolers we repair include:
Compressor-based
Thermoelectric
Single zone
Dual-zone
Built-in
The Most Common Problems That Occur With Wine Coolers
A wine cooler is a complex appliance. Many different things can go wrong or break down. When you call Mr. Appliance of Queens NY, you don't need to know the source of the problem because our experts will diagnose it for you. You can even see that from what our customers say. There are some common things that go wrong with wine coolers, though. Some of the issues that our wine cooler repair service team can address include:
It Won't Turn On – Your wine cooler can't do its job without power. Often, the issue is as simple as a blown fuse, tripped breaker, or unplugged power cord. Otherwise, you will need help from a team of professionals.
Failure to Cool – Sometimes, a wine cooler is receiving power, but it will not get cold enough. This usually means that we need to repair or replace your thermostat, condenser, compressor, or evaporator fan motor.
Leaks – A leaking wine cooler is a sign of a problem with your compressor or drain hose. Compressors will leak if the cooler door is left ajar, and drain hoses will leak if they become cracked or unplugged.
Unusual Noises – When a wine cooler is unlevel, it will often make a rattling or vibrating noise. That can easily be fixed by leveling the unit. A grinding or squealing noise usually indicates that the motor needs to be repaired or replaced.
The Door Won't Stay Closed – A worn-out gasket can affect your wine cooler's ability to keep a firm seal around the door, which can result in the door's failure to stay closed.
Mr. Appliance of Queens NY Works on All Major Brands
There are many different makes and models of wine coolers. So, you might wonder if Mr. Appliance of Queens NY can perform wine fridge repairs on your particular brand. Our team has worked on countless different types of wine coolers. We have the experience and training to deal with any type of unit. Some of the brands that we regularly service include:
Caple
Everstar
Vino Veritas
Cuisinart
Vissani
Our One-Year Warranty on Parts and Labor
When your wine cooler breaks down, you don't need to invest in a whole new unit. Most of the time, we can get it working again by simply replacing the faulty components. We perform big and small repairs alike, including wine cellar cooling unit repairs, wine cooler circuit board repairs, and wine cooler door repairs. When we replace parts on your unit, you can trust that they will last because we offer a one-year warranty on all parts and labor. Some of the wine cooler parts that we regularly replace include:
Fans
Valves
Solenoids
Door seals
Fan motors
Condensers
Evaporators
Peltier units
Thermostats
Compressors
Cooling nodes
Request a Wine Cooler Repair Appointment Now!
When your wine cooler stops working as it should, we want you to know that you're not alone. Mr. Appliance of Queens NY has qualified experts ready to help. We offer upfront, flat-rate pricing, meaning we charge by the job, not the hour. Our technicians always show up on time, perform thorough diagnostics, and explain the problem to you before we start. That's the type of service you get when you work with the best wine cooler repair team in Queens, New York. Request a wine cooler repair appointment today!