It's no fun to try to start a complete wash load only to find out your washing machine isn't working correctly. Mr. Appliance of Queens NY offers professional washing machine repair services for homeowners in Queens, NY. Whether your washing machine won't drain or turn on, our appliance experts can find a solution. We understand many things can go wrong with a washing machine, so our technicians are extensively trained to repair your washer. Contact us today to schedule service.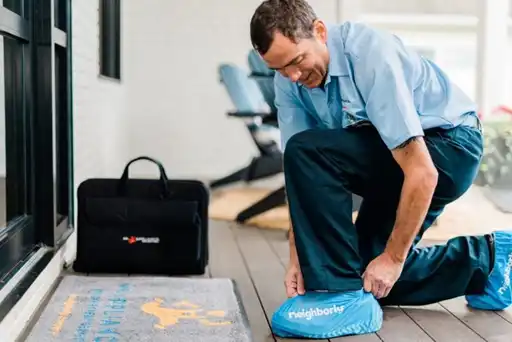 Repairing All Types & Brands of Washers
Mr. Appliance of Queen NY's washing machine repair technicians can repair all types of washing machines. We service compact washing machines, combination units, front-loading washing machines, and top-loading washing machines. The most common brands we service include:
Whirlpool
Samsung
Kenmore
LG
GE
Maytag
Common Washing Machine Repairs
Your washing machine has many different parts that perform the job of cleaning your clothing. When things go wrong with your machine, it's important to find the problem quickly. The most common washing machine issues we repair include the following:
Washing machine will not turn on – If your washing machine is dead, it could be caused by an off-balance switch. You can try to redistribute your clothing to see if that does the trick. If the machine still does not budge, you could have a problem with the timer circuitry of the outlet.
Washing machine will not spin – If your washing machine is not spinning, you may have issues with your agitator assemblies, drive spindles, drive belts, wigwag plungers/lifters, or transmission mode levers. Internal timer contacts, worn lid switches, or malfunctioning pressure switches can cause a spinning issue.
Washing machine excessively vibrates – Your washing machine may vibrate excessively if it is unlevel. You may also have worn damper pads or snubber pads.
Washing machine lacks cold water – Your washing machine should always have cold water. Your cold-water valve might be turned off, or you may have sediment buildup in your valve if your water is not cold.
Washing machine leaves soapy spots on clothing – Soapy clothes with spots are often caused by a cold water valve clogged with sediment. We will also inspect your timer contact for any defects.
Washing machine is leaking – The most common reasons for washing machine leaks include loose drain hoses or clogs and excessive soap. You may also have leaking pumps, tubs, or hoses.
Washing machine will not properly drain – Your washing machine may have a drain issue if you have a defective pump, clogged drain hoses, or worn drive belts. It's important to contact us immediately if you notice drain issues.
We Replace Washing Machine Parts
Our experienced appliance team replaces any washing machine parts you need. The most common washing machine parts we replace include:
Timers
Pumps
Transmissions
Transmission mode levers
Agitator assemblies
Pressure switches
Belts
Hoses
Wigwag plunger/lifters
Lid plungers
Lid switches
Drive spindles
Solenoids
Damper/snubber pads
Choose Mr. Appliance of Queens NY Today
Mr. Appliance of Queens NY
backs our work with a guarantee we will do the job right the first time. We will quickly find your washing machine issue and offer an effective solution. We always provide free quotes and honest pricing. Our insured and licensed appliance technicians always put your needs first.
Contact us today
to receive a free quote or schedule washing machine repairs.