Mr. Appliance of Queens NY helps homeowners whose refrigerator is not cold enough in Queen, NY. If your refrigerator isn't cooling your food or keeping it fresh, your food can quickly spoil. The average temperature to keep food fresh in a refrigerator is 40 degrees Fahrenheit or lower. You may need our residential refrigerator repair services when your refrigerator is not reaching the set temperature. Contact us today to learn more about your refrigerator and how we can help you.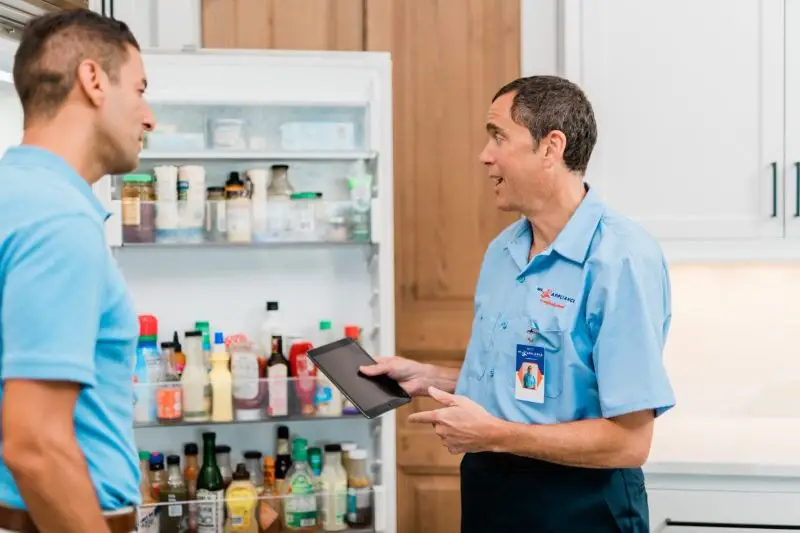 What Can I Do When My Refrigerator Is Not Getting Cold?
The first step in determining what to do when your refrigerator is not getting cold is to check for simple issues. We can advise you on the best steps to take before contacting our technicians for refrigerator repairs. We recommend taking these steps:
Refrigerator Plug – Sometimes, your refrigerator plug falls out of the outlet or is unplugged by someone in the home.
Thermostat Verification – Check your thermostat to determine if it is set to an appropriate temperature.
Door Check – It's important to check the refrigerator gaskets and doors, the elastic strips around the edges of the door, and the light in your refrigerator.
Cold Air Circulation – There may be food or drinks blocking the vents and obstructing cold air from proper circulation.
Common Refrigerator Parts Problems
There are multiple working parts of your refrigerator. We can repair and replace any of your refrigerator parts, including:
Compressor – The compressor compresses and pushes refrigerant vapor into your refrigerator's coils. This action creates heat that forms hot gas to cool and absorb your refrigerator heat. If it is not working properly, the refrigerator cannot reach a lower temperature.
Condenser Coils – Condenser coils are part of your refrigerator that carry the compressor's warm air to your evaporator coils. If the condenser coils are clogged, your refrigerator cannot get proper air circulation to stay cool.
Condenser Fan – The condenser fan works to keep your compressor and condenser oils cool. When it isn't working properly, it can overheat the working parts of your refrigerator.
Evaporator Fan – Your evaporator fan pulls air across your evaporator coil to cool it and pushes it through the system. Your refrigerator cannot produce cool air when the evaporator fan isn't working.
Air Damper – Your air damper controls air transfer between your freezer and refrigerator. If the air damper cannot open, the cold air from your freezer cannot adequately travel to your refrigerator.
Bring In The Appliance Professionals
Most refrigerator repairs require a licensed professional who understands the way a fridge works. We understand trying to repair a refrigerator on your own can be challenging. Our highly trained appliance repair professionals will step in to help you when your refrigerator isn't getting cold. We will work quickly to find the problem and offer an effective solution. We'll assess your refrigerator for any issues and determine if you need repairs or a refrigerator replacement.
Schedule Refrigerator Service Today
Mr. Appliance of Queens NY works with you to determine why your refrigerator isn't getting cold. We understand it can be a troublesome problem when you need to keep groceries as fresh and cold as possible. We offer comprehensive appliance services to ensure the appliances in your home are all working at optimal conditions. Let us help you with your refrigerator and freezer issues today. We stand by our Neighborly Done Right Promise for excellent services. Contact us today to get a free quote or schedule refrigerator repair services.