When your dishwasher isn't working properly, it can be a hassle. Mr. Appliance of Queens NY offers professional residential repair services for homeowners in Queens, NY. Our experts will find the root of the problem and provide an effective solution. Whether you have drain problems or your dishes are cloudy, we can repair all types of dishwasher issues. We also recommend our dishwasher maintenance services to boost the lifespan of your appliance. Contact us today for a quote on our services.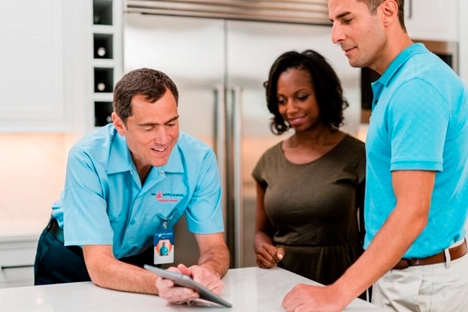 The Most Common Dishwasher Problems
Most people don't think too much about their dishwasher's performance until it isn't working properly. A dishwasher has many parts that can break down over time. The most common dishwasher problems we service include the following:
Cloudy Dishes – You may have cloudy dishes if you have hard water in your home, so it's important to wash your dishes well before loading them and think about buying a water softener.
Unclean Dishes – If your dishes aren't coming out clean, you could have blocked spray armholes, a worn pump assembly, a damaged wash impeller, or a burned-out heating element
Long Wash Cycles – If your dishwasher is running too long, it could have a problem with its timer or a defective thermostat.
Not Filling With Water – Your dishwasher may have a damaged water inlet solenoid, failed valve, stuck overflow float switch, or malfunctioning timer if it does not fill with water.
Water Pump Won't Work – You may notice pooling water at the bottom of your dishwasher, indicating a clogged drain line, damaged drain solenoid, or problems with your drain impeller.
Humming and Turning Off – If you hear a humming sound without any action, your dishwasher motor may be broken.
Leaking Dishwasher – A leaking dishwasher can point to damaged door gaskets, a leaking pump, issues with your spray arms, or problems with too much dish soap.
Experts With All Dishwasher Brands
Our professionals are experts at servicing all major brands of dishwashers. The most common dishwasher brands we service include:
Maytag
KitchenAid
Bosch
Whirlpool
GE
We Repair All Dishwasher Parts
We understand dishwashers can be complicated with all their moving parts. Our appliance dishwasher repair service will replace any of your parts that are damaged. We specialize in repairing all parts of your dishwasher, including:
Motors
Solenoids
Timers
Gaskets
Valves
Thermostats
Heating elements
Float switches
Wash and drain impellers
Pump assemblies
Maintaining Your Dishwasher Performance
The best way to help prevent dishwasher problems is to properly maintain it. Our experts offer dishwasher maintenance tips, including:
Clean your dishwasher with vinegar every three to four months to decrease hard water buildup.
Clean filters and replace them if they are damaged.
Try not to overload your dishwasher.
Wipe the door seal with white vinegar and water to eliminate food residue.
Contact Mr. Appliance of Queens NY
Mr. Appliance of Queens NY is here for all your appliance needs, from dishwasher installation to dishwasher maintenance. Our dishwasher repair services help prolong the lifespan of your appliance. We always offer upfront pricing and free quotes. Contact us today to schedule services or get a quote on our dishwasher repair costs.