Your refrigerator is a major appliance that can be expensive if you have to replace it. This is why we recommend allowing our team to take a look at it to help save you replacement costs.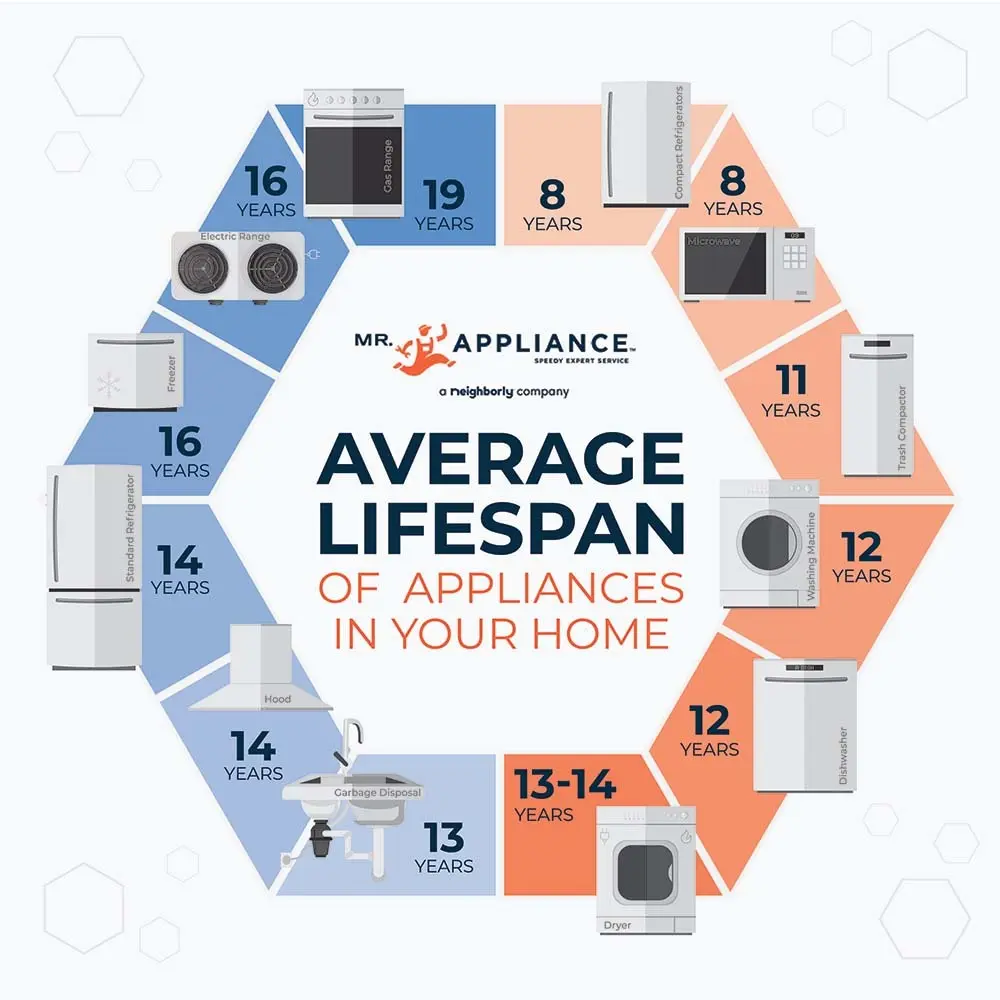 However, a rule of thumb that we follow to help you decide between repairing and replacing is: The cost to repair shouldn't exceed replacement costs. If repairing your appliance is just as expensive as a replacement, it may be better to replace it.
Most refrigerators have a 14-year lifespan, but you can still get a couple more years of use if you maintain them well. You can upgrade your appliance when it consistently gives you issues or you want something a bit more high-tech. Either way, hire a licensed professional to take a look before you chuck it.
You shouldn't trust an unlicensed person to take care of your appliance repair needs. Our licensed, bonded, insured, highly skilled, and superior-quality service experts should always be your first call, and here's why.
Many appliance repair companies are only concerned with providing a service, collecting their fee, and leaving. Our team wants to give you peace of mind and guarantee your satisfaction.
Looking for refrigerator repair near Fairfax? You can trust our Fairfax appliance repair professionals to perform a thorough assessment and present viable solutions that meet your exact needs and budget. Give us a call or schedule service online today!
Why You Can Trust Our Fairfax Repair Technicians
One of the best things about modern amenities is having food-safe storage options so you can continue to enjoy home-cooked food for days. When your refrigerator and freezer malfunction, the hope of delicious leftovers is dashed, and you might be at risk of eating spoiled foods that could make you extremely sick.
Don't tolerate a broken fridge. Let Mr. Appliance of Northern Virginia handle it promptly. Allow our Fairfax appliance repair experts to use years of knowledge and advanced tools to fix almost any issue plaguing your refrigerator.
We can fix issues that include:
Thermostat temperature fluctuates
Refrigerator won't turn on
Cooling feature is broken
Icemaker won't make ice
Missing valves, hoses, and more
While we don't recommend DIY appliance repairs, regularly cleaning your refrigerator can help with efficient operation and reduce long-term issues. Our local repair specialists have worked with various makes and models, including compact, mini, French doors, side-by-side, freezerless, and built-in refrigerators. Whether you need support for a conventional or high-end refrigerator, our technicians are ready to help!
This is why we honor our Neighborly Done Right Promise® to always make things right if there's an issue. Give us a call or schedule service online for refrigerator repair near you!
Expert Full-Service Fairfax Appliance Repair Near You
Our local repair technicians complete months of rigorous training with our company and have years of industry experience. We want you to consider us your personal repair professionals, ready to help you whenever you need us.
Offering various repair solutions plus perks helps us deliver our customer-focused and full-service experience. We don't just arrive, fix your appliance, and depart. We check in with you to ensure your appliance continues operating efficiently and you're happy with our workmanship.
Want to learn more about our repair services? Read our Customer Testimonials! When you need competitively priced and comprehensive refrigerator repair services in Fairfax, rely on Mr. Appliance of Northern Virginia.


Frequently Asked Questions About Refrigerator Repair
What usually fails on a refrigerator?
There are a few common parts of a refrigerator that can fail over time. The most common of which is the compressor. This is the part of your fridge that keeps it refrigerated. Other parts that can fail include the condenser coils, start relay, and thermostat. If you notice any of these parts are failing, it's important to have them serviced immediately.
What are the signs that your refrigerator is going out?
There are a few tell-tale signs that your refrigerator is struggling. For example, if you notice your food is spoiling faster than usual, your fridge is making strange noises, or your fridge is hot to the touch, it's time to have your fridge looked at by a professional. Another common sign of a failing fridge is if you notice ice buildup in your freezer.
Is it worth repairing a fridge?
Whether or not it's worth repairing a fridge depends on the cost of the repair versus the cost of a replacement. In most cases, if your fridge is relatively new or the cost of the repair is low, it's worth fixing. However, if your fridge is old and the repair will cost more than half the cost of a new fridge, it's generally not worth it.
What are the most common refrigerator repairs?
The most common refrigerator repairs include replacing the compressor, fixing the condenser coils, replacing the start relay, and fixing the evaporator fan. These repairs can be quite costly, which is why it's important to have your fridge serviced on a regular basis to catch any potential issues before they turn into bigger problems.
How often should you have your refrigerator serviced?
It's recommended to have your refrigerator serviced once every 12-18 months to keep it in good working order. A professional technician can help catch any potential issues before they turn into bigger problems, saving you time and money in the long run.
Call us or schedule service online for appliance repair in Fairfax!