Every household relies on many different types of appliances. These appliances play a significant role in streamlining the tasks of everyday life. From cleaning dirty dishes to keeping ice cream frozen, residential appliances are the source of many modern conveniences.
That is why when problems do arise, you deserve a repair team that responds with urgency and efficiency. Mr. Appliance of Northern Colorado is here to help. We're backed by a strong reputation and we warranty our home appliance repair services for 1 year.
Looking for appliance repair near you? Call us to schedule service at your earliest convenience.
Why Call Us for Home Appliance Repair?

Did you know we've served thousands of customers throughout Northern Colorado?
When it comes to home appliance repair, we've seen everything under the sun. We're known for our speedy and expert home appliance repair services. All of our technicians go above and beyond to provide you with the highest quality service.
At Mr. Appliance of Northern Colorado:
We Honor Prices. All pricing is reviewed and discussed with you before we proceed with any repairs. With us, the price we quote is the price you pay - no surprises, no hidden fees, no exceptions.
We've Been in Business Since 2008. That's right - we've been fixing appliances in Loveland and Northern Colorado for 23 years. From warms refrigerators to slowly draining washers, we've seen it all.
We're Backed by 3,500+ Reviews. We're highly rated for our knowledgeable, prompt, and polite services. You're welcome to read some of our reviews to learn more.
We Provide Expert Service. From wearing shoe covers in your home to bringing our own doormat to each service, we're your local home appliance repair company to call for premium service.
Need your home appliance "fixed yesterday"? Call us for speedy, expert service. Or book easily online. We'll see you soon!
What Types of Home Appliances Can You Repair?
At Mr. Appliance of Northern Colorado, we can service and repair all your major appliances found in your kitchen and laundry room!
Our kitchen appliance repairs include:
Freezer repair
Ice machine repair
Oven, stove, and range repair
Dishwasher repair
Garbage disposal repair
Microwave repair
Vent hood repair
Wine cooler repair
Trash compactor repair
Do not rely on subpar service. Do not risk trying to handle a home appliance emergency yourself. Instead, schedule our repair experts and enjoy the technical knowledge, best-in-class tools, and industry-grade equipment we provide.
Appliance Maintenance You Can Trust
Benefits of choosing our experienced team for home appliance repairs:
Guarantees on workmanship, parts, and labor
Friendly professionals who are punctual, uniformed, and respectful
Qualified, highly trained technicians who get the job done right
Flat, up-front estimates that cover all costs of the repair
Flexible scheduling options
Seasonal offers for discount savings
Give us a call or schedule service online for refrigerator repair near you!
Keeping Your Appliances Running Efficiently
When it comes to protecting the integrity of your home, our Loveland appliance repair experts exhibit the highest standards of professionalism. Our "leave no trace" policy reinforces our commitment to returning any repair site to its original state once we finish. This means our careful and clean team of technicians will diligently put everything back into place before they leave.
As a proud member of Neighborly®, we also stand behind the Neighborly Done Right Promise®. This promise covers all our workmanship on residential projects with a 12-month guarantee on parts and labor.
Another standout policy we loyally adhere to entails pricing every repair by a flat rate instead of by the hour. On the rare occasion that a residential appliance repair takes longer than expected, we will not charge an extra cent for the additional labor. This policy gives our customers incredible peace of mind. Finally, we waive the 'diagnostic' fee for customers who hire us to service an approved repair.
Reach Out for Appliance Maintenance Today
At Mr. Appliance of Northern Colorado, we dedicate ourselves to maintaining and fixing your kitchen and laundry room appliances. Whether you are dealing with stove, refrigerator, washer & dryer, or washing machine issues, we are ready to help. Backed by a brand name that serves neighborhoods across the country, our Mr. Appliance team is just a phone call away.
Check out our customer testimonials to learn more about why we are Northern Colorado's go-to home appliance repair service!
Home Appliance Repair - FAQs
How long do home appliances last?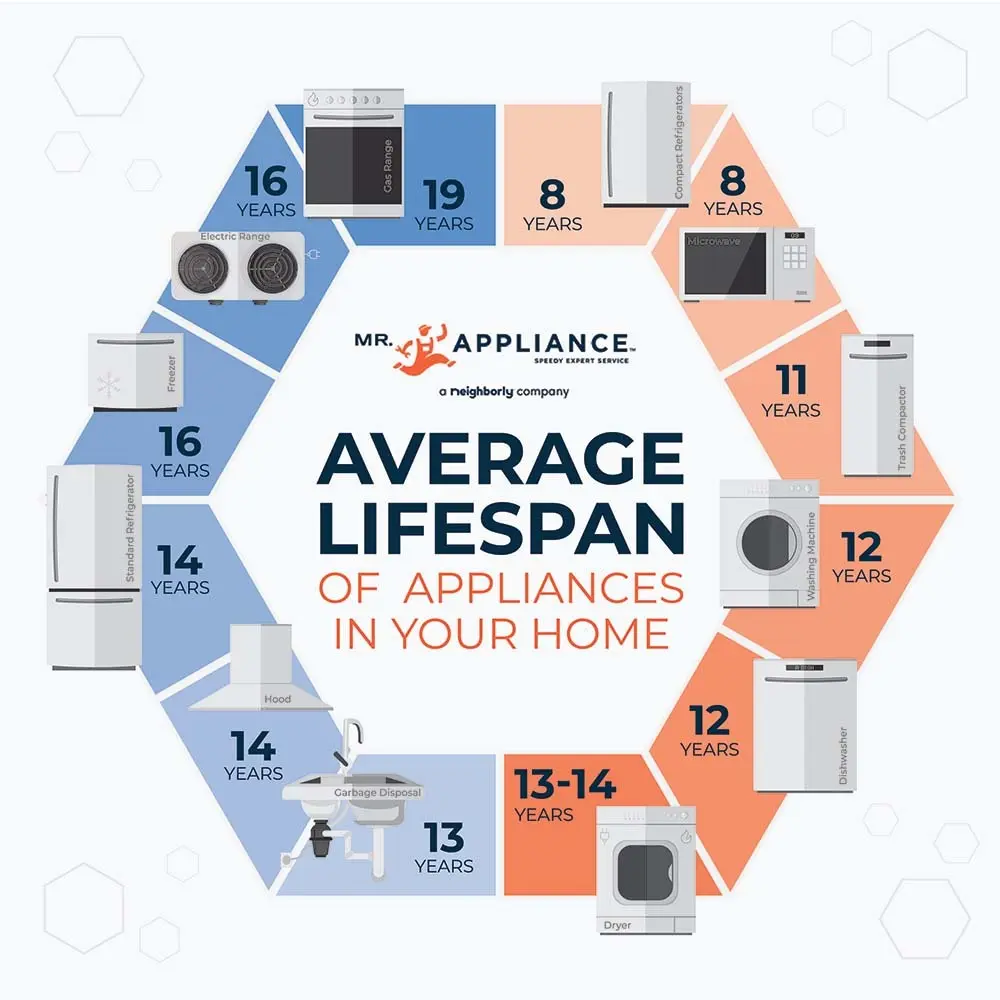 Appliances are a long-term investment that can last for many years, if they are well maintained.
Below are lifespan averages for some major appliances:
Refrigerators. On average, refrigerators can function properly for up to 14 years.
Dishwashers. Dishwashers tend to last approximately 9-12 years before needing to be replaced.
Washers & Dryers. Washing machines and dryers can be even more durable and often last for around 11-14 years before requiring repairs or replacements.
Microwaves. Additionally, microwaves and stoves have lifespans of about 8 years.
With proper care and regular maintenance, it's possible for appliances like these to even last longer than their intended lifespan.
To maximize the life of your home appliances:
Make sure to clean them regularly,
Replace filters as recommended by the manufacturer's instructions, and
Look into repair as soon as any issues arise instead of waiting until a major breakdown occurs.