Having an ice maker in your refrigerator is amazingly convenient. You never need to worry about refilling ice trays or finding empty ice trays. However, ice makers are complicated devices. If you have one, you know that it can have various problems. Luckily, Mr. Appliance of Mid America performs refrigerator ice maker repairs in Fairview Heights, Illinois, and the surrounding areas. Learn more about our ice machine repair services.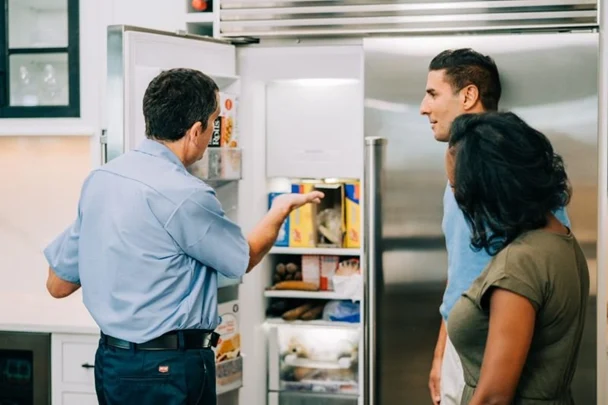 What Type of Ice Maker Do You Have?
Not all ice machines are made the same. Refrigerator ice makers are permanent fixtures, usually placed in the door of your freezer. There are other types of ice makers that you may have in your kitchen. Mr. Appliance of Mid America is equipped to repair them all. Some of the most common types of ice machines that we repair include the following:
Freezer ice makers
Portable ice makers
Under-counter ice machines
Built-in or freestanding ice machines
Combination ice machine and water dispensers
Reasons Your Ice Maker May Not Be Working Properly
Before we can start explaining how to repair an ice maker in a refrigerator, we need to find the source of the problem. Homeowners are often surprised when they learn how many things can go wrong with an ice machine. You don't need to know exactly what part of your ice machine is broken. Our team uses thorough diagnostics to figure that out for you. Then, we can repair it and give you tips for preventing similar issues in the future. Some of the most common problems ice makers have include:
The Freezer Isn't Cold Enough – If your freezer becomes warm for any reason, ice cubes will not form. To produce ice, your freezer needs to be between zero and five degrees Fahrenheit.
The Freezer Won't Dispense Ice – When your freezer door switch fails, your freezer will think the door is open. In that case, it will not dispense ice.
Insufficient Water Supply – Your ice maker needs water to make ice. When the water inlet valve is crimped, clogged, or cut off, it will not have the water necessary to make ice.
Low Water Pressure – Your ice maker needs at least 20 psi of water pressure to get enough water. If not, it will make undersized cubes or fail to make them.
Faulty Ice Level Control Board – Your ice level control board tells your ice maker how much ice is in the tray. If this breaks, your ice maker will think your ice tray is full even when it is not, causing it to not produce ice as it should.
Clogged Water Filter – A clogged ice filter will reduce the amount of water supplied to your ice maker. This causes undersized cubes.
Defective Mold Thermostat - Your mold thermostat is how your ice maker knows ice cubes are fully frozen and ready to be dumped into the ice tray. When this breaks, it will stop the ice production cycle.
Dispenses Misshapen Cubes – Undersized or oddly shaped ice cubes can usually be traced back to a problem with the supply of water or water pressure.
Water Leaking Inside Your Freezer – If your ice cubes are larger than expected and you find puddles around your freezer, you most likely have a leaky water inlet valve.
Not Making Any Ice – When warm water backs up from other appliances, like dishwashers, it can put a stop to the entire ice cube production cycle.
Equipped to Repair All Brands, Makes, and Models
To know how to repair a refrigerator ice maker, you need to have an in-depth understanding of that refrigerator's manufacturer. Each brand, make, and model is designed differently. Mr. Appliance of Mid America knows how to work on any brand. Some of the brands that we regularly repair include the following:
KitchenAid
Whirlpool
Frigidaire
Samsung
Kenmore
GE
Replacing Parts on Refrigerator Ice Makers
If repairing your refrigerator's ice maker requires the replacement of some internal parts, you can trust us to supply the parts and install them for you. Mr. Appliance of Mid America understands the inner workings of ice makers well enough to replace parts. We use the highest quality parts on the market and can install them to make them last for the lifetime of your refrigerator. We will always explain the average cost to repair your ice maker ahead of time, including the costs of the replacement parts. Some of the parts we frequently replace include:
Valves
Timers
Tubing
Motors
Solenoids
Condensers
Thermostats
Control boards
Water filtration systems
Storage bins and baggers
Schedule a Refrigerator Ice Maker Repair Appointment Now!
Homeowners in Fairview Heights, Belleville, Collinsville, Columbia, and Edwardsville have come to love Mr. Appliance of Mid America because we offer exceptional service and craftsmanship. We pay great attention to detail and treat your home with respect, cleaning up all leftover equipment, supplies, and mess after a repair. Best of all, we have a deep dedication to upfront pricing, always explaining the cost of repairing your refrigerator ice maker ahead of time. Schedule your refrigerator ice maker repair appointment today!