Whether you use your range, stove top, or oven the most, it's likely that it's an essential part of your daily cooking. When your cooking appliances stop working, you can be in for a stressful and frustrating experience. At Mr. Appliance of Mid America, we can provide expert repair services for ovens, ranges, and stovetops throughout Fairview Heights, IL and the surrounding areas of Belleville, Collinsville, Columbia, and Edwardsville. We're always on hand to bring the heat, whether you have an underperforming oven or stove top.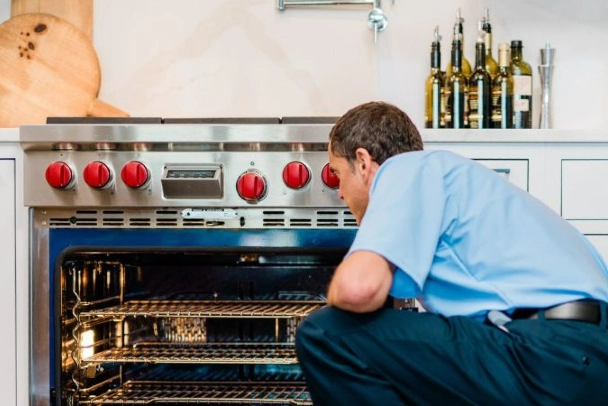 Common Issues of Ovens, Stove Tops, & Ranges
While no appliance repair is the same, there are plenty of common issues that we see with ovens, stove tops, and ranges. With our experience servicing a variety of makes and models, Mr. Appliance of Mid America is the perfect team to bring your appliance back online. We'll diagnose the problem and offer you a solution that works for both your appliance and your budget. Some of the common issues we see with these appliances include:
Burner Won't Turn On: It might not be the whole stove top - just one individual burner. Try turning on another to see if that one burner is the problem. It could also be the receptacle or the switch.
Burner Is Too Hot: Is your burner getting too hot, regardless of the set temperature? Turn it off right away and give us a call. This problem is usually the result of a bad switch.
Indicator Light Stays Lit: This is also a frequent issue that can be blamed on a damaged switch.
Oven Door Won't Open: The self-clean latch, the clock, or the oven control could be keeping you from opening your oven door. If your door seems to be stuck, don't try to force it open - you could accidentally damage it. We'd be more than happy to take care of it for you.
Oven Won't Self-Clean: Self-cleaning not working? This issue could also be the result of a defective latch switch or the function selector.
Oven Won't Heat: This depends on the type of oven you have. One of our experts can look and diagnose the problem.
Oven & Stove Brands We Service
If your oven, stove, or range isn't working correctly, you want a technician that is familiar with your brand and can swiftly amend the issue. Our team at Mr. Appliance of Mid America has extensive experience working with various popular kitchen brands, ensuring we can always provide the help you need. Some of the common oven, range, and stove brands we service include:
Whirlpool
Maytag
KitchenAid
LG
Thermador
Frigidaire
Parts We Replace for Ovens, Ranges, & Stove Tops
Your oven has countless small parts that must work together for the unit to function properly. We know exactly how to find the part that is causing your appliance to malfunction and provide the appropriate replacement service. Mr. Appliance of Mid America can replace various parts for electric ovens and ranges, such as:
Thermostats
Temperature sensors
Gaskets
Heating elements
Burners
Igniters
Switches
Valves
Relays
Bake igniters
Spark electrodes
Spark modules
Ignition wires
Safety valves
Controller boards
Dials
Thermocouples
Self-cleaning latches
Oven, Stove Top, & Range Repair in Fairview Heights, IL
If your oven, range, or stove top isn't letting you use your kitchen to the fullest, call Mr. Appliance of Mid America today. Our skilled team handles all types of appliance repairs throughout Fairview Heights, Belleville, Collinsville, Columbia, Edwardsville, and more. Call us today or schedule a repair appointment online.