If you love the convenience of a trash compactor, you understand how it makes the job of taking out the trash as easy as possible. When it isn't working correctly, you can trust our team to take care of you. Mr. Appliance of Melbourne offers professional trash compactor repair services in Melbourne, FL and neighboring areas. A trash compactor is the perfect way to reduce the number of times you have to take out the garbage. Many homeowners have a trash compactor because it can lower the volume of trash in your home by up to 80% to help save space in landfills and garbage cans. Contact us today to learn more about our home trash compactor services.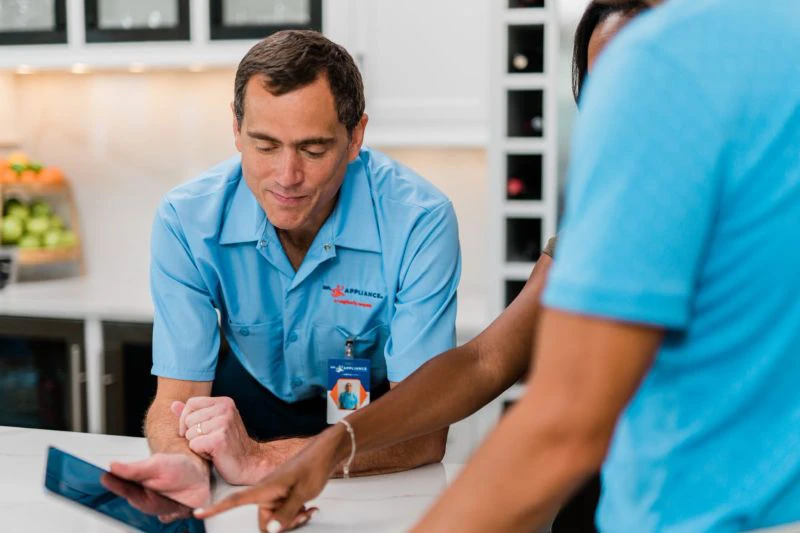 Repairing All Types of Trash Compactors 
Most people don't realize the high level of convenience of their trash compactor until it stops working. Our team can help your trash compactor get back to its everyday performance. We repair multiple types of trash compactors, including: 
Freestanding Compactors
A freestanding trash compactor often has a finished top for additional counter space. These compactors are typically produced with multiple features like built-in cutting boards. 
Under-the-Counter Compactors
This type of trash compactor is installed between cabinets without a finished top. A trim kit helps an under-the-counter trash compactor to help blend in with the cabinets.
Convertible Compactors
A convertible trash compactor is stylish and can easily be installed under your counter or as a freestanding unit.
High-Quality Trash Compactor Replacement Parts 
We stock most trash compactor parts to repair your appliance quickly. We can repair and replace most parts of your trash compactor. We work with most brands of trash compactors, including Maytag, KitchenAid, Whirlpool, GE, Kenmore, and more. We can replace the following trash compactor factory-certified parts and accessories: 
Pedals and handles 
Charcoal filters
Belts
Switches 
Roller bearings 
Wheel assemblies 
Ram stops
Motor components 
Drive gears 
Trash compactor bags 
Common Trash Compactor Issues
It's important to get routine appliance maintenance services to boost the lifespan of your appliances. The most common trash compactor problems we repair include the following:
Trash compactor not working
When your trash compactor will not work, it's important to check that the door is closed. We can also inspect your circuit breaker, fuse, power cord, and GFCI.
Trash compactor not compacting garbage
When the trash compactor will not compact trash, we typically inspect for damaged motors or broken driving belts. 
Door or drawer not opening
It's essential to determine if the ram has returned to the top of your trash compactor. We will then inspect for any damaged or dirty rollers, guides, tracks, or wheels.
Noisy trash compactor
Excessive trash compactor noise indicates an issue. We will inspect the gears, belts, and motor.
Trash compactor odor
While trash can smell bad, it shouldn't smell after it's done the job. It's important to regularly clean the trash compactor to ensure it stays fresh.
Why Hire Mr. Appliance of Melbourne? 
Mr. Appliance of Melbourne advises against trying to repair your compactor repair unless you have the proper training. Our team provides expertise and warranties on our workmanship and parts. We will come to your home to offer an estimate on our services. You can trust us to take care of your trash compactor issues and explain your options in depth. Our team always offers flexible scheduling to meet your needs. We want the best for your appliances, so we always put you first. 
Schedule Trash Compactor Repairs Today 
Mr. Appliance of Melbourne offers comprehensive appliance repairs in Melbourne, Cocoa Beach, Rockledge, Viera, & Palm Bay, and Melbourne Beach, FL. You never have to live with a damaged trash compactor when you have us on your side. We'll solve the issue quickly and offer an effective repair solution. We will explain our recommendations if we think it's in your best interest to replace your trash compactor. Our friendly service professionals are always here to answer questions about your appliances. Contact us today to schedule trash compactor repair services in Melbourne and the surrounding areas.