There's nothing better than a cool drink in the middle of a Florida summer. Modern ice machines go a long way to making that cold glass of lemonade possible. But what happens when your ice machine suddenly stops working? At the first sign of trouble with your appliance, Mr. Appliance of Melbourne is here to help. We specialize in a range of ice machine repair services, and we can get your unit up and running in no time. Our team is proud to have helped so many customers in the Melbourne, FL area. Get in touch with us to learn how we can help you.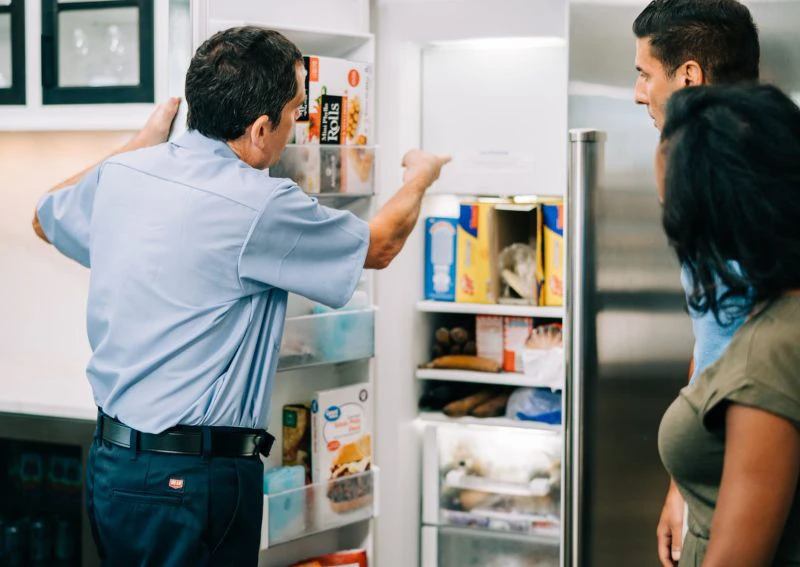 Experts in All Kinds of Ice Makers
Ice machine repair looks a little different depending on the type of unit you have. Some ice makers are built into a freezer, while others aren't connected to the fridge. Whatever the case for you, rest assured that we have you covered. Talk to us about any of these ice machine types:
Freezer ice makers
Portable ice makers
Undercounter ice machines
Built-in or freestanding ice machines
Combination ice machine and water dispenser
Why Might I Need Ice Machine Repairs?
We offer ice machine service and repair for a plethora of reasons. Whether your freezer isn't getting cold enough or you've noticed a leak, our team is up to the challenge. Here are some of the most common ice machine problems and how we can help:
Broken freezer door switch—If you're dealing with a broken door switch, your freezer may "think" the door is open. When the freezer detects an open door, it may stop making ice cubes.
The freezer isn't getting cold enough—On average, a freezer should be between zero and five degrees Fahrenheit. If this temperature isn't achieved, the ice machine may stop working.
Lack of water supply—You need water to make ice, and if there's insufficient water, you won't have enough ice either. We'll check the inlet valve for problems transporting water.
Inadequate water pressure—Low water pressure is another common culprit of ice machine issues. Our team can measure water pressure and ensure it's up to the correct level.
Problems with the ice level control board—This component detects when an ice tray is full and shuts off ice production. When the board breaks, it can also cause the unit to stop producing new ice.
Clogged water filter—Pesky clogs can keep water from entering the ice machine in the first place. Allow us to search for hidden clogs.
Defective mold thermostat—A defective mold thermostat can inhibit the automatic production cycle. During a quick visit from our team, we can pinpoint issues with this component.
Misshapen ice cubes—Misshapen ice cubes may not seem like a big problem themselves, but they can signal a deeper issue. We'll examine your unit for restricted water supply.
Water leaks—If there's a problem with your water inlet valve, it could lead to puddles gathering inside the freezer. Our team will find the issue and recommend a fix.
Insufficient ice—If your ice machine isn't producing as much as it used to, there could be a problem with too-warm air circulating in the freezer.
No ice—Out of ice? An ice machine that isn't producing any cubes could be affected by influxes of warm water. But not to worry—our experts can pinpoint the issue and offer solutions.
What Brand Is Your Ice Maker?
Ice makers aren't all built the same. Over the years, brands have come out with countless makes and models, and many of them require special maintenance considerations. Fortunately, the team at Mr. Appliance of Melbourne has lots of experience with the most popular brands on the market. If your ice machine is from any of these brands, be sure to get in touch with us:
Whirlpool
Samsung
GE
Kenmore
Frigidaire
KitchenAid
We Specialize in Replacement Parts
If your ice machine has had several problems in the last year, it may seem easier to get a replacement unit. But not so fast! Many issues that can't be fixed with simple repairs can be addressed with replacement parts. Luckily, Mr. Appliance of Melbourne has a variety of in-stock parts to get your ice maker up and running again. All our parts come with a one-year warranty, so you can be confident in their quality. We can replace any of the following:
Valves
Timers
Tubing
Motors
Solenoids
Condensers
Thermostats
Control boards
Water filtration systems
Storage bins and baggers
Put Us on Your Schedule Today
Ice machine repair services don't have to be a headache! When you work with Mr. Appliance of Melbourne, you're guaranteed an exceptional customer service experience. We can be flexible to fit within your schedule and bring you the gold standard in appliance repair. Don't just live with a faulty ice machine—get in touch with our Melbourne-based professionals.