Whether you have a small freezer on top of your fridge or a full-size appliance in the basement, freezers are a vital part of modern life. You might have a frozen pizza for tonight ready to pop on the oven, or maybe you're saving a tub of ice cream for Friday evening. Whatever the case for you, you likely get lots of use from your freezer. When something goes wrong, you can quickly be left with melted desserts and bacteria-ridden frozen food. Address these problems quickly with Mr. Appliance of Melbourne. Our team is proud to help Melbourne, FL residents with all kinds of freezer repairs. Get in touch with us right away.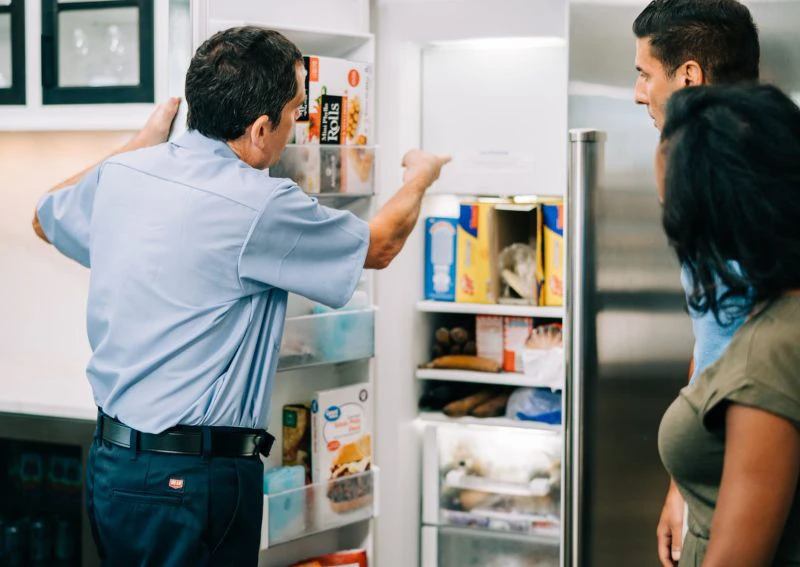 Common Freezer Problems We Can Address
Luckily, most freezer problems are easy to address. Over the years, our experienced team has seen it all, and we can identify almost any issue quickly. First, we'll check your appliance for any of the most common freezer problems:
The freezer is too cold—You can have too much of a good thing! If your freezer is too cold, frost can build up and make the appliance less effective overall.
The freezer isn't cold enough—Perhaps the opposite is true, and your freezer isn't cooling as much as it should. Our team will check the door seals and temperature controls to find the cause of the rising temperature.
The freezer doesn't turn on—Is your freezer refusing to turn on at all? This could be due to lots of reasons, but rest assured we'll find the culprit!
Lack of consistent temperature—Freezers should have a consistent temperature to ensure your food stays cold. But if you notice fluctuations, there could be an issue with dust and debris buildup.
Strange sounds—Does your freezer do more than just hum? If so, our professionals can repair your freezer and minimize the annoyance.
Worn-out door seals—Airtight doors are crucial to any freezer. If the seals are too damaged or worn out, they may let in warm air, melting your ice cream and frozen pizzas. Plus, damaged seals can result in increased energy bills.
Save Money With In-Stock Replacement Parts
Many of the above freezer problems can be addressed with simple repairs. But in other cases, you may need more intensive service. Before you go out and buy a new freezer, consider purchasing replacement parts instead. Mr. Appliance of Melbourne has many parts in stock, and we'll advise on whether to replace a part or replace the whole thing. Ask us about these products:
Switches
Defrosters
Defrost control timers
Compressors
Evaporator coils
Thermostats
Door seals
Fans
Motors
Gaskets
Door switches
Overload protectors
Relays
Experienced With All the Top Brands
Our fridge and freezer repair professionals have worked with all the top brands over the years. Whether you have an old GE unit or you just bought the latest model, we can take on the repair project. Our experts handle issues with all the following brands:
LG
KitchenAid
Samsung
GE
Revco
Whirlpool
Kelvinator
Learn More About Our Freezer Repair Services
Don't wait until your food spoils—request freezer repair services right away! Mr. Appliance of Melbourne has a proven track record of outstanding services and customer satisfaction. We're glad to help residents of the Melbourne area and strive to make our services both affordable and convenient.
Contact us
and tell us how we can help you.