Dishwashers are no longer an expensive luxury—they're a staple in most Melbourne, FL homes. These appliances offer a world of convenience, and when they malfunction, you're sure to notice. Fortunately, the team at Mr. Appliance of Melbourne is here to take care of all kinds of dishwasher services, from repair to replacement parts. Our team is known for high-quality services that keep customer satisfaction in mind. If you're noticing major dishwasher problems, don't hesitate to get in touch with us.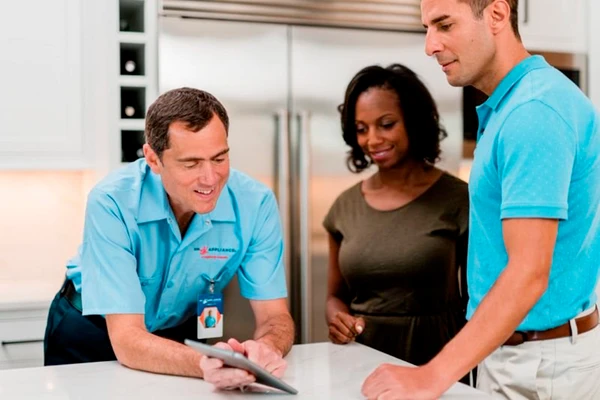 What Are the Most Common Dishwasher Issues?
Our appliance repair experts can take on all kinds of dishwasher issues. From simple leak repair to draining standing water, our team is a reliable choice in Melbourne. Our dishwasher repairing services can address all the following problems:
Leaks—A leaky dishwasher can lead to water damage elsewhere in your home. Call our team to pinpoint and fix the leak.
Standing water—A clogged drain line can result in standing water at the bottom of your dishwasher. Our repair professionals can address the problem and prevent further issues.
Cloudy glassware—Cloudy glassware is a very common problem with dishwashers, often stemming from hard water. Our technicians can easily identify the problem and minimize your chances of cloudy glass in the future.
Improperly cleaned dishes—You've opened your dishwasher, and your plates haven't gotten very clean. What's the deal? Our team will take a look at the pump assembly, wash impeller, and heating elements to find the problem.
Lack of water—Is your dishwasher having a hard time getting water in the first place? Our technicians will look for broken solenoids, valves, and overflow float switches. Fortunately, this tends to be a quick fix!
Extended wash cycles—If your dishwasher is running much longer than usual, there could be a problem with the thermostat or timer.
Humming and switching off—Is your dishwasher switching off before it ever starts cleaning your plates? Talk to our team about potential problems with the motor.
Performing Dishwasher Repairs for These Brands
Dishwashers come in a range of brands and models. Thankfully, our team is experienced in repairing many of the most popular brands. The professionals at Mr. Appliance of Melbourne will approach all the following brands with expertise and care:
Whirlpool
KitchenAid
GE
Maytag
Bosch
Ask Us About Replacement Parts
If straightforward repairs aren't enough to get your dishwasher up and running, you could need replacement parts. But not to worry—Mr. Appliance of Melbourne has numerous parts in stock to fix your dishwasher in no time. We'll identify the problem and recommend a replacement part that could help you avoid the need for an entirely new machine. Our team aims to save you time and money with the following parts:
Motors
Water and drain impellers
Solenoids
Thermostats
Timers
Pump assembles
Heating components
Gaskets
Valves
Float switches
Request Our Dishwasher Repair Services Today
We all have busy schedules, and it can be difficult to pencil dishwasher repair into your hectic day. But the time spent on repairs will be well worth the clean dishes in the future! The technicians at Mr. Appliance of Melbourne are dedicated to quick and comprehensive services that don't disrupt your daily activities.
Contact us
today to choose a time and date that suit you.