A garbage disposal is an excellent way to keep food waste out of your trash can and in your local landfill. When it doesn't work correctly, you can trust our service professionals to take care of you. Mr. Appliance of Melbourne offers expert garbage disposal repair services in and around Melbourne, FL. When your garbage disposal won't power on or makes noises, reach out to us. Learn more about our professional garbage disposal repairs.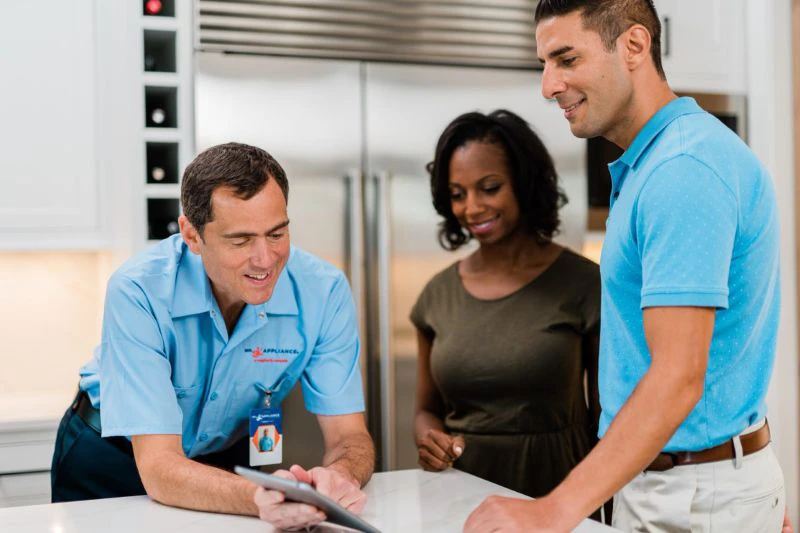 Types of Garbage Disposals  
Our service professionals are experienced in repairing all types of garbage disposals. It's important to know the type of garbage disposal you have in your home. The types of garbage disposals include the following:  
Continuous Feed
A continuous feed garbage disposal is activated by flipping a switch. It runs continuously and keeps food inside it with a rubber shield.  
Batch Feed
A batch feed garbage disposal will not run unless a lid or cap is placed over the disposal for safety. Many people with young children choose this type of disposal.
Expert Garbage Disposal Repairs for Issues
Your garbage disposal may seem like an easy appliance, but it works with many components. We can quickly determine the issue and offer an effective appliance repair solution. Some of the most common garbage disposal issues we address include the following:
No Power to the Garbage Disposal
If your garbage disposal will not turn on, we reset the disposal and check for any tripped breakers. Your garbage disposal should have a reset button to easily reset the appliance.
Jammed Garbage Disposal
Jams are the leading cause of garbage disposal issues. It's vital to never try to clear clogs through the top, but use a socket wrench underneath to rotate the masher plate of the garbage disposal
Clogged Garbage Disposal Drain
The drain in your garbage disposal can get clogged with food particles, grease, and oils. It's important to contact our professionals to help you safely dislodge any blockages.
Excessive Noise
If your garbage disposal shakes and makes noises, you may have a foreign object stuck inside it. Never reach into the machine while it is powered on to retrieve the object.
Leaking Garbage Disposal
A garbage disposal often leaks when its seals and gaskets wear out. Our team can replace the seals and gaskets to reseal the garbage disposal.  
Servicing All Garbage Disposal Brands
Mr. Appliance of Melbourne provides reliable appliance repair services for all makes and models of appliances. We can successfully repair all brands of garbage disposals. Some of the most common garbage disposal brands we repair include the following:  
KitchenAid 
InSinkErator
Whirlaway 
Providing Garbage Disposal Replacement Parts 
Our service professionals stock and install new replacement parts for your garbage disposal. After we inspect the appliance and determine the problem, we will determine if you need a replacement part. We offer a 1-year parts and labor warranty on our garbage disposal replacement parts. Some of the garbage disposal replacement parts we install include the following:
Lugs 
Tubing
Flanges
Flyweights 
Gaskets and Seals 
Lids and Baffles 
Blades 
Motors 
When to Replace a Garbage Disposal
Our service professionals will inspect your garbage disposal and determine the severity of its issue. If your garbage disposal has severe problems with its wiring, motor, or body, we typically recommend a replacement. It's often best to invest in a new garbage disposal when it leaks, needs frequent resets, and won't power on. We will help you determine if repairing or replacing your garbage disposal is more cost-effective. 
Contact Mr. Appliance of Melbourne
Mr. Appliance of Melbourne is your trusted team to fix your garbage disposal. We service Melbourne, Cocoa Beach, Rockledge, Viera, & Palm Bay, and Melbourne Beach. We can handle garbage disposal issues, from power problems to clogged drains. We can come to your home to offer an estimate for our garbage disposal repair services. We are trained to extensively inspect your appliances and determine the best solution for their needs. We help install, repair, and maintain your appliances for optimal health. We always stock garbage disposal replacement parts to help serve you. Our team works quickly and efficiently to ensure your needs are met. Contact us today to request an estimate on professional garbage disposal repair services.