If your refrigerator will not get cold enough, you might begin to notice fruits and vegetables in your refrigerator spoil earlier than they should. In extreme cases, you may notice all your perishable foods going bad. In cases like that, you need a solution right away. Let Lexington, Kentucky's local appliance repair team at Mr. Appliance of Lexington help you understand why your refrigerator is not cold enough. According to the FDA, homeowners should set their refrigerators below 40 degrees Fahrenheit. Freezers should be set to 0 degrees Fahrenheit. If your refrigerator and freezer are not cold enough to keep food fresh even when set correctly, it is time to get the help of our refrigerator and freezer repair team. Contact us today to schedule an appointment.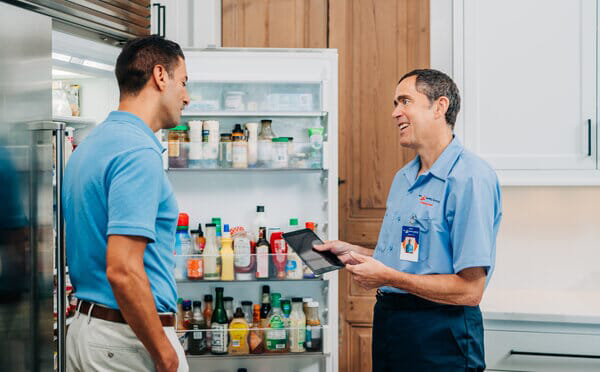 Easy Fixes for a Refrigerator That's Not Cold Enough
While we are always happy to help you repair your refrigerator or freezer, there are a few common problems you might be able to fix yourself. Homeowners often fear they will need costly repairs when the problem is as simple as adjusting the thermostat or plugging in the refrigerator. So, some of the things you should check before calling for professional repairs include:
Plugging In – Your refrigerator likely blocks the outlet, making it difficult to tell whether it is plugged in or not. If your refrigerator has become unplugged, it may appear to be broken.
Setting the Thermostat – If you have accidentally changed the thermostat in your refrigerator, the solution may be as simple as adjusting it back to the right setting. Side-by-side refrigerators usually have a thermostat control in the back, while over-under units usually place the controls underneath the fridge.
Shutting Your Door – When your fridge door doesn't create a tight enough seal, your refrigerator will not get cold enough. The solution might be as simple as making sure you shut the door firmly after each use.
Reorganizing Your Refrigerator – Boxes and plastic containers are often placed in positions that block vents and prevent your refrigerator from getting the airflow it needs to circulate cool air. In cases like these, you can fix the problem just by reorganizing your refrigerator.
Are Old or Worn-Out Parts the Problem?
In order to maintain a steady temperature, your refrigerator requires a complex collection of parts to all work properly. When any of these components fails, you may notice that your refrigerator is not cold enough. When domestic refrigerators are not cold enough due to faulty parts, you need professional appliance repair technicians to help you replace them. Some of the parts that we might need to replace include:
Compressors – The compressor pushes refrigerant vapor into your coils, creating cool air. If your fan is still running, but your refrigerator will not get cold enough, you might have a problem with your compressor.
Condenser Coils – When your condenser coils become clogged, it may cause your fridge to become warmer than usual. These coils are responsible for moving hot air into your fridge's evaporator coils.
Condenser Fans – The condenser fan keeps your compressor and condenser coils cool while they operate. It should be running anytime your fridge is running. If it fails, your condenser can overheat.
Evaporator Fans – When your evaporator fan fails, your fridge will still produce cool air, but it won't be able to circulate it. Your evaporator fan pulls cool air across your evaporator coil and into your refrigerator.
What If My Refrigerator Is Still Not Getting Cold Enough?
If your refrigerator still is not cold enough after you've made sure it's plugged in and adjusted the thermostat, it's time to call in the pros. Mr. Appliance of Lexington can help you diagnose the exact source of your fridge's problem. Then, we will provide you with a detailed estimate for the necessary repairs. If your refrigerator is beyond repair, or if repairs are not a wise investment, we can help you weigh your options.
Request Your Refrigerator Repair Appointment Now!
While we have some of the most experienced refrigerator repair technicians in the area, we also perform repairs on all sorts of home appliances. Whether you have a dryer that won't get warm enough or a refrigerator that's not cold enough, we can help you find the best solution. We even make scheduling easier than ever before. To get started, request your refrigerator repair appointment online now.