The Place to Go for Residential Oven, Stove, & Range Repairs
Whether you are cooking for yourself or the whole family, your life can be thrown into upheaval when your oven, stove, or range breaks. When your oven starts burning your meals or your stovetop burners stop igniting, you need an expert in residential oven, stove, and range repairs you can trust. Homeowners in Lexington, Kentucky, turn to Mr. Appliance of Lexington whenever they need oven, stove, and range repairs because of our dedication to speed and safety. Our technicians are trained to follow the strictest safety procedures when performing oven, stove, and range repairs. Contact us today to schedule your oven, stove, or range repair service!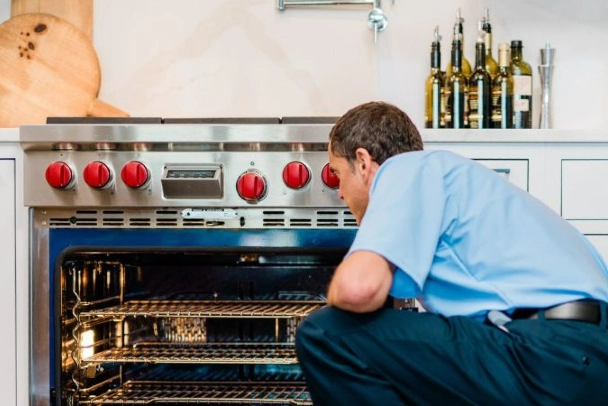 The Most Frequent Oven, Stove, & Range Repairs
Your oven and stove won't always break down overnight. Often, there are subtle signs that you need oven, stove, or range repairs, but it's easy to miss them if you are not vigilant. If you are experiencing any of the below problems, Mr. Appliance of Lexington has highly trained technicians available to help diagnose the source of the issue. Then, we can perform the necessary repairs before your oven completely stops working. Some of the common signs that you need a residential oven, stove, and range repair services include:
Oven Isn't Heating – An oven that does not heat up often needs a new bake or broil heating element. However, there could be many other causes, such as a faulty igniter or electrical problem.
Burners Are Too Hot – We routinely see burners getting too hot when their infinite switch fails. In these cases, burners will burn at maximum heat even when set to low.
Oven Door Won't Open – If your oven door doesn't open, you likely need to repair or replace the self-cleaning latch or oven control.
Oven Won't Self-Clean – A broken door switch, thermal fuse, control board, or self-cleaning latch could prevent your oven's self-clean function from working. A trained oven, stove, and range technician can identify the source of the problem for you.
Oven Won't Bake or Broil – When your oven's bake or broil mode stops working, we usually start by checking the heating elements, igniters, and valves.
Indicator Light Won't Turn Off – Faulty switches will cause your indicator light to stay activated constantly. Luckily, they can easily be replaced.
Oven Doesn't Maintain a Consistent Temperature – Your oven's bake igniter, selector switch, and temperature sensor all play a role in maintaining a consistent temperature. If you notice the temperatures in your oven fluctuating, it may be time to replace one of these parts.
Extensive Experience With Ovens, Stoves, & Range of Brands
We offer oven, stove, and range repair services for all makes, models, and brands. Through our years of experience serving the Lexington, Danville, and Harrodsburg areas, we have worked with almost every type of home cooking appliance you can imagine. So, when one of our uniformed team members shows up at your home, you can have the confidence that they understand how to repair your particular brand of oven, stove, or range. Some of the brands we frequently work on include:
GE
Maytag
Samsung
Whirlpool
Thermador
KitchenAid
Frigidaire
LG
We Only Use the Best Replacement Parts
Residential oven, stove, and range repairs often involve replacing one or more parts of your oven. Whether it's a switch or an igniter, you can rest assured that we only use the highest-quality replacement parts available. As part of the Neighborly Done Right Promise®, all our work comes with the full force of a one-year warranty covering parts and labor. We also give you a detailed breakdown of the oven, stove, or range repair costs before we start. Some of the parts we may need to replace on your oven and stove include:
Dials
Relays
Valves
Igniters
Burners
Gaskets
Switches
Bake igniters
Safety valves
Ignition wires
Spark modules
Thermostats
Thermocouples
Spark electrodes
Heating elements
Controlled boards
Self-cleaning latches
Temperature sensors
How to Catch Oven & Stove Problems Early
With all the appliances in your home, it's tempting to ignore minor problems. If something seemingly small stops working, like your broil function, it's easy to put off repairs. However, these small issues are usually a sign of a larger problem. Catching a problem when it's minor can prevent more significant and more costly oven, stove, and range repairs. We suggest having a professional technician inspect your oven, stove, or range if you notice any unusual activity. This is the best way to avoid unexpected breakdowns and budget-breaking repairs.
Schedule Oven, Stove, or Range Repair Service Now!
We take the stress out of oven, stove, and range repairs by making the entire process transparent and hassle-free. We'll start by inspecting your unit and giving you a detailed estimate for all the oven, stove, or range repairs. Once you schedule your service call, you can expect us to show up on time and complete the job on schedule. Afterward, you won't be able to tell we were ever there because our "leave no trace" policy guarantees that we will remove any remaining parts, trash, or debris. Request your
oven, stove, or range repair appointment
online now!