A Residential Freezer Repair Service Team You Can Count On
Whether you're storing some mutton barbecue or popsicles for the kids, your freezer helps you save food that might otherwise spoil. The only problem is that freezers, like all home appliances, are liable to break every now and then. When your freezer stops freezing, you need to fix it before your food starts to thaw out. Mr. Appliance of Lexington has one of the best freezer repair service teams in Lexington, Kentucky. Homeowners trust us with their freezers because they have learned they can expect upfront pricing, uniformed professionals, and a one-year warranty on all parts and labor. Schedule your residential freezer repair service appointment now!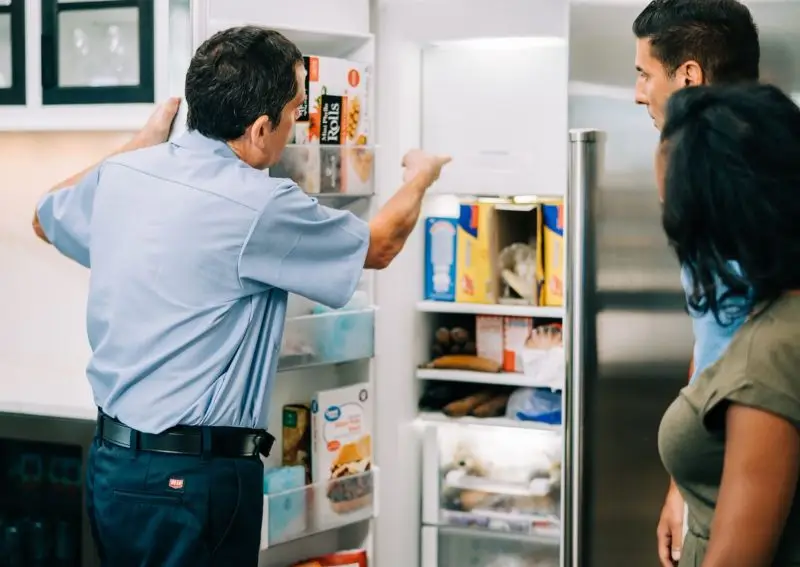 Experts in Every Brand of Freezer
Not all appliance repair specialists have the knowledge and experience to perform repairs on all types of freezers. Our technicians at Mr. Appliance of Lexington offer comprehensive fridge and freezer repair services. We have worked with every major manufacturer over the years, so you can trust us to understand how your specific freezer works. Some of the brands of freezers we work on include:
LG
Bosch
Hotpoint
Samsung
KitchenAid
Electrolux
Whirlpool
Maytag
Amana
GE
Signs You Need Residential Freezer Repair Services
The ideal time to repair your freezer is before it stops working. There are some common warning signs that you may notice. Often something that may seem minor is an indication of a deeper problem. For instance, you may notice an unusual noise when your freezer starts up without realizing that your compressor is about to fail. Some of the common signs that you need freezer repair services include:
Not Turning On – If your freezer is plugged into a working outlet and your breakers aren't tripped, you will likely need to replace a thermostat, start relay, or some other electrical component.
Not Cooling – A warmer-than-usual freezer may be caused by nothing more than a poor seal, but it could also be a mechanical issue like a broken condenser fan motor.
Over-Cooling – If your freezer seems colder than its settings, it can cause excess frosting over your evaporator coils. This may also cause your freezer to run continuously
Unusual Noises – Sometimes, a freezer will begin making unusual noises whenever it starts cooling. This is usually due to a failing engine or compressor.
Damaged Seals – The seal around your freezer should be tight enough so that you cannot pull a dollar bill out of it. When the seal wears out, your freezer will have to work harder, wasting energy and reducing your appliance's lifespan.
Inconsistent Temperature – In order to preserve food, your freezer needs to maintain a consistent temperature. Fluctuations in temperature might be due to faulty temperature controls, motor compressors, or other broken parts.
One-Year Warranty on Residential Freezer Parts
A freezer is a significant investment, so you want to maximize its lifespan. One way to do that is to ensure you use high-quality parts when repairing your freezer. Mr. Appliance of Lexington uses the best parts available to make sure our repairs last. All our parts and labor are supported by a one-year warranty. So, you know we're serious about quality! Some of the parts we use when performing freezer repair service include:
Defrost timers and heaters
Overload protectors
Seals and gaskets
Evaporator coils
Evaporator fans
Door switches
Compressors
Thermostats
Evaporators
Door seals
Defrosters
Switches
Motors
Relays
Fans
Schedule Your Residential Freezer Repair Service Now!
Getting residential freezer repair service has never been so easy and straightforward. When you work with us, you can trust that we will repair your freezer right the first time. That's because all our work is backed by the Neighborly Done Right Promise®. If your repairs don't solve the problem for any reason, we'll make it right. Request your freezer repair service appointment online now!