Households depend on their refrigerators to keep food cool and prevent spoiling throughout their week of meals, snacks, and beverages. However, when your refrigerator develops an issue, professional refrigerator repair services are necessary. The team at Mr. Appliance of Leesburg & Martinsburg is ready to help you restore your fridge's reliable performance. We proudly offer residential refrigerator repair service to Leesburg, VA, and Martinsburg, WV homeowners with problems like their fridges not staying cool. A refrigerator lets you store food safely for a while in its thermally insulated compartments, but if your model has something go wrong, your food can begin to spoil. Consuming any of these spoiled foods or beverages can make you sick or worse. Our technicians perform residential refrigeration repairs to ensure your refrigerator keeps perishable food at a safe temperature. You can turn to us for quick and expert repair services to prevent your family from wasting food or endangering them to foodborne illnesses. Reach out to us today to schedule an appointment and let our service professionals assess and resolve your refrigerator's functional issues.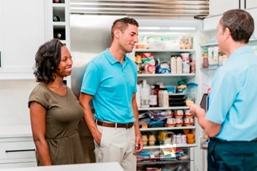 Exceptional Repairs of All Types of Refrigerators
No two refrigerators are identical, but our highly trained technicians have ample hands-on experience repairing all refrigerator types for homeowners in Virginia and West Virginia. Mr. Appliance of Leesburg & Martinsburg performs refrigerator repairs of all types, such as the following:
Top freezer refrigerators
Bottom freezer refrigerators
Compact refrigerators
French door refrigerators
Side-by-side refrigerators
Freezerless refrigerators
Counter-depth or built-in refrigerators
Servicing Refrigerators From All Major Manufacturers
If you need professional refrigerator repairs in Purcellville, Hamilton, or Round Hill, our team can help. The professionals at Mr. Appliance of Leesburg & Martinsburg repair all brands and types of refrigerators. We will arrive at your home on time to diagnose the exact cause of your issue and repair your fridge anywhere in Leesburg and Martinsburg. Our appliance repair experts will gladly provide an accurate estimate covering your refrigerator repair cost and answer all your questions about your model and our services. The following are examples of common refrigerator brands we service:
Viking
GE
Fisher & Paykel
Bosch
Kenmore
Thermador
Kitchenaid
Whirlpool
Frigidaire
Maytag
Electrolux
And more
Do You Need to repair or Replace Your Refrigerator?
Mr. Appliance of Leesburg & Martinsburg's professionals have all the necessary industry equipment, experience, and expertise to perform all types of refrigerator repairs with impressive and long-lasting results. Sometimes, repairs aren't enough to restore your refrigerator, so you'll need to replace it. We can discuss your household food storage needs to help you determine the best option for your family. We strongly urge you never to try to repair your own refrigerator. You can often return a newer fridge to good condition with help from our service professionals. An older refrigerator may have issues because of wear and tear over time. The average refrigerator has a lifespan of around 14 years, but reaching that age requires keeping it well-maintained with regular professional care. Instead of spending money on frequent repairs for escalating issues, your best choice may be to upgrade to a newer model. Our team can replace various refrigerator parts found in nearly all models, including the following:
Water filters
Cold controls
Thermostats
Replacement lightbulbs
Ice maker components
Valves
Solenoids
Defrost heaters
Door seals and switches
Condensers and compressors
Fans and evaporators
Bins, drawers, and shelves
Why Choose Us to Repair Your Household Refrigerator?
We understand you have many appliance repair specialists to choose from to handle your refrigerator repairs, but we're confident that Mr. Appliance of Leesburg & Martinsburg is your best option. Our highly qualified appliance experts stand behind all our parts and workmanship with warranties to cover our home appliance services. You get convenient service on your schedule and upfront pricing. We also back our work with the Neighborly Done Right Promise®, and our courteous, uniformed professionals are friendly and trustworthy. Get in touch with us today to schedule refrigerator repair services at your home.